150 Sightseers Safe … Thanks to #TeamADM
150 Sightseers Safe … Thanks to #TeamADM
What do ADM colleagues do when a boat carrying 150 tourists loses power and is drifting out of control on a swift river current?
They save the day.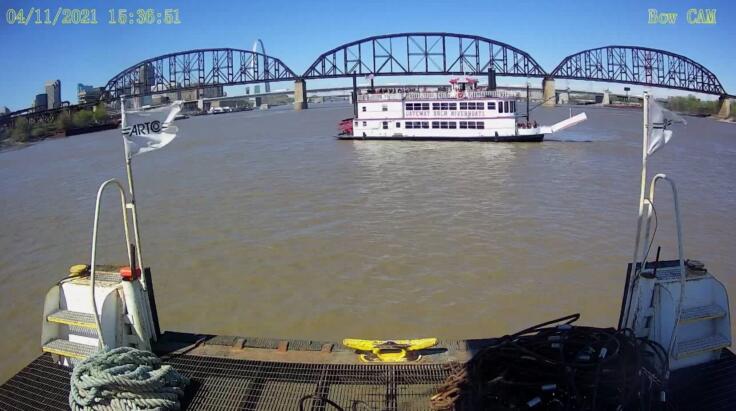 On April 11, the crews of two ARTCO vessels, the M/V Gateway Express and M/V Prairie Harvest, were working on the Mississippi in the St. Louis area when they heard a distress call on an open radio channel. A large sightseeing boat had lost all propulsion and was being carried downriver, out of control and spinning in the current, with 150 passengers on board.
The families on the tourist vessel were lucky when the out of control vessel barely missed a bridge abutment. And then they were luckier, when the two ARTCO vessels arrived.
The Gateway Express pushed gently up against the sightseeing boat to stop its spin. Then the Prairie Harvest tied up to the tourist vessel's starboard side and towed it back its dock.
From the time of the SOS to the time the tourists were able to go safely ashore was only 40 minutes, thanks to our colleagues' swift action.
"This just shows the top-notch people we have at ARTCO," says Stephen Lebouef, ARTCO fleet manager. "This is an example of our colleagues being good people, and helping those in danger.
"It could have been a really bad situation," he added. "And it's a reminder of the type of work, and the type of risk that is part of our inland waterways. The work our boat crews do every day supports our company, our economy and our customers. And the work that isn't everyday, the rescues of the sightseers, kayakers, and fisherman, means that people are going home to their families when they might not have otherwise. These crews did a great job, and we're grateful for them."
Thanks and great job to the crew of the Gateway Express – Captain Anthony Bramlett, Steering Mate Stanley Dickey, Mate Matthew Bramlett and Deckhand Devyn Bryson – and of the Prairie Harvest – Captain Jeff Terrell, Mate De'Ron Coleman and Deckhand Nick Pizzella.
---