A Slice of Science: ADM's Plant Proteins Bring Imagine Meats to Life
A Slice of Science: ADM's Plant Proteins Bring Imagine Meats to Life
"What is now proved was once only imagined."
~William Blake
Bollywood stars Genelia and Riteish Deshmukh searched the globe to find a leading partner in plant protein solutions that would help them bring their concept of plant-based Indian meals to market. They found ADM Nutrition India and its head, Sanjay Laud. Coincidently, all parties are based in Mumbai. This shared geography became more than just convenient – it was critical to get the project off the ground during COVID-19.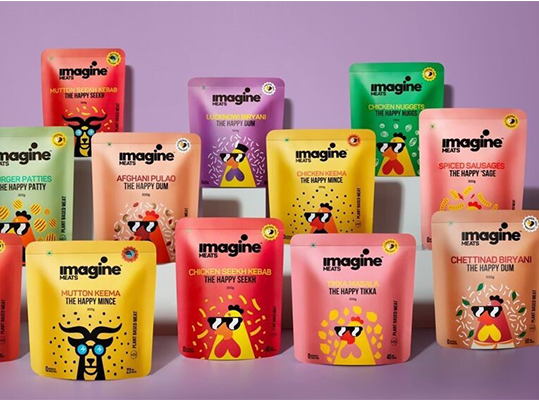 After establishing the partnership with ADM in spring 2020, Imagine Meats launched its first offerings in September 2021. The process to get there is an epic tale of persistence, perseverance and resilience.
"There are already significant challenges for a startup," notes Laud, "even more so when the world stands still during a pandemic."
With all ADM employees transitioned to work-from-home arrangements, Laud conducted his face-to-face collaborations with the Deshmukhs. Even with medical emergencies at hand, he didn't see it as a burden.
He says, "This project was business critical. We had to push ahead, adapt logistics, do everything we could to pull it off."
For example, Laud shared his homemade recipes to develop the prototype flavors and showcase the textures. All offerings celebrate India's many ethnic traditions and zones, appealing to the diverse preferences and eating habits of the region's people.
ADM and Imagine Meats' founders were diligent during the trial period to ensure the entire eating experience, including mouthfeel, fibrosity, bite and aftertaste, was true to the gold standard dishes they were replicating with alternative proteins.
"The proof of the pudding is in the bite," Laud says.
While recipe development was native to India, ADM's global footprint makes Imagine Meats an international venture. Product development occurred with the support of European and North American teams. Rather than supplying single ingredients for blending, ADM provided bespoke, flexitarian systems using soy and pea proteins, as well as other ingredients from the ADM pantry.
After optimizing for taste, texture and nutrition on the pilot line, Imagine Meats was ready to go to scale. Current offerings include biryani, mince, kebabs and Western-inspired burger patties and nuggets.
Imagine Meats officially launched in Mumbai on September 10, 2021, coinciding with Hindu festival Ganesh Chaturthi, where people abstain from meat during the festive season. The Imagine Meats rollout included two prominent local grocers and a website.
Consumer reviews have been incredibly positive. Many are asking to see Imagine Meats in more parts of the country. For now, products are available in Mumbai, Navi Mumbai, Thane, Pune, Delhi, Hyderabad and Bangalore.
"The clients and consumers are very pleased," says Laud.
He is being humble: Riteish Deshmukh tweeted a personal thanks to Laud and ADM for their help making the dream of Imagine Meats a reality.
"Our team at ADM Nutrition India is proud of our partnership with Imagine Meats," Laud adds. "Despite the challenges we faced in light of the pandemic and pan-India lockdown, we are grateful to be the primary initiators of meat alternatives in India."
The plant-based movement is set to become mainstream throughout the country, and ADM and Imagine Meats will be there to meet the need.
---