ADM and Coromandel International Limited partner to help Indian farmers strengthen agricultural productivity and food security
ADM and Coromandel International Limited partner to help Indian farmers strengthen agricultural productivity and food security
India's agriculture sector is a central pillar of the country's economy. Contributing about 18 percent to India's gross domestic product (GDP), farmers make up an integral part of the sector as they provide livelihood for over 60 percent of the Indian population[1].
As the backbone of India's economy, farmers must ensure that agricultural productivity is operating at its highest efficiency to feed a growing population of over 1.515 billion by 2030[2]. Additionally, climate change has been disrupting food availability, making it essential to produce quality crops that can weather through unpredictable climates. An increasing population and limited agricultural land imply that key stakeholders play a pivotal role in ensuring that best practices for crop production are reviewed and applied at the farm level. To create long-term farming solutions, sustainable practices must also be implemented throughout the value chain to provide adequate, safe, and nutritious food for the country.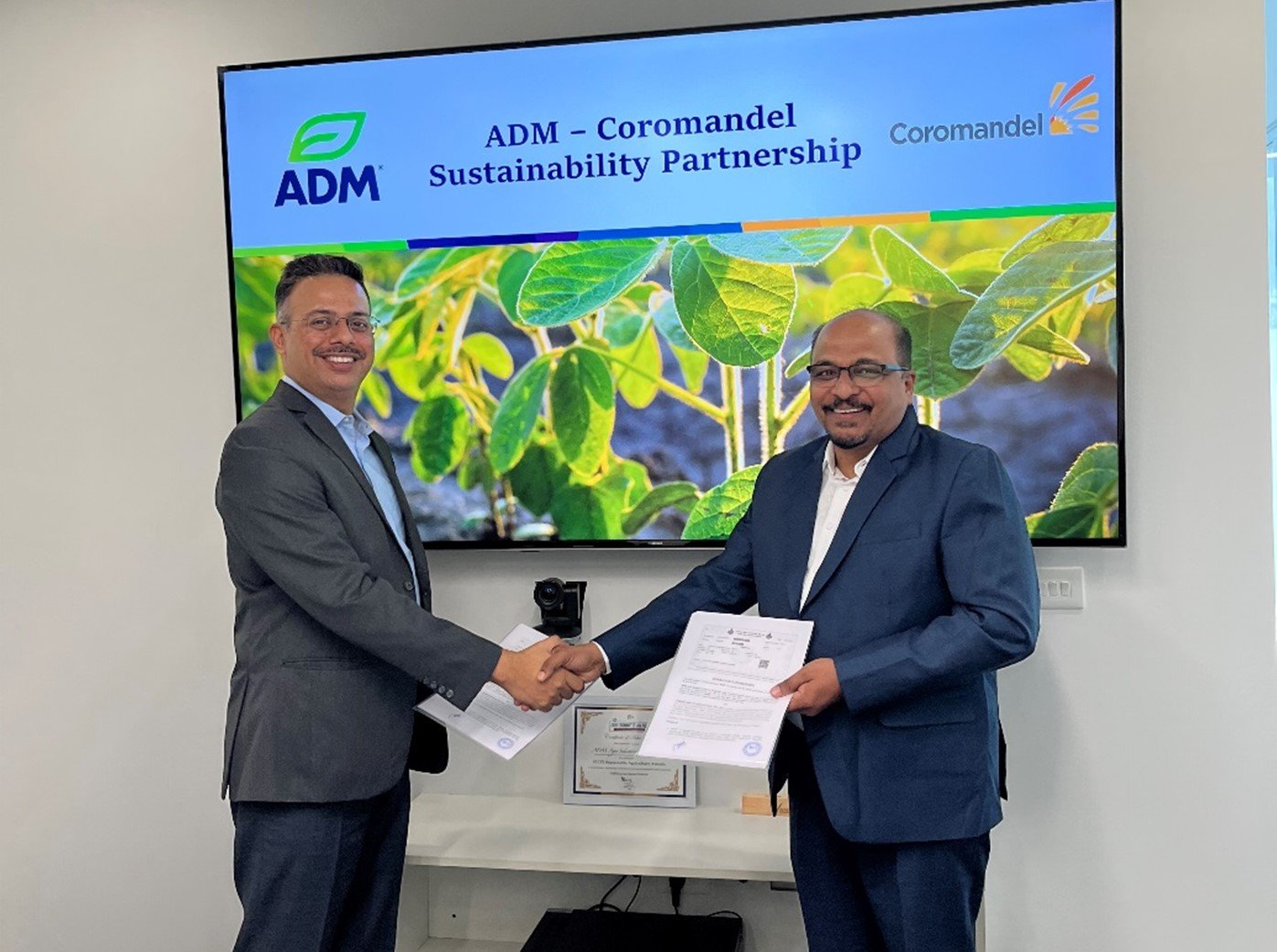 From left to right: Mr. Amrendra Mishra, Managing Director (Oilseeds) & Country Manager India, ADM & Mr. Jitendra Kolpe, Associate Vice President & Divisional Nutrition Head – West Division, CIL, Pune at the MoU signing ceremony
Food security remains a serious concern in India. Recognizing this, ADM inked a three-year partnership in November 2022 with Coromandel International Limited (Coromandel), India's pioneering agricultural solutions provider, through a Memorandum of Understanding (MoU) that provides responsible and sustainable agriculture solutions to soybean farmers in India. The partnership aims to train some 25,500 farmers through the ProTerra Foundation, a certification program that assures non-GMO quality and sustainable agriculture production.
Coromandel's training methods will apply an integrated approach to nutrient management which will encompass soil health improvement, nutrition balancing and responsible crop protection and care using fertilizers. This is in line with the Indian government's stance towards responsible and sustainable farming resource management[3]. Coromandel's activities also meet the sustainable development goals (SDGs) of the United Nations, which ADM fully supports through greater adoption of regenerative agricultural practices to lower the carbon intensity of crop production. As a merchandiser of sustainable crops and the bridge between growers and consumer-facing brands, ADM is well-positioned to help scale these sustainable practices through its global capabilities.
Commenting on the partnership, Amrendra Mishra, MD Oilseeds Country Manager at ADM India, said, "This partnership seeks to equip local farmers with the necessary knowledge and skills needed in integrated nutrient management to conduct responsible agricultural practices that meet the sustainability standards of agricultural production. With our network of farmers and Coromandel's farming expertise, we hope to make a positive impact that addresses both the ongoing environmental and food security challenges we face today."
ADM will help to organize the trainings, collect soil samples for testing, map soil nutrient indices, conduct field demonstrations and visits to the selected farm plots. Trainings will be conducted by field representatives of ADM and Coromandel to ensure widespread understanding and knowledge among farmers. The first phase of training commenced in December 2022 which took place in the Latur, Osmanabad and Beed districts of Maharashtra, where ADM has a farmer procurement network.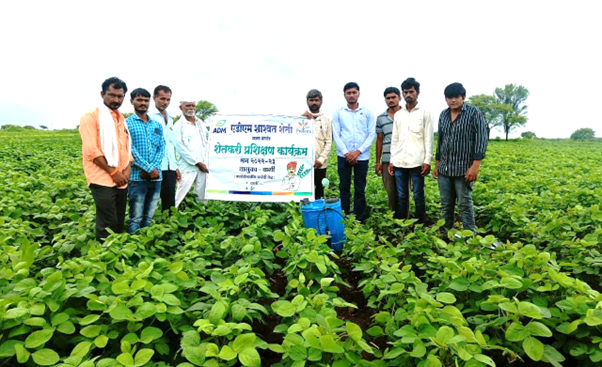 Local farmers holding a banner to support ADM's Sustainability Program
In India, ADM works with a large network of farmers in the states of Maharashtra and Karnataka, through Krishi Vikas Kendras' (KVK) network of 50+ crop-development and procurement centers. The centers are staffed by agronomists who offer local farmers training in best agricultural practices, as well as procurement services. ADM's Sustainability Program creates opportunities for smallholder farmers to get training in socioeconomic and environmental sustainability principles and third-party audits, through the European organization, ProTerra Foundation.
Through regular trainings focused on the use of fertilizers and technologies that can drive productivity gains, farmers can put their resources to better use, saving time, money and effort over the long term. Mr. Jitendra Kolpe, Associate Vice President & Divisional Nutrition Head – West Division, Coromandel International Limited, Pune, added, "This MoU will add value to soy farmers' agricultural cycle, where Coromandel's role is to support them through the technicalities of farming to ensure that their crops receive the right nutrition to reduce soil degradation. The output is higher yields and quality which ensures remunerative prices to farmers with a consistent volume of procured quality crops."
The three-year partnership is a pilot program to determine if the sustainable agriculture practices result in improved soil quality. If the results are favourable, the two companies will extend trainings to farmers in Karnataka and potentially tap into their network of farmers to foster the integration of responsible practices across the value chain and the farming ecosystem.
---