ADM, Living Lands & Waters Team Up for Earth Week Celebration
ADM, Living Lands & Waters Team Up for Earth Week Celebration
Earth Week symbolizes a time to not only celebrate our planet, but it's an opportunity for amplifying and inspiring action to improve environmental issues.
From April 18-20, hundreds of ADM colleagues in Decatur, Ill., with support from Living Lands & Waters, exemplified their commitment to sustainability and environmental stewardship as part of the Earth Week celebration by engaging in activities and volunteer opportunities throughout the local community.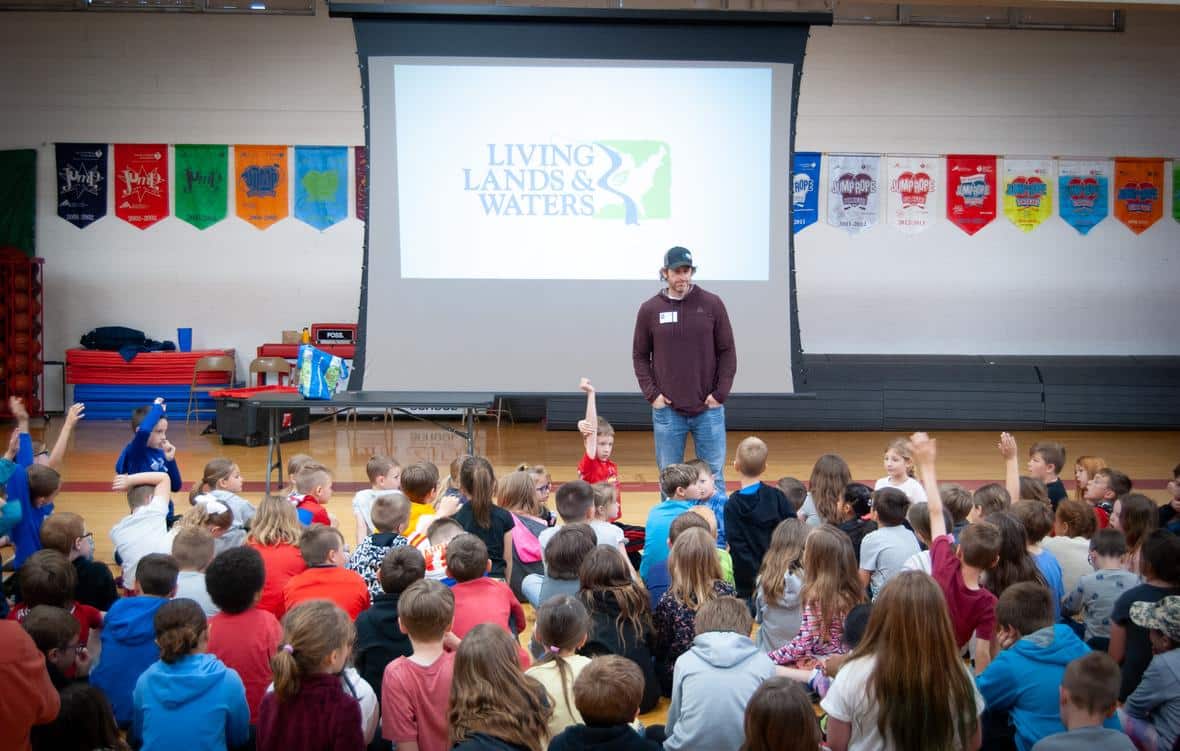 The festivities began on Tuesday, April 18, as colleagues from Living Lands & Waters and ADM partnered to host educational outreach programs at schools around Macon County, including Parsons Elementary School, Mt. Zion Grade School, and Maroa-Forsyth Elementary School, reaching a total of 585 2nd, 3rd, and 4th grade students.
Michael Coyne-Logan, education facilitator for Living Lands & Waters, spoke to students at Mt. Zion explaining the importance of taking care of our rivers.
"We have a crew of about 10 of us that live on a barge about seven months out of the year. We work on about a total of 25 different rivers," Coyne-Logan said. "We talk to students about why rivers are important, how to utilize them, and what they can do to help keep them clean. One of the things they can do is to keep their neighborhoods clean. It can eventually work its way into the rivers."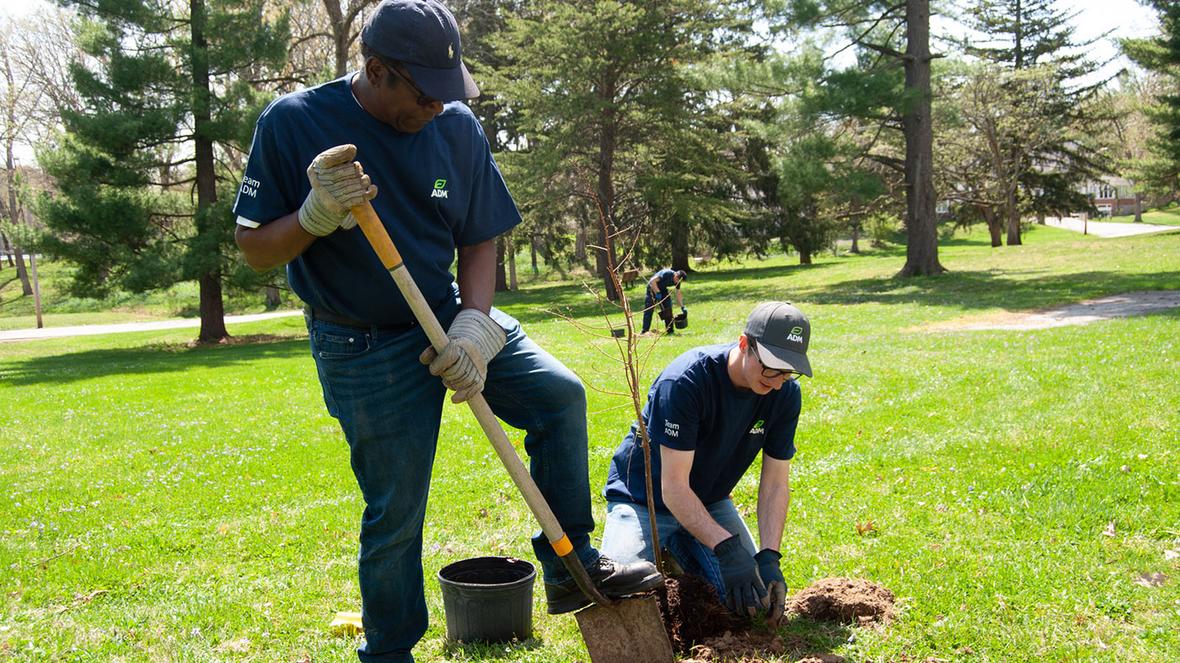 On Wednesday morning, April 19, Decatur colleagues were invited to pick up free tree saplings at ADM's North American headquarters. Results were through the roof as 575 trees were given away in the span of approximately 20 minutes, while another 1,150 specific individual tree orders went to facilities within the Decatur area. In total, 1,654 trees were distributed to Decatur colleagues and ADM ordered a total of 8,788 trees companywide.
In the afternoon, as part of Living Lands & Waters' MillionTrees Project, 28 ADM volunteers planted over 100 trees at Decatur's Scovill Park, Fairview Park and the Decatur Public Schools' Living Science Farm. The newest environmental additions will help increase biodiversity, reduce erosion and run-off, and improve water and air quality.
Jason Eardley, process safety director for ADM Ag Services and Milling, was among several volunteers at Fairview Park planting trees. Eardley has taken part in a number of events with Living Lands & Waters since 2013.
"Over the years, Chad (Pregracke) and his team have done quite a bit to beautify the areas where we do business and were we work," Eardley said. "Decatur has some beautiful parks, there's been a lot of investment here and I appreciate the opportunity to keep this park even more beautiful so people can enjoy it."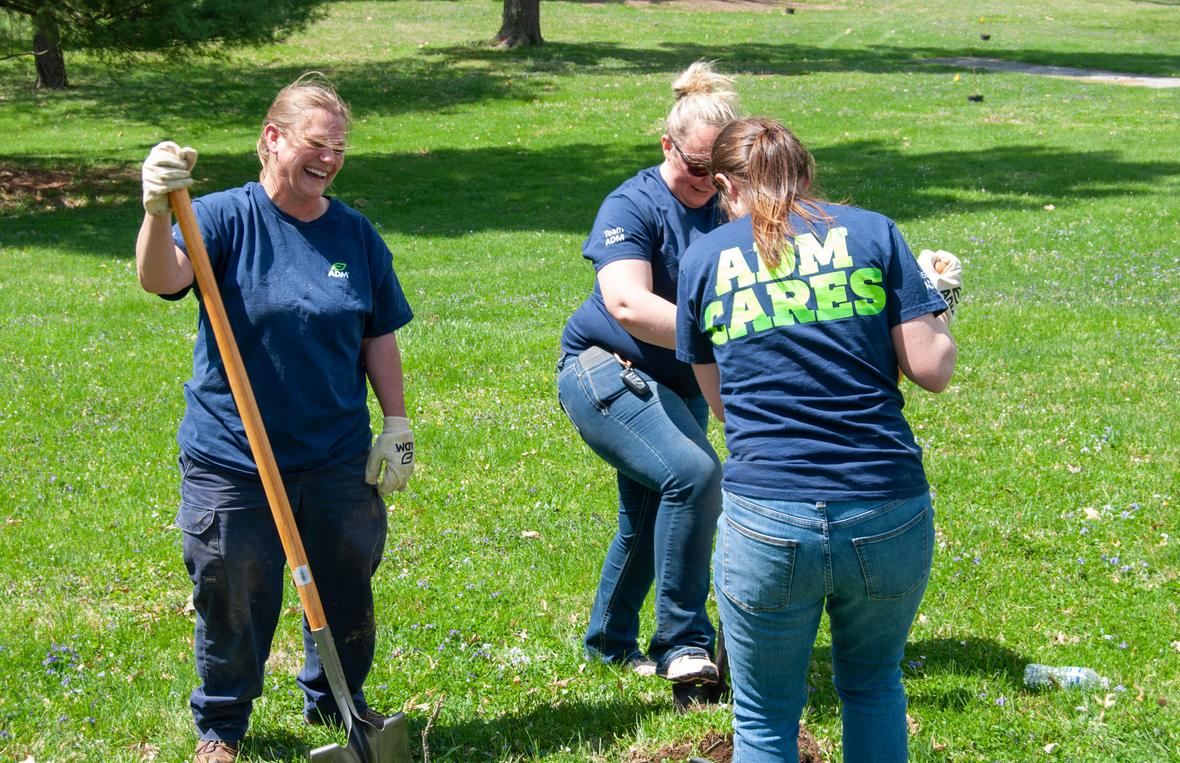 Eardley added, "I really appreciate that ADM is so committed to this and that we have continued our partnership with Living Lands & Waters. We are in agribusiness, we need to rely on nature, and activities like this really show our character and commitment."
The Earth Week celebration concluded on Thursday, April 20, with a special in-person presentation and webcast with Living Lands & Waters founder Chad Pregracke at ADM's Science & Technology Center. Close to 100 colleagues joined in to hear about Chad's story, and how ADM can grow its partnership with Living Lands & Waters in the years to come to protect, preserve and restore the local environment.
As part of the introduction, Paul Wujek, vice president of Transportation at ADM and member of the Living Lands & Waters Board of Directors, credited Chad for his dedication to protecting the environment.
"ADM has been a valued partner of Living Lands & Waters since 2004. Throughout our wonderful partnership, ADM teams have volunteered to support Living Lands & Waters' efforts through river cleanup events, tree planting activities, environmental restoration, and free educational programming in communities along the Mississippi, Illinois, Tennessee, and Ohio Rivers," Wujek said.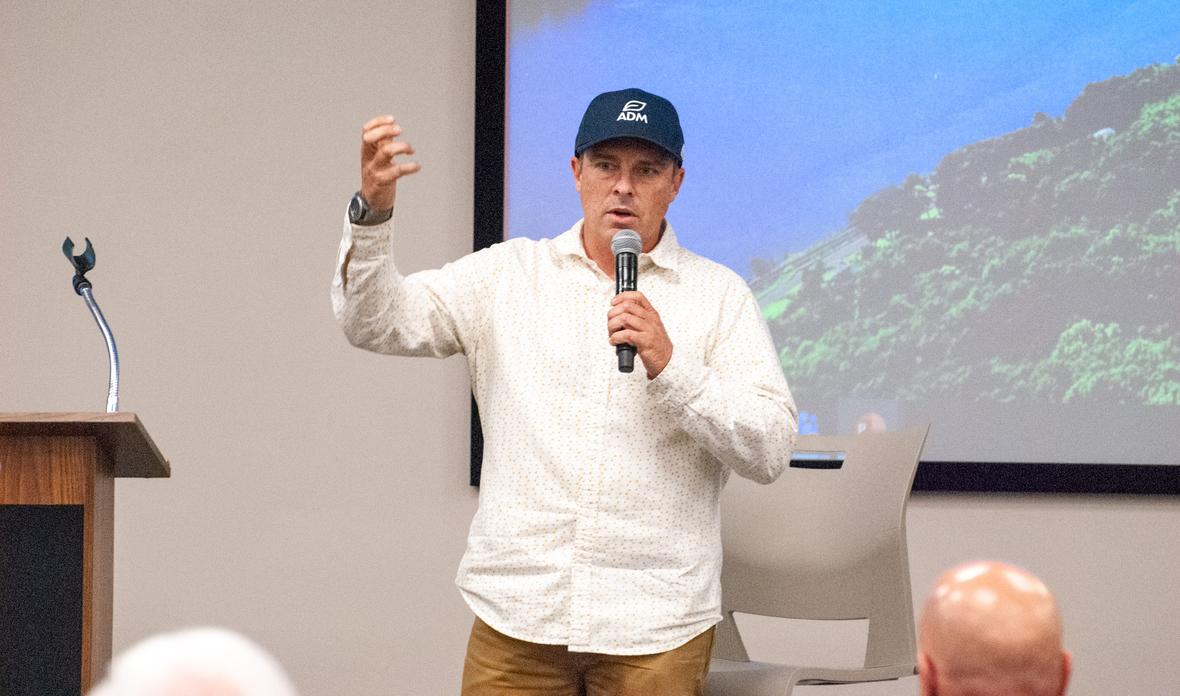 Pregracke's presentation provided an overview of how he started Living Lands & Waters in 1998 when he was just 23 years old, and how it has grown to be the only "industrial strength" river cleanup organization like it in the world. Chad and his team have grown from a single flat boat to barges and cranes to perform cleanup work on larger scales.
Because of his dedication to cleaning the Mississippi River and other U.S. waterways, Chad was named the 2013 CNN Hero of the Year, an honor that recognizes everyday people doing extraordinary things to help change the world.
"As a member of the Living Lands & Waters Board of Directors, I can certainly say that we are proud to be involved with an organization like Living Lands & Waters. There are so many great things that they have done and that they continue to work on," Wujek said. "Our partnership is a reflection of ADM's effort to sustain and strengthen communities, and support initiatives that drive meaningful social, economic and environmental progress."
---