ADM Named to 2021 List of Best Places to Work in IT
ADM Named to 2021 List of Best Places to Work in IT
ADM has been named to the prestigious 2021 Best Places to Work in IT list by IDG's Insider Pro and Computerworld. This award recognizes the 100 top organizations that challenge their IT staffs, while providing great benefits and compensation. Organizations will be included in coverage on IDGInsiderPro.com and Computerworld.com, along with results from the 2021 Best Places to Work in IT survey.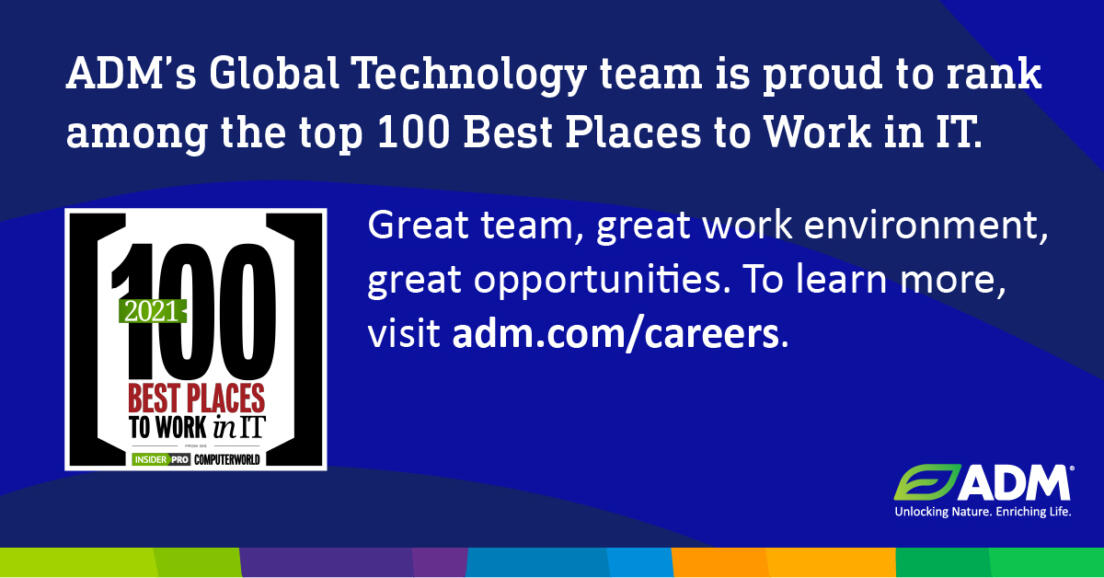 "Our team is committed to delivering with excellence, while providing a workplace that makes us all proud," said Kristy Folkwein, ADM Senior Vice President and Chief Technology Officer. "As we continuously focus on improving our work environment for our global teams, I'm honored by the recognition."
"Despite the overwhelming obstacles the pandemic has created for many businesses, IT has managed to thrive and in fact, become more essential in the workplace. Attracting and retaining top IT talent to research, deploy and maintain technology has never been more critical," said Kate Hoy, editor of IDG's Insider Pro. "Companies that have earned a spot on the Insider Pro and Computerworld 2021 Best Places to Work in IT list have been able to foster nimble and flexible work environments – while continuing to keep competitive compensation and benefits steady. Additionally, they foster a spirit of diversity, social responsibility, training and innovation."
About the Best Places to Work in IT
The Best Places to Work in IT list is an annual ranking of the top 100 work environments for technology professionals by Insider Pro and Computerworld. The list is compiled based on a comprehensive questionnaire regarding company offerings in categories such as benefits, career development, training and retention. In addition, IDG conducts extensive surveys of IT workers, and their responses factor heavily in determining the rankings.
---