ADM's Global Flexitarian Summit: The Forefront of Alt-Protein Creation
ADM's Global Flexitarian Summit: The Forefront of Alt-Protein Creation
The aroma greets you first. Then, you see it: a buffet table featuring a mouthwatering spread of meatless foods. There are vegan versions of tuna and chicken salads and Manhattan-style chowder, to name a few. These delectable dishes represent the forefront of alternative protein creation, the results of a meeting of the minds known as ADM's Global Flexitarian Summit, where a dozen of ADM's top plant-based protein experts from around the world have gathered together for a week. And those results are delicious.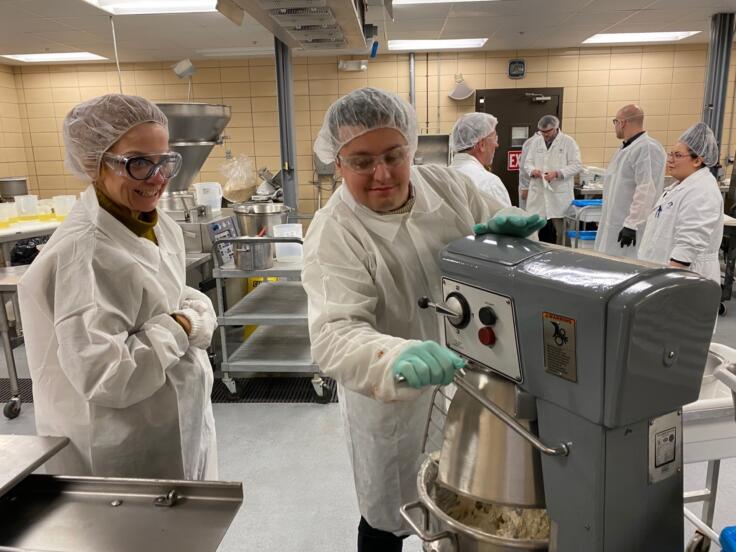 "This is truly groundbreaking," says ADM Culinary Director Bill Cawley. "We're addressing global plant-based protein trends by sharing knowledge, best practices and most importantly, best recipes."
In the intensive week-long summit, the experts spend time in the lab and kitchens, working with the plant-based proteins you already know, and creating the next innovative solutions by sharing the tips and tricks they use in their home labs.
"We're using more than just our plant-based proteins," Tony Payne, APAC protein technical director says. "We've showcased functional ingredients from across ADM's pantry in these dishes, building the texture, mouthfeel, flavor, authenticity and experience consumers desire. Of course, they absolutely taste great."
But these aren't just recipes, they're full solutions. The protein pros will continue to tailor the global standard when they work hand-in-hand with customers to deliver on regional preferences for taste, texture and color. And as the only protein house with a leading natural flavors and specialty ingredients portfolio, the team certainly has an edge in their ability to innovate.
"This process is unique to ADM," says Shelley Rudisill, product development and applications director. "We're dialed in to what consumers are demanding now in alternative proteins, and through this summit, we've fast-forwarded to what they'll ask for tomorrow."
For the team at ADM, it's a six-part piece - always making sure taste, texture, functionality, color, aroma, and nutrition meet the consumers' preferences in meat alternatives. Nutrition is the number one motivator to the category and taste is the number one barrier, as 51 percent of flexitarians say inferior taste could keep them from considering alternatives. But by combining our technical expertise, pantry and by drawing on the strength of each regional team, we're bridging that gap, setting the gold standard for delicious alternative protein creations the world over.
---