Chloé Blanc Recognized with Inaugural Rachel Hudson Leadership Award
Chloé Blanc Recognized with Inaugural Rachel Hudson Leadership Award
The accomplishments, career and life of Rachel Hudson, ADM Treasurer and Carbohydrate Solutions Chief Financial Officer, live on through a new, annual award celebrating her legacy of leadership. Chairman and CEO Juan Luciano explains why global Digital Marketing director Chloé Blanc was the clear choice to receive the inaugural award.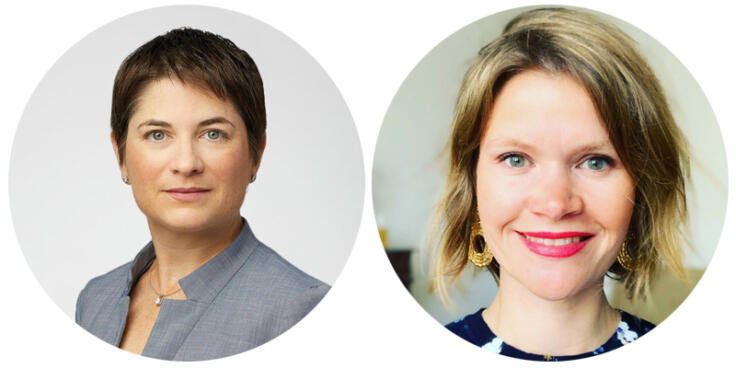 "Throughout her time at ADM — and throughout her life — Rachel Hudson exemplified what it means to be a passionate, inspirational and transformational leader on a global scale," says ADM Chairman and CEO Juan Luciano.
Hudson was a highly accomplished global financial professional who spent 17 years in key roles within the company's Finance organization and worked at ADM locations in Europe, South America and North America. In January, ADM colleagues around the world shared their remembrances upon hearing of Hudson's passing following a lengthy cancer battle.
"Simply put, she was a force of nature," wrote Chris Cuddy, svp and president, Carbohydrate Solutions, at the time. "Her intellect, tenacity and commitment to our business were best in class. She truly cared, not just about our organization, but about each of us. And it was this quality — above and beyond her remarkable and many talents — that made her an integral part of our team."
In March, during ADM's first Women's Leadership Summit, Luciano announced a new award had been named in Hudson's honor. The award recognizes one of ADM's best and brightest talents who embodies the essence of what Hudson brought to ADM each day: someone who demonstrates natural leadership, business ownership and a global and innovative mindset, and who is tenacious, courageous and thoughtful. At the meeting, Chloé Blanc, our global Digital Marketing director, based in St. Nolff, France, was recognized as the first recipient of the Rachel Hudson Leadership Award.
Luciano says it is clear why Blanc was chosen. "Those that work closely with Chloé immediately recognize her confident natural leadership style, and her clear sense of ownership of the digital domain. Her combination of strategic, consultative and technical skills has been a perfect fit for the ADM culture and are critical to helping ADM transform the way we interact with our customers. She has acted with thoughtfulness, innovation and courage as she has consulted across the business to build a foundational strategy for digital marketing that will take us into the next decade."
"Being the first to receive the Rachel Hudson Leadership Award is the best recognition I could ever have at this stage of my career and life as a leader, woman and mother," says Blanc of the recognition. "I will try my best to honor Rachel and her family, to continue to learn with curiosity and to support the amazing network of talented women within ADM."