Creating an Edge in Sustainable Ice Cream Solutions with Refreshing Summer Flavors
Creating an Edge in Sustainable Ice Cream Solutions with Refreshing Summer Flavors
ADM provides customers with an edge in creating sustainable ice cream solutions by combining a robust toolbox for flavor creation and a limitless portfolio of natural flavors with clean-label, functionality and ethically sourced ingredients. Here are the latest summer innovations in ice creams from ADM.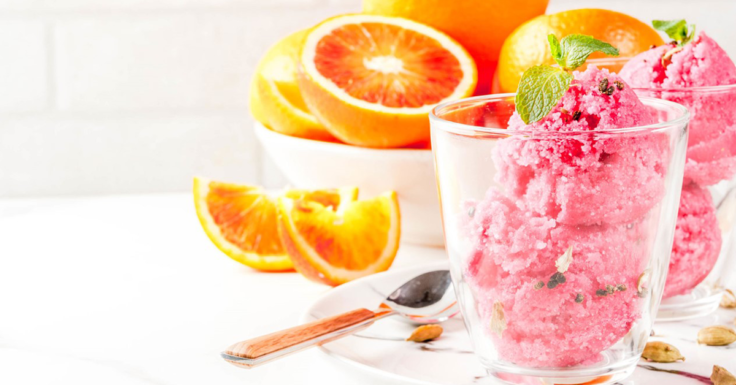 Vertically-integrated flavor portfolio
With world-class vanilla, citrus and mint capabilities backed by our vertically integrated global supply chains, we are directly connected to farmers and growing partners to sustainably and responsibly source flavor, color and fruit ingredients. By removing the middle steps in traditional supply chains, ADM is able to ensure quality across our supply chain starting from raw materials and provide transparency and traceability.
Clean label
Using new patented technology, ADM now has the capability to produce clean label ice cream with just two ingredients: fruit and sugar. The clean-label technology brings to life ice creams with pure fruit preparations that have a
natural taste and texture, with no additives, in dairy and dairy alternative versions.. According to ADM's Outside Voice consumer study, 83% of German consumers perceived the products to be highly natural.
Summer flavors
Citrus sorbets
Bringing a variety of citrus flavors from the Florida Chemical Company and Ziegler, part of ADM's citrus platform, these summery sorbets include grapefruit, lemon, blood orange and lime, with 20% fruit content, except for lime sorbets which have 15% fruit content. ADM's blood orange sorbets come in combinations with sage, raspberry, lime, mint and gin to serve up refreshing flavors for the summer.
Indulgent ice creams
With the Chocolate Chai Frappuccino, ADM brings the best of its expertise in natural coffee, black chai and chocolate flavoring deliver on-trend flavors. Additional solutions include the Alpine Sundae, with a yeast dumpling flavour, and the Parmesan Honey Fig Walnut ice cream.
Functional Ingredients
ADM's range of plant-based ingredients can also increase nutritional value through protein fortification, improving texture, viscosity & other functionalities. Additionally, ADM's postbiotics can help support consumer demand for metabolic health solutions. Adding functionality to those refreshing flavor profiles.
Virtual tasting sessions
Adapting to the current global situation, ADM has developed a digital platform named "E-nnospark" to continue to create valuable customer experience and offer our expertise to further develop opportunities through virtual tasting sessions. With product samples sent to the customer beforehand, the platform is advancing momentum on projects to create new flavour combinations.
---