Creating and Sharing Ag Training Videos in Uganda
Creating and Sharing Ag Training Videos in Uganda
Information sharing is key to preventing post-harvest loss. Farmer-to-Farmer Agricultural Training Videos (F2FAGTVs) have proven to be very effective tools in sharing knowledge and best practices, especially in locations like Uganda where it can be challenging to reach such a large number of farmers. Thanks to an ADM Cares grant, the ADM Institute for the Prevention of Postharvest Loss at the University of Illinois has launched a partnership with Gulu University in Uganda through the AgReach Program to create and share three videos to help train farmers in best practices.
Through an agricultural training video workshop, a seasoned videographer based in Kampala, Uganda, trained a group Gulu faculty as well as students from both Gulu and the University of Illinois. The group produced videos on topics identified by local, rural Ugandan farmers and faculty within Gulu University's Department of Rural Development and Agribusiness. The videos aim to help reduce post-harvest loss, enhance smallholder farmer nutrition, and offer compelling peer-to-peer learning opportunities for farmers to improve their livelihoods derived from agricultural production.
"Videography is a powerful tool for promoting agricultural extension service provision worldwide," said Amber Martin, Uganda Field Coordinator, U of I AgReach Program. "It enhances learning and practical experiences and allows us to reach a greater number of people, especially in developing countries where the number of extension agents are very few in relation to the number of farmers."
Video training allows farmers—especially female farmers, who may not have enough time to attend trainings outside their home—to learn anytime, anywhere.
F2FATVs offer a scalable solution to access to and dissemination of information about improved post-harvest handling processes, more nutritional diets, and novel income-generating activities. The three videos, produced with ADM's support, can be found here.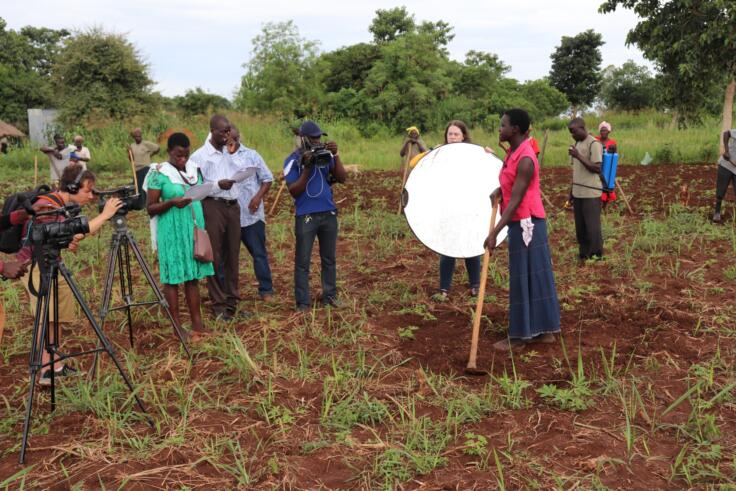 ---