Creating Chemicals that are Good for the Company and the World
Creating Chemicals that are Good for the Company and the World
As consumers grow more concerned with the environmental impact of what they buy, consumer packaged goods companies are increasingly looking to use more biobased products derived from plants, reducing their carbon footprints and meeting their corporate sustainability goals. By collaborating with partners throughout the value chain, ADM continues to innovate in renewable chemicals rooted in agriculture. Here's how three of ADM's renewable chemicals are harnessing the innovative potential of plants.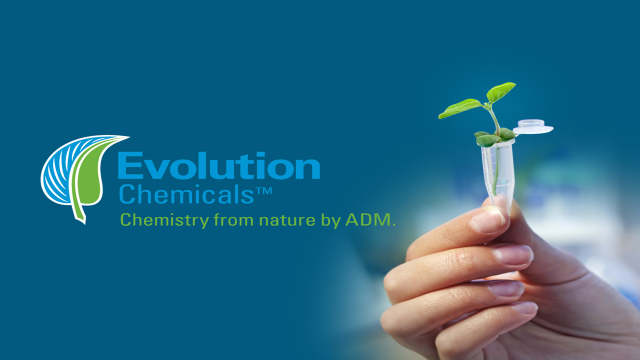 We currently produce about 30 different products from a kernel of corn, and now, we're adding one to the list: acrylic acid. Through our partnership with LG Chem, we will create a biobased acrylic acid, a key component of superabsorbent polymers found in diapers and other hygiene products.
"The acrylic acid project is another effort from ADM to create new, sustainable materials from renewable resources, and supports our strong commitment to support customer demand through innovation," said ADM senior vice president and Chief Technology Officer Dr. Todd Werpy. "By tackling this challenge with LG Chem, we can leverage the strengths and expertise of both companies to bring a cost-effective, sustainable solution to our customers."
Under the terms of this agreement, ADM and LG Chem—one of the world's leading manufacturers of acrylic acid—will work jointly towards economically viable commercial production of a 100% biobased acrylic acid using ingredients from ADM corn processing. Although there is growing industry demand for products developed from renewable materials, acrylic acid is currently produced almost exclusively from petrochemicals.
We've partnered with DuPont to create the "Ultimate Plastic" from a corn-based molecule. The team from ADM and DuPont team members produce furan dicarboxylic methyl ester (FDME), derived from corn fructose, which can help lightweight bottles and enhance their barrier properties, thus extending the shelf-life of products.
Using FDME produced at ADM Development Products pilot plant, DuPont creates a polymer called polytrimethylene furandicarboxylate (PTF), a novel polyester also made from DuPont's proprietary Bio-PDO™. PTF is a 100-percent renewable and recyclable polymer that—when used to make bottles and other beverage packages—substantially improves gas-barrier properties compared to other polyesters. This makes PTF a great choice for customers in the beverage-packaging industry looking to improve the shelf life of their products.
In addition, PTF can be blended with existing PET plastic to help improve performance while using less plastic overall, a concept known as lightweighting. In combination with package-design improvements, this approach can reduce the amount of material consumed, and reduce costs of shipping and delivering food and beverage products.
You might not be familiar with it, but we use 3.5 billion pounds of propylene glycol every year in everything from everyday consumer products—including liquid detergents, hand sanitizers, pharmaceuticals, and cosmetics—to industrial products such as plastics, paint, antifreeze, and aircraft de-icer. And traditionally, all of that propylene glycol has been made from petroleum.
Today, a 100,000-metric-ton-per-year ADM facility produces propylene glycol from renewable sources.
"It's the first biobased process that produces propylene glycol at industrial scale that meets all the same industrial specifications as that produced from petroleum," said Paul Bloom, ADM vice president of Research. "The process results in up to a 61 percent reduction in greenhouse gas emissions and is competitive with the traditional petroleum route."
Why are we doing this?
As customers focus more and more on sustainable alternatives, ADM is looking to continually push the envelope and find new ways to diversify our product mix. We're working with the entire value chain to create new demand.
"Working with brand owners and other value chain players helps us innovate more effectively," said Justine Li, ADM vice president of strategic business development.
By producing renewable chemicals, we're preventing crop waste, making more efficient use of crops, and increasing yields on existing land. In short, we're creating chemicals that are good for ADM's business, and good for the world.
---