Cross-Business Trainees in Europe Explore the World of Nutrition at ADM
Cross-Business Trainees in Europe Explore the World of Nutrition at ADM
Solène Hulo, Esther Kubik, Melanie Cannavo, Vanessa Hertzke and Sinem Guelmez, part of ADM's first cross-business sales and marketing trainee program in Europe, began their adventure in France early on in the year on a rotation with the company's Animal Nutrition business. They spent the next four months in Heidelberg, Germany exploring ADM's Nutrition business, deepening their sales and marketing knowledge at the cutting edge of the world of food and beverages.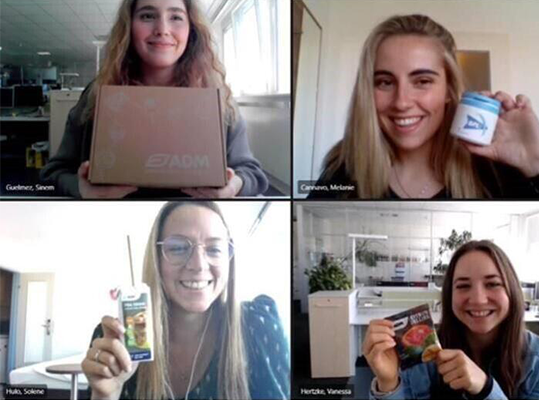 For Solène, her experience in Heidelberg helped her see the similarities and differences in the marketing approaches to Human and Animal Nutrition, and understand how the two businesses can work together. She was involved in building a standard portfolio, focusingon flavors for customers in Africa. "It was interesting to work with different cultures, learn about a completely new market and see how we customize flavors to suit local taste preferences in different food applications," said Solene.
Having worked on marketing and finance projects before, Esther worked with the sales team in the beverage segment in Heidelberg. "The project initially started with a focus on ingredients and alcoholic beverages, andexpanded to include other categories. It was fascinating to see synergies emerge across the beverage segment. The highlight for me was when we held a cross-functional workshop, during which we leveraged the expertise of the entire team to develop new ideas for customers and ways to support our sales team," said Esther.
"My project in sports nutrition was fascinating, because it helped me see how the different parts of the Nutrition business and colleagues with different areas of expertise come together to create new solutions that add greater value by combining ingredients, know-how and capabilities," said Melanie. Based on market analysis research, she helped design new products that combine a wide range of ingredients from the full ADM pantry to meet the needs of consumers in the sports nutrition market in the form of protein powders, meal replacers and gels.
Vanessa's work with the digital transformation team saw her conducting research to develop a customer portal and creating a feedback application to improve the product sample process to better serve Nutrition customers around the world. "With people living and working in a more digital world, I found my project very relevant and interesting. It deepened my knowledge in the field of customer experience, which is the direction I see my career path moving in," said Vanessa.
Sinem's previous experience in sales was complemented by her marketing experience in Heidelberg through a project supporting a digital customer event and webinars for colleagues. "Even beyond COVID-19, these digital tools will remain relevant and help build the digital customer experience. I enjoyed working with colleagues from across departments and gained a greater understanding of different topics in the field of nutrition," said Sinem.
Now in Bulgaria for their final rotation with ADM's Carbohydrates Solutions business, the group of trainees have been learning more about the company's corn plant in the city of Razgrad, after which they will spend the second year of the program in a selected business unit to deepen their skills and experience.
---