Design Fiction Exercise Shows Potential Food Future Made Possible by ADM's Innovation Today
What is Design Fiction?
It is a designed object or artifact that is created to offer a tangible example of what the future could hold.
The food we eat is increasingly nourishing us in more ways than one, and the food choices we have tomorrow will look a lot different than the ones we have today. As a global leader in nutrition and agriculture, ADM is at the forefront of food innovation. Whether it's baked goods or beverages, dairy products or ready-made meals, we help food brands and businesses up-level the taste, format, function and nutrition of everything they make. We're able to identify invaluable insights and opportunities for growth for our customers because we stay on the pulse of consumer behaviors and get in front of the emerging trends and preferences that are shaping what people buy and consume today, tomorrow and beyond. With our forward-looking knowledge and deep scientific expertise, ADM unlocks what's next in nutrition.
We recently partnered with Design Fiction experts Ian Bogost and Julian Bleecker to conceptualize and create the NourishNow vending machine, an imagined object that paints a picture of what our future food and beverage choices could potentially look like with the help of ADM.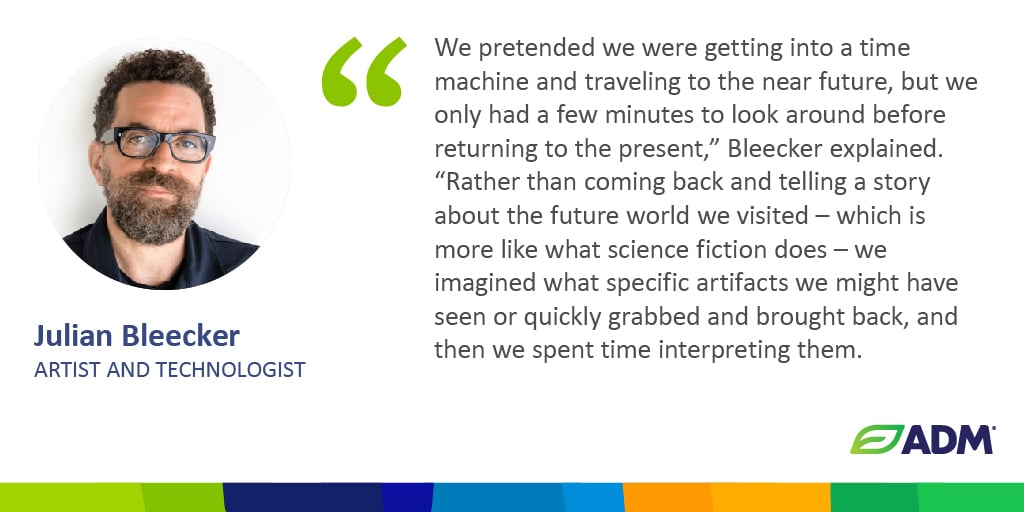 As part of that exercise, ADM envisioned a vending machine of the future and what kinds of offerings it might contain. Then, we came up with fictional snacks and drinks that nod to emerging global trends and ADM's insights capabilities, plant-based solutions, ingredients expertise and scientific know-how. The imaginary products in NourishNow offer targeted nutrition and wellness benefits and flavor innovations, and they are made with great-tasting alternative proteins and other sustainably produced ingredients. They also come in eco-conscious packaging that clearly communicates where and how they were made. And although none of the NourishNow products currently exist, they each reflect various capabilities and services ADM already offers or is working towards.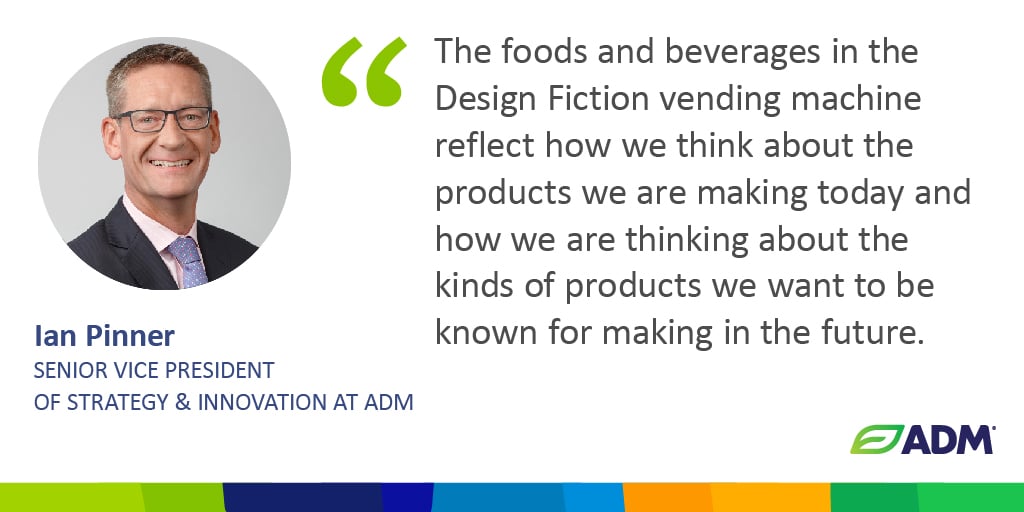 At ADM, we are blazing new trails in food innovation that will bring more choices, more benefits and less environmental impact, and the Design Fiction exercise helped us illuminate the promise of what could lie ahead. Here are just some of the ways we are broadening the power of what we eat and drink.
Specialized Nutrition That Checks Multiple Boxes
Modern consumers want food that feeds their body, mind and soul, and at ADM, we leverage our comprehensive insights and formulation expertise to help make products that fit the bill. Thanks to our substantial suite of proprietary tools, we can take a consumer-driven approach to food and beverage innovation. Data about current and emerging preferences informs everything we do, whether we are helping a customer come up with a completely new product or looking for ways to improve the taste and environmental impact of something that already exists.
We also have the technical ingenuity and resources to turn visionary food concepts into a delicious reality. Our global team of experts includes 100 scientists, 10 chefs, 400 food technologists and 60 flavorists who span 27 customer innovation centers in 21 countries. This enables us to address any formulation challenge that comes our way, from texture and color to functional ingredients and clean label solutions. These capabilities are particularly germane as consumer desire for foods that offer specific health and wellness benefits beyond just basic nutrition continues to grow. Rising health concerns, the aging global population and increasing per capita income are driving explosive growth in the functional food and beverage market, which was valued at $189.5 billion In 2021 and is projected to increase to $285.3 billion in 2030. At ADM we are equipped and ready to meet this burgeoning demand, as our broad portfolio of solutions allows us to create food products that satisfy a multitude of needs.
Food That is Planet Friendly
The environmental impact of the food we eat is becoming increasingly important – and more and more people are seeking out food and beverage products that are responsibly produced and sustainably made. According to ADM's 2022 Consumer Sustainability Trends in Food and Beverage to Watch report, over half (54%) of global consumers feel they can make a difference to the world through their purchase decisions and 73% feel more positively about companies that are transparent about where and how their products were made, raised or grown. This is boosting interest in alternative proteins, plant-based foods and ingredients, sustainable packaging and clean label products that give people full insight into what they are buying and consuming.
ADM is well-positioned to deliver in all these areas. We have pioneered innovations in plant protein solutions for over 75 years and are leading the way in meat, seafood and dairy alternatives, as well as other plant-based nutrition solutions. Our vast selection of high-quality protein ingredients from over 30 wholesome sources enables us to provide virtually every type of plant-based protein imaginable. We offer a wide array of pea protein, soy protein and wheat protein products and ingredients, which means we can help food and beverage makers develop foods tailored to any specific protein need. And most importantly, our technical experts have a deep understanding of how to bring ingredients together to create plant-based protein foods that are truly delicious – because we don't think great taste and nutritional benefits should ever be mutually exclusive.
We are also using our investing arm – ADM Ventures – to collaborate with and support cutting-edge startups, so we can help pave the way for revolutionary innovation in the food space. Through these efforts we are advancing progress in exciting areas like air protein, cultivated meat and much more. In addition, ADM offers a number of packaging solutions that leverage plant-based ingredients and recycled materials to reduce the environmental impact of manufacturing paper and cardboard materials. We continue to chart new territory in this line of business, which will play an important role in bolstering the overall sustainability of packaged foods going forward.
"When you think about the portfolio we have, and the science, technology and manufacturing we're investing in, ADM could bring the types of products in the Design Fiction vending machine to life at some point in the future," Ian Pinner said.
The Future of Food
ADM is driving innovation and progress in the food and beverage space that is enhancing what we eat and drink in myriad ways. From functional snacks that pack a powerful health and wellness punch to innovative plant-based products that nourish people while protecting the planet, we are turning the latest consumer trends into brand-new food realities every day.
The NourishNow vending machine might not exist today, but with ADM's extensive resources and R&D expertise, the experience it conveys isn't outside the realm of possibility. One day in the not-too-distant future, you could have the ability to choose a great-tasting snack that's hyper-tailored to your unique needs – whether you're watching the size of your carbon footprint or the size of your waist.
Visit ADM.com to learn more about our groundbreaking human nutrition capabilities and offerings.
---