How ADM is Feeding the Global Plant-Based Boom
How ADM is Feeding the Global Plant-Based Boom
Lorem At ADM, we're the pioneers of plant-based protein and we're continually innovating in this category as consumer demand for alternative foods and beverages surges. In fact, 23% of U.S. adults said they were limiting their meat intake in July 2020, compared to 19% in December 20191. Plus, Mintel forecasts that U.S. sales of plant-based meat substitutes will increase to $3.2 billion by 20252. All signs point to an urgent need to develop a food system that meets these consumer demands.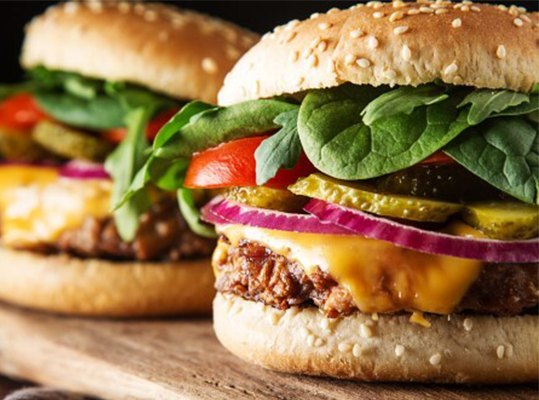 ADM has what it takes to feed the future. We're fast-tracking plant-forward protein solutions by leveraging our global scale, supplier relationships and on-the-ground partnerships. With ADM at the helm, our industry is ushering in the next wave of food innovation.
Our Proprietary Game-Changing Solutions
ADM offers plant protein products backed by 75 years of experience in alternative protein design and taste expertise. ADM holds the process patent for textured vegetable protein (TVP®), invented in the 1960s, and today alternative protein is still one of our core growth platforms. Invention continues at sites like our new innovation lab in Singapore that enables us to create tailor-made plant-based meat alternatives. The facility features a food and flavor analytics lab, a meat and savory lab, and sensory evaluation facilities.


We're helping customers around the world meet the surging demand for plant-forward foods through our best-in-class protein solutions that help them bring superior products to market faster. For instance, our NutriFlex™ Protein Systems – combined with the latest food and processing technologies and the breadth and depth of our technical expertise – help solve for taste, texture and nutrition challenges that are common in this category. NutriFlex™ includes three levels of plant-based offerings to provide variety and enhanced formulations, from easy-to-use nutritionally fortified protein blends to value-added textural and functional systems to fully finished, culinary crafted meat alternative solutions.
Our premium plant proteins have clean taste, neutral color and optimal functionality, ensuring exceptional sensory experiences for every finished product, regardless of the application. Take our MaxFlex™ system as an example. These carefully crafted powdered blends bring nutritional fortification and protein diversity to a broad variety of baked goods, snacks and beverage applications. These wholesome plant protein blends can be combined with other base ingredients to maximize protein nutrition and functionality, to create healthy and delicious plant-forward products.
Partnerships Powering Innovation
To feed a rapidly growing global population, the future of food depends on sustainable solutions, and for consumers that often means plant-based alternatives. We cannot solve this problem alone. More than ever before, startups with big ideas, large multinationals and customers representing a range of products and cultures are working together.
Some of our notable collaborations include Imagine Meats with Bollywood stars Riteish and Genelia Deshmukh, as well as PlantPlus Foods, a joint venture with Marfrig. Catering to the Indian market, Imagine Meats has just launched its first products, traditional dishes using meat alternatives. With PlantPlus Foods we're offering a wide range of finished plant-based food products across North and South America.
Additionally, ADM has acquired Sojaprotein, a leading European provider of non-genetically modified (non-GM) soy ingredients. The addition of Sojaprotein increases our production capacity and includes an impressive network of customers who are leading the way in meeting consumer needs for locally produced, nutritious and responsible plant-based foods and beverages.
We're also exploring next-gen meat alternatives. Innovative startups in this category include Air Protein, Nature's Fynd and Perfect Day. Air Protein is a pioneer in producing meat made from elements of the air – notably carbon dioxide, which can be recycled from our wet mills and ethanol production. Nature's Fynd produces fermented protein from fungi originally discovered in Yellowstone's geothermal hot springs. Perfect Day creates whey protein for dairy alternatives through precision fermentation. ADM Ventures has invested in each of these companies to leverage biology and promote human and planetary health.
Another strength ADM brings to the table is our understanding of consumer awareness and acceptance of alternative proteins, as well as the ways consumers perceive next-gen protein sources. That means we can adapt and appeal to consumers in every region and achieve the future of plant nutrition today.
For nearly 120 years, ADM has been unlocking the power of nature to enrich the quality of life the world over. We pursue confident and courageous action from the seed of an idea to the outcome of the solution. From our industry-advancing innovations and unparalleled portfolio of ingredients to our broad technical expertise and our global commitment to sustainability, we give customers an edge in solving the nutritional challenges of today and tomorrow.
1Mintel, July 2020
2Good Food Institute/Plant-Based Foods Association/Mintel based on IRI InfoScan® Reviews
---