Making the Perfect Plant-Based Burger
Making the Perfect Plant-Based Burger
With the explosion of consumer interest in flexitarian diets, ADM customers have been asking for the science behind making delicious plant-based alternative meats. At our Food Innovation Center in Decatur, Illinois, the research and development team is sharing ADM's know-how, technological skills, and unmatched protein, natural flavor and specialty ingredient portfolio in an intensive, three-day customer experience known as the ADM Alternative Meat Seminar.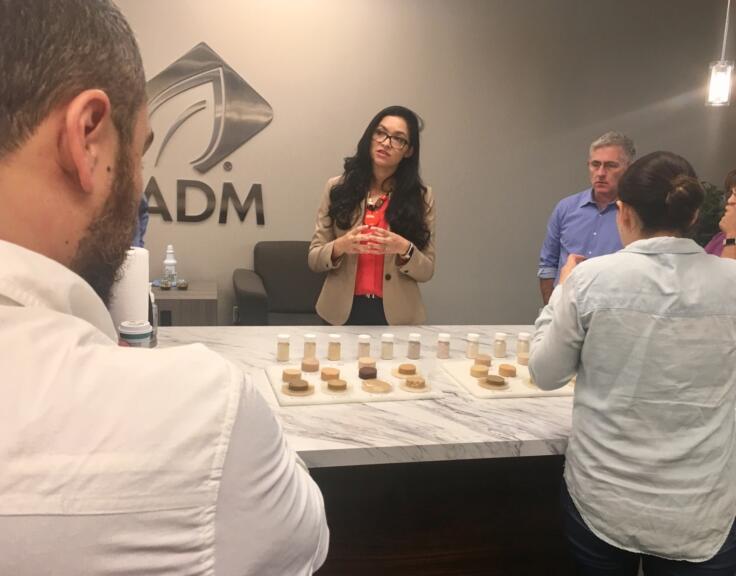 Huddled around a table at our Customer Interface Center, food developers listen with rapt attention as ADM scientists demonstrate what makes a great meat alternative. When they're passed around the room, small cylindrical gels derived from soy, wheat and other plant-based proteins may not look like it yet, but when combined with flavors, colors and other ingredients, they become tasty, consumer-pleasing meat alternatives.
Throughout the Alternative Meat Seminar, the group gets hands-on learning experience, actually creating vegan and vegetarian products such as burgers, breakfast patties, pizza toppings and empanadas, made with ADM ingredients, all designed for today's flexitarian consumer.
"Increasingly, consumers are looking for natural sources of high-quality plant-based protein, which are highly sustainable and nutritious," said Vince Macciocchi, ADM svp and president, Nutrition. "Our protein academy provides vegetable protein and flavor solutions, deep technical knowledge, and more than 75 years of experience to help our customers meet consumer needs."
Over the course of three days, the customers use custom protein ingredients including textured proteins, isolates, concentrates, grits and flours from diverse plant sources such as soy, wheat, ancient grains, edible beans, nuts and seeds. They learn how to optimize texture, flavor and nutrition in several meat alternative products such as burgers, sausages, nuggets, jerky, empanadas and others.
"Our seminar showcases ADM's unique position as a proteins house with a leading natural flavors and specialty ingredients portfolio," Macciocchi said. "By blending functional proteins with a wide array of specialty ingredients and flavor profiles, we can collaborate with customers to give them an edge on any challenge they are trying to solve."
ADM Protein Development Manager Dina Fernandez leads several sessions of the seminar and says that the developers enjoy learning more about creating satisfying alternatives to meat-based dishes, especially at a time when the demand for plant-based meats is so high.
"Customers have been providing such positive feedback," said Fernandez. "Several have expressed thanks that we've taken this time to help them understand plant protein ingredients from many angles. Now with their knowledge of functionality, nutritional value, and flavor perspectives, they can dream up innovative plant-based products for the flexitarian market."
The seminar has been part of ADM's heritage for years, and the research and development teams are committed to providing continued excellence in food application development. And with more than 60 research labs and innovation centers globally, ADM scientists will hold future sessions to create protein pros around the world.
---