Making the "Ultimate Plastic" from a Corn-Based Molecule
Making the "Ultimate Plastic" from a Corn-Based Molecule
You wouldn't know it from the exterior of the nondescript building at the end of Parkway Drive in Decatur, Illinois, but among the products created inside is an award-winning, headline-grabbing monomer, called furan dicarboxylic methyl ester (FDME). Colleagues work to produce FDME, which is a molecule derived from corn fructose that can help lightweight bottles and enhance their barrier properties, thus extending the shelf-life of products.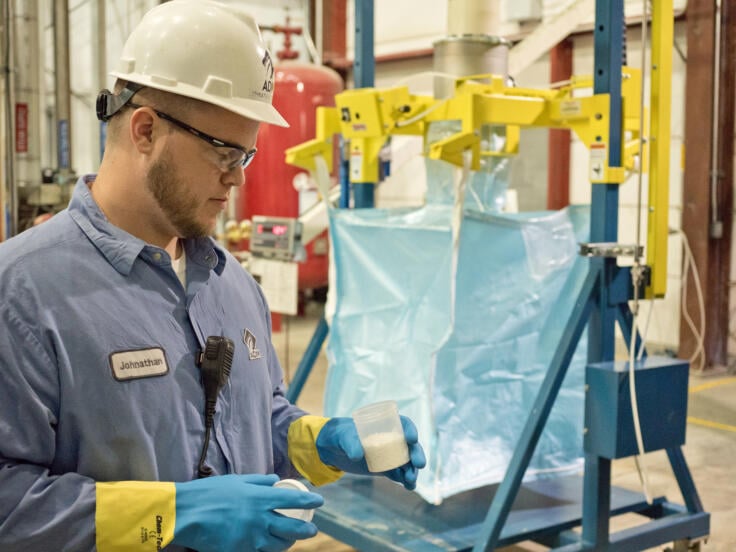 "We're confident FDME is both the more sustainable option and the better-for-business option," said Michael Saltzberg, Ph.D., global business director for Biomaterials at DuPont Industrial Biosciences. "This molecule, and its numerous applications, will be high-performing, cost-effective and better for the environment. ADM's expertise in agricultural value chains and the chemistry of carbohydrates makes them the best possible business partner on this initiative. Our goal is to bring this game-changing technology to commercial scale as quickly as possible."
"Companies and consumers are of course concerned about their environmental footprint, but their bottom line will always be a key priority," said ADM Chief Technology Officer Todd Werpy. "This new, innovative product will help customers replace plastics with materials that are more environmentally friendly, better performing and cost efficient. We're pleased to work with DuPont, a leader in biomaterials, to bring this innovative new portfolio of solutions to customers around the globe, and we're excited about the future of FDME."
By using ADM's FDME, DuPont is creating a polymer called polytrimethylene furandicarboxylate (PTF), a novel polyester also made from DuPont's proprietary Bio-PDO™. PTF is a 100-percent renewable and recyclable polymer that—when used to make bottles and other beverage packages—substantially improves gas-barrier properties compared to other polyesters. This makes PTF a great choice for customers in the beverage-packaging industry looking to improve the shelf life of their products.
In addition, PTF can be blended with existing PET plastic to help improve performance while using less plastic overall, a concept known as lightweighting. In combination with package-design improvements, this approach can reduce the amount of material consumed, and reduce costs of shipping and delivering food and beverage products—including our own.
The pilot plant provides potential customers with sufficient product quantities for testing and research. If you'd like to learn more about how the ADM-DuPont process advantage, click here.
---