Meet A Cat-Loving Veterinarian who Helps Formulate Our Pet Food
Meet A Cat-Loving Veterinarian who Helps Formulate Our Pet Food
After nearly a decade dedicated to improving the quality of life of dogs, cats and their families through nutrition, Carolina Murguia, ADM's Technical Services Veterinarian, is very clear about the optimal formula for making pet nutrition products. For her, it is equal parts research and development, innovation, and the not-so-secret ingredient: an immense love for animals.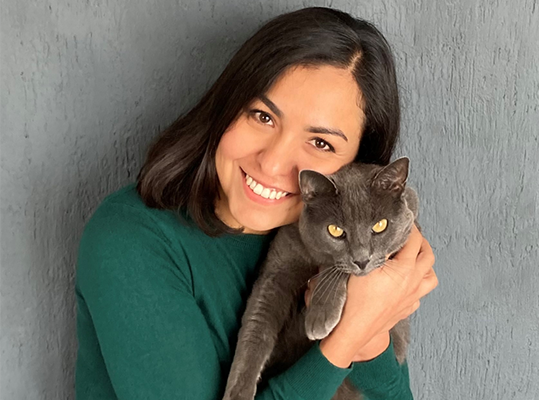 "Since I was a child, I loved pets and I have always liked medicine, says Murguía. "So I decided to pursue a career as a veterinarian, and after everything I experienced and learned, my love for animals has not stopped growing."
Currently, Carolina combines her experience and knowledge with the love and passion she has for pets, to provide technical support for the pet nutrition team, ensuring that ADM products are made with carefully selected ingredients, containing the targeted balance of nutrients.
"Giving due importance to the nutrition of our animals is something I am passionate about," Murguía emphasized. "I love it when customers fall in love with the benefits our products bring to their pets because they see their pets as healthy and happy."
A clear example of this is the FullTrust® range of products, our Mexican premium pet food brand, which contains the innovative Full Balance biotechnology benefits system, exclusive to ADM products. Recently, the team launched the new Full Trust Kitten and Full Trust Adult Cat lines, with Carolina's help, of course.
From skin and coat care, to optimal muscle growth, to immune system and intestinal health, to learning and brain development, Full Trust products help people take care of every aspect of their dogs' and cats' health, making them the ideal choice for those looking to take their furry friends' overall care to the next level.
In her home, Carolina loves and cares for her two pets: Targa, a Doberman she adopted three years ago, and Macan, a beautiful cat that has been part of the family for seven years, when Carolina rescued him as a newborn. And of course, both are fervent consumers of Full Trust.
"The fact that I have a dog and a cat helps me to understand the performance of the food we produce. Macan has a very particular 'catonality;' he is very expressive. In the mornings he says good morning to us effusively and when we give him Full Trust his face changes because he likes it so much," says Carolina. "And I love to see him happy."
Carolina adds that she's pleased more and more pet owners are paying attention to the food and nutritional needs of their canine and feline companions.
"If you give them a complete and balanced diet, apart from nourishing them, you are going to pamper them and they will be happy."
As the relationship between people and their pets continues to evolve, the way they are fed will continue to change. At ADM, we are ready to exceed these expectations because we have a talented team of people like Carolina, who work every day combining their experience and knowledge with their great love for animals.
"That is my mission: to share my passion for nutrition to help benefit the well-being of more pets and families."
---