Meet the Future Leaders Taking on Food Insecurity Through Sustainable Solutions
Meet the Future Leaders Taking on Food Insecurity Through Sustainable Solutions
Enactus' Race to Feed the Planet competition, sponsored by ADM Cares, has selected four finalists whose projects bring innovative approaches to tackling food insecurity through sustainable agriculture, products and enterprises.
Hunger levels rose in 2021 by 18% compared to 2019, affecting over 800 million people worldwide. Compounded by the economic effects of COVID-19, rising inflation and the disruption of the global food trade due to the war in Ukraine, food insecurity continues to be a growing threat to the countries most affected.
ADM, as part of its commitment to increasing food security in communities around the world, partnered with Enactus to launch this student competition to promote entrepreneurship, leadership and sustainable innovation among young leaders and provide them with support and resources to refine and scale their solutions. Competing teams have the opportunity to receive $25,000 USD in project funding.
Teams are also paired up with mentors from ADM, who provide industry insights and expert advice to guide the teams as they advance their projects. From their first-hand experience, the ADM mentors have lots to share about the impact these teams are making.
Meet the finalists and their mentors
Zaraat (Delhi College of Arts and Commerce, India) / Lucy Lu, ADM Regional Marketing Director Savory, APAC: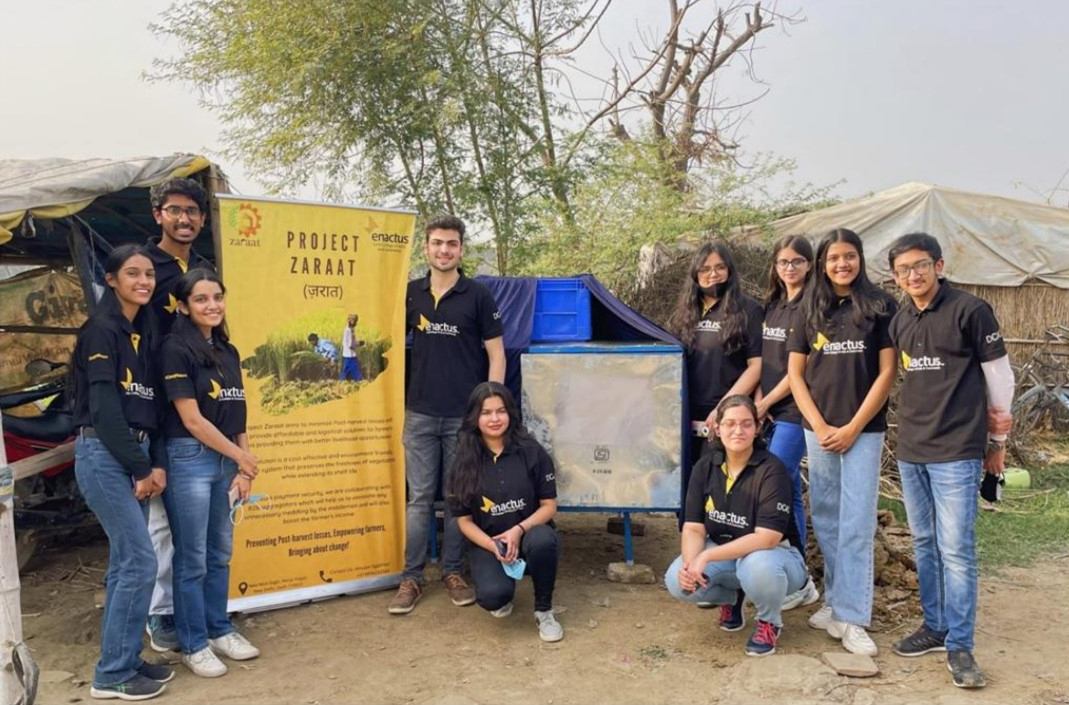 Project Zaraat developed an affordable storage solution that helps farming communities in Delhi, India, reduce postharvest crop loss. Beyond that, Project Zaraat also connects farmers to buyers so the additional harvest goes to market, generating additional income for the farming communities.
"The students are eager to learn. I've provided suggestions and advice about the food and beverage industry and they are already thinking about new solutions to add to their project. I am also learning a lot from them through the insights they've shared about the local India markets. This young generation's dedication, passion and solid execution has been really impressive." - Lucy Lu
Eco Xingu (UFPA Altamira – Federal University of Pará, Brazil) / Andrea Lunardini, ADM Technical Director, LATAM:
Eco Xingu is a social enterprise that repurposes plastic beverage bottles to create eco-tubes, a low-cost sustainable alternative for seedlings. This solution reduces the use of single-use plastic bags for the 100,000 seedlings produced in the country annually and upcycles plastic bottles that would otherwise become waste and pollute Brazil's rivers.
"The Eco Xingu team saw an opportunity to improve the process of how food is grown in Brazil by reducing single-use plastic waste that can't be recycled. It's an elegantly simple solution that can be easily replicated. We just needed a smart group of young innovators like the Eco Xingu team to prove its viability and scalability." - Andrea Lunardini
Waraq (Ramjas College, India) / Jan Weernink, ADM Global Marketing Director, BioSolutions:
Project Waraq is tackling a couple of different problems at the same time. In North India, there is a food shortage at schools, especially elementary schools, and a lack of food diversity. At the same time, farmers are burning crop debris, which causes air pollution. Thinking about these issues together, Project Waraq came up with the idea to mix the crop debris with seeds and turn it into compostable plateware that can be planted after use, thereby avoiding pollution and providing the schools with seeds and nutrients they can use to grow different varieties of food.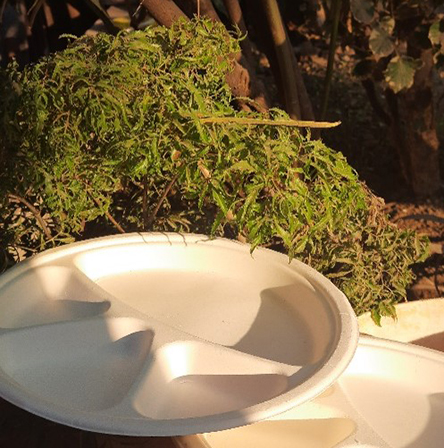 "We need to be more creative in how we tackle food supply chain issues. It's not just one answer that makes the difference; it's a whole range of small steps that add up. The Race to Feed the Planet is important because it creates local solutions that are scalable and tackles multiple problems at once." - Jan Weernink
Save the Grain (University of Cologne, Germany) / Ana Yaluff, ADM Sustainability Manager, EMEAI:
The Save the Grain team developed a communal solar-powered, low-tech and low-cost crop dryer that enables farmers in Togo to store their grain, prolonging product shelf-life and reducing postharvest crop loss. To help ensure the additional crop generates economic value, Save the Grain also helped the farmers form a cooperative that enables them to sell their harvest at fairer prices and secure economic independence and security.
"Save the Grain is a passionate team with a purpose driven project with a high potential to scale up and drive positive impact." - Ana Yaluff
What's next
ADM is committed to investing in innovations to help scale viable solutions and feed our global population sustainably. This includes investing in the next generation of changemakers tackling food insecurity on the local level. These four teams exemplify the creative problem-solving as well as the passion and dedication needed.
"We are faced with a multitude of issues that impact food supply, COVID-19, climate and regional conflicts to name a few. The Race to Feed the Planet encourages the younger generation to plan for and tackle these kinds of issues," Lu said. "The benefits are really important not only for me, ADM, and all these Enactus students, but for the whole world."
The four finalist teams will be heading to the Enactus World Cup 2022 in Puerto Rico October 30-November 2 where they will showcase their projects and judges will select the winner of the competition.
---