Partnering with Water.org to Bring Clean Water to 100K People
Partnering with Water.org to Bring Clean Water to 100K People
One in nine people around the world currently lack access to clean water. As communities grapple with the impacts of climate change, economic recessions and public health crises, the need for access to clean, safe water is more crucial than ever. ADM's partnership with Water.org enables access to sustainable water and improved sanitation in at-risk watersheds in India, Brazil and the Philippines. In honor of World Water Day, we share the story of one woman, among the tens of thousands, this partnership is helping.
Rajshri is a 45-year-old widow from Jogan Chincholi village in Latur district, India. She has two sons who work with her on their farm to cultivate soybeans and other vegetables. In addition, whenever they get the opportunity, they work as daily wage laborers on other farms. Rajshri's family earns an average monthly income of INR 30,000, approximately USD $406.
Until recently, Rajshri had to collect water from a public stand post 100 meters away for her home's domestic and drinking water purposes. The work was burdensome. To collect water for the entire family, as she endured multiple trips to the stand post, carrying heavy vessels of water. Even worse, the village stand post had an irregular and unpredictable water supply. It was a significant concern for Rajshri, and impacted her ability to work on the farm.
ADM's contribution to Water.org provides access to sustainable drinking water and improved sanitation for 100,000 people living in poverty in India, and Brazil and the Philippines, while contributing more than 26.4 million gallons of water per year to watershed health in extremely high-stress river basins. In January 2020, thanks to Water.org and ADM's support, Rajshri learned about a loan, available through the partnership, for a household water connection and storage facility. Water.org leverages a scalable, microfinance-based model that has mobilized billions in capital to support small loans that bring access to safe water and sanitation to millions of people in need.
Rajshri and her family are delighted that they now have access to a reliable, safe water source at their doorstep.
"Our work together ultimately focuses on improving the availability, quality and accessibility of water for all," said Alison Taylor, ADM Chief Sustainability Officer. "This partnership with Water.org is one tangible way we are taking action to help build community and economic resilience and equitable access to freshwater."
Rajshri is also thankful that she was able to get a water connection before the COVID-19 pandemic hit and lockdowns began.
"Access to safe water and sanitation is critical to the health and well-being of families around the world," said Jennifer Schorsch, president of Water.org. "ADM's partnership comes at a time when health and hygiene are top-of-mind and their support will provide lasting solutions to build more resilient communities."
The Water.org partnership will contribute to ADM's Strive 35 plan, having a positive water impact in at-risk watersheds where ADM operates.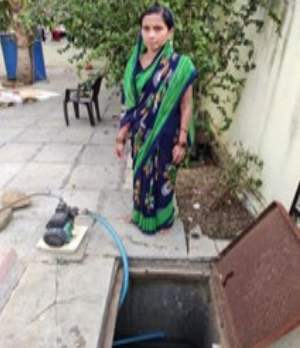 ---