Pictures of Leadership: Meet Rosalyn Vermeer
Pictures of Leadership: Meet Rosalyn Vermeer
Part of how we help create a gender-equal world is by celebrating women's achievement, raising awareness of bias and taking action for equality. During the month of March, we're spotlighting women on #TeamADM who are shaping the future of agriculture and nutrition. In this fourth edition of our series, meet Rosalyn Vermeer, logistics coordinator at ADM Europoort and learn about her accomplishments during her decades spent with the company.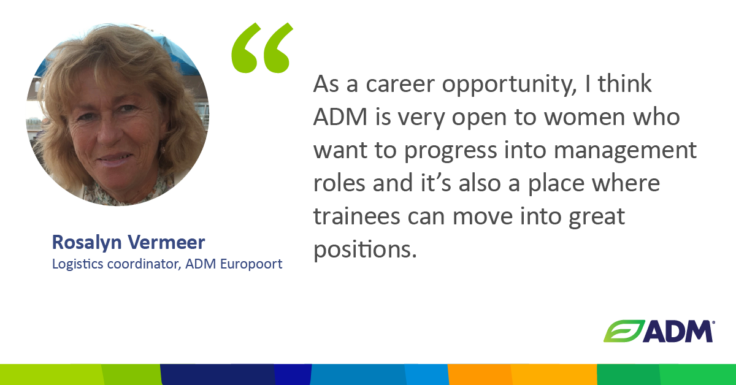 Rosalyn Vermeer, logistics coordinator, ADM Europoort
Tell us about your pathway at ADM so far
I began working for ADM in 1977. Although the job was in Maassluis, the old ADM site in the Netherlands, I spent the first six weeks training at another ADM office in Europe. Now it's very common to be sent all over the world for work, but in those days it was unique to go to a different location to learn more about the job. I worked in Maassluis for five years until 1983, when I was expecting my first child.
Fast forward eight years later when my second child started going to school, I decided to go back to work. I began by helping my colleagues at ADM and the plan was to stay in my role for three months. I stayed a little longer and last month I celebrated 30 years at ADM Europoort.
I have seen ADM grow as a company and I have learnt a lot. There have been ups and downs, but overall our department always seemed to rally round and survive. During the last few years, I have worked on teaching trainees the wonderful world of demurrage and despatch. Many of them have gone on to hold valuable positions at ADM and I would like to think that I contributed to their success and hope that they think fondly of their time at Europoort.
Which moment or what decision would you consider was career changing?
I have had two career-changing moments. The first was the moment I decided to work for ADM in 1977. I was previously working in a shipping company, where we used to track containers by writing different codes that were put into telex tapes, which were then sent to various companies. Things are very different today! I was bored with that job and wanted to do something more interesting, which is what led me to ADM.
My second career changing moment came in 1990, when I decided to go back to work after having my children. This move also brought me new opportunities as by then the ADM site had moved to their present location in Europoort.
What advice would you give to women who are starting their careers or who may feel stuck in the same place?
My advice would be to just go for it and to be prepared to travel. Many times, opportunities may come up that require you to move at very short notice, which will usually help you move onwards and upwards.
As a career opportunity, I think ADM is very open to women who want to progress into management roles and it's also a place where trainees can move into great positions. The trainee program, especially at ADM Europoort, provides young people with work experience and insight into the commercial world of the company.
As my working career is coming to an end as I am taking early retirement next month, all I can say after working for a total of 35 years for ADM is that it has been a pleasure and I will cherish fond memories of my work and my colleagues.
---