Pictures of Leadership: #TeamADM in NA
Pictures of Leadership: #TeamADM in NA
Part of how we help create a gender-equal world is by celebrating women's achievement, raising awareness of bias and taking action for equality. During the month of March, we're spotlighting women on #TeamADM who are shaping the future of agriculture and nutrition. In this third edition of our series, meet three of our colleagues working in North America, and learn more about the decisions they made, and the paths they forged to get where they are today.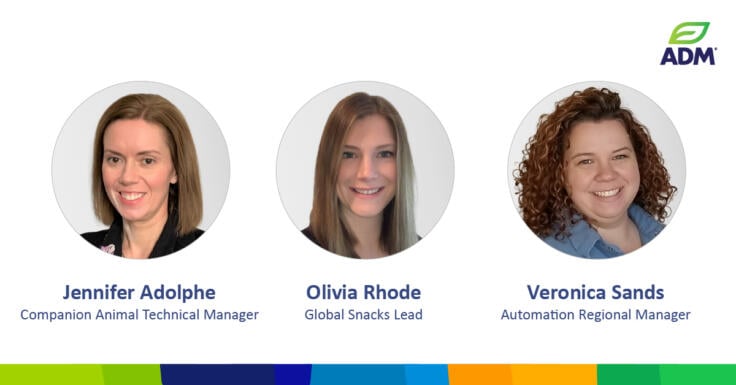 Jennifer Adolphe, Companion Animal Technical Manager
Tell us about your pathway at ADM so far.
Since I started only two months ago, I have only held one position at ADM, as a member of the pet nutrition business team in the Animal Nutrition division. But in the short time I have been here, I have quickly realized what an impressive company ADM is. The technical expertise at ADM is second-to-none and the ingredient portfolio is extensive. Working in the pet business unit, we have unlimited options available to offer to our customers. I am thoroughly enjoying my time at ADM and look forward to all of the exciting opportunities and new challenges ahead!
Which moment or what decision would you consider was career changing?
When I was nearing the completion of my PhD, I was trying to decide if I wanted to pursue a career in industry or in academia. I was favoring academia until I attended an animal nutrition conference where I overheard a researcher, whom I highly respected, ask someone else if they knew of any companion animal nutritionists in Canada who were looking for work. I joined their conversation and said that I was interested in learning more about the opportunity. One thing led to another, and shortly thereafter I was hired in my first role as a nutritionist for a pet food manufacturer. Choosing the industry route has been an ideal fit for me. I am invigorated everyday by my work where I get to merge science and business.
What tips would you give to women who are starting their careers or feel like they are stuck in the same place?
I have three tips for women starting their careers or feel like they are stuck in the same place: take risks, create change, and develop a network.
The biggest risk I took in my career was leaving a job without having another job in the queue. I was terrified that I would be unemployed and unable to find new work. However, it led to some amazing opportunities while I was unemployed and my next career opportunity was amazing.
If you aren't happy with your current situation, try to change what is making you unhappy. However, if you feel like you've done everything you can to improve the situation and it still does not feel like a good fit for you, move on to something else.
Although it sounds a bit cliché, having a diverse network is important for everyone, whether they are new or seasoned in their careers. LinkedIn has led to my last two jobs, but it would not have helped me if I did not already know the people in-person at the company where I ended up being hired. I recommend taking every opportunity available to meet new people and develop strong relationships.
Olivia Rhode, Global Snacks Lead
Describe your pathway at ADM so far.
Back in 2011, I started with ADM as a summer student in our lecithin research team, and that's where my interest in R&D started to grow. I then transitioned into a lab technician role, supporting various groups within research as I was attending Millikin University for my undergrad. My first full-time position was within the edible oils business as a technical sales rep and then my path took me back to research and benchwork and working on my masters in food science, finding a passion for developing food applications and utilizing my creativity and basic science training to understand how ingredients interact with one another. Today, I'm managing multiple groups within our food applications S&T team, where leadership has become my next step along my journey.
Which moment or what decision would you consider was career changing?
A pivotal moment in my career was when I was given the opportunity to start leading a team, having the ability to assist and guide scientists during their research brings me a lot of joy. Since this transition, I've grown as a leader in more ways than I would have ever imagined. It's allowed me to create relationships with not only those in my team but as well as individuals from across the globe.
What tips would you give to women who are starting their careers or feel like they are stuck in the same place?
A few pieces of advice, take chances and make as many networking connections as possible! Never say no to a new opportunity and have self-compassion for yourself. If you feel stuck, talk about it with your manager and work on those next steps that will truly bring you joy in your work. Taking risks is important to personal growth. Self-compassion does not come easily, but it will not only assist in your personal growth journey, but also transfer to those around you.
Veronica Sands, Regional Automation Manager
Describe your ADM pathway so far.
I came into to process controls because that is where I found a job out of college. The reason I have stuck with it for so long is a little more interesting. With constantly-changing technology, there is always something interesting to be done: automating something that has only ever been controlled manually, optimizing something through new technology, learning to use all the new predictive maintenance tech we now have available.
I'm proud to say that as I was able to advance technically. The leaders at ADM consistently empowered me to try something new, or take on a larger task- this has always kept the field continuously engaging. There was a point in my development where plant leaders started declining my upgrade ideas asking for something bigger, more holistic. Those pushes and challenges keep work life interesting.
What do you think most colleagues would be surprised to learn about the work you do?
I think colleagues would be surprised to learn how varied the work is, and how little 'coding' we actually do. So much of our role is to understand the necessary parts of the process and to work with others to make an effective control strategy. I think of our work like a big puzzle. First you need to set out and understand the pieces through working with other colleagues and sorting out options. Only then can you put the puzzle together through code and visualizations for our operators.
Jobs that require a lot of keyboard time are often thought of as solitary; many are surprised to find how much we work together. Since software is constantly changing no one can know everything. Process controls is often a team sport.
What advice do you have for others who may be looking to move into a role like yours?
Automation and process control is a great field to get into if you like problem solving and are ready to find a place that allows for real ownership. Not too many of our process controls colleagues found themselves in their role the same way I did. Most started out by showing interest and saying 'How can I help?' or 'I have an idea' and pursuing it and building upon that knowledge. We have some very talented automation colleagues in our company and so many of them area also great teachers and get a lot out of working with those that have a problem they want learn how to fix.
---