Pictures of Leadership: Trailblazing Women on #TeamADM Share their Stories
Pictures of Leadership: Trailblazing Women on #TeamADM Share their Stories
Diversity & Inclusion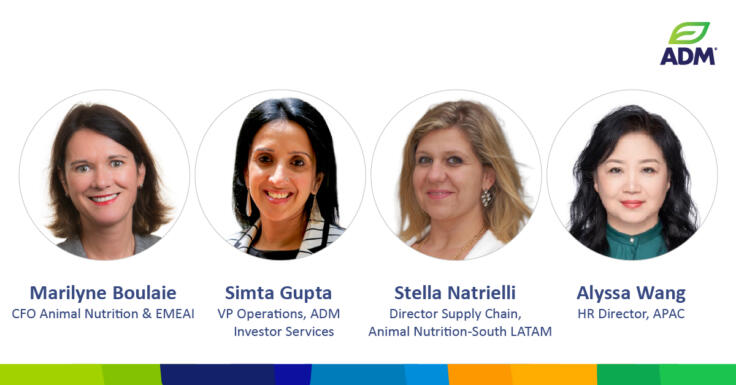 Part of how we help create a gender-equal world is by celebrating women's achievement, raising awareness of bias and taking action for equality. During the month of March, we're spotlighting women on #TeamADM who are shaping the future of agriculture and nutrition. In this first edition of our series, meet some of the women who have risen to positions of power in our business, and learn more about the decisions they made, and the paths they forged to get where they are today.
Marilyne Boulaie, CFO Animal Nutrition and EMEAI
Tell us about your pathway at ADM so far.
I joined ADM in October 2014. My first role was as the Oilseeds Business Unit controller and deputy EMEA chief financial officer (CFO), after which I progressed to the role of regional CFO. At the end of 2018, following the acquisition of Neovia that I had worked on, I became the global Animal Nutrition CFO in addition to having oversight of the EMEAI Finance team.
Which moment or what decision would you consider was career changing?
After just a few years of experience in financial controlling in two different consumer packaged goods (CPG) companies, I joined the food and ag industry, where I was offered the challenging role of finance director and integration leader of the company's newly acquired French business, with a plan to promote me after a year if I was successful. As I was able to complete all of my goals and since I was always looking for new challenges, wanting to learn new things and new businesses, to work with different people and experience different cultures, I was then offered various assignments across businesses and countries every two to three years. I was also lucky to have a very good mentor and role models to work for throughout all my years. They helped me develop as a leader, and overcome my perfectionism and reserve.
What advice would you give to women who are starting their careers or who may feel stuck in the same place?
Keep your priorities clear for your family and work life. Always be yourself, open and honest. It's also important to be aware of your strengths and continuously build upon them. Take the time to build up a network and relationships with the people who can coach and mentor you throughout your career. Growth does not only mean promotions - you can learn, develop a lot and also have a lot of fun and personal rewards through lateral moves in different businesses or functions.
Simta Gupta, VP Operations, ADM Investor Services
Tell us about your pathway at ADM so far.
My career started as an analyst in investment banking directly from college. I remained in the banking sector for 3 years and then pivoted to the oil industry. During this time, I was very curious about how processes worked, and quickly realized the benefits of analyzing the various ways to perform a process, and choosing the best option to ensure maximum benefits to the team. In addition, I felt motivated to lead others in finding efficiencies, driving change and making a difference within the organization.
When I joined ADMIS in 2019 as VP of Operations, it was a great opportunity to help further grow the momentum for process improvements that were already in place. I work closely with the talented colleagues on our operations teams and ask them to share my commitment to excellence and continuous improvement. We never know what the day has in store—and that keeps me engaged, motivated and excited on a daily basis. I truly enjoy the work that I do, as well as the chance to inspire my teams to be innovative and constantly challenge the status quo to meet the needs of our evolving business.
In addition to my operational duties, I am also honored to chair ADMIS' Diversity & Inclusion committee which aims to create and empower a diverse and inclusive culture for all colleagues. I also serve on the board for Women in Listed Derivatives; this has given me the opportunity to network with women in the industry that I would not otherwise have the opportunity to meet.
Which moment or what decision would you consider was career changing?
When my husband and I decided to start a family, I knew that I also wanted to continue to grow my career at the same time. I networked with leadership and was open with management and my mentor about my career aspirations, and asked to be kept in mind for new roles that aligned with my goals. While I was on maternity leave, they reached out to me regarding a new management opportunity that sounded exciting, but also felt like it may be out of my reach. I remember preparing for my interview while my newborn slept and leaving him for the first time to visit the office for my interview during maternity leave. After the interview, I was offered my first management role—it was a proud moment to return to work with a promotion in a management position after being on leave. I'm confident that I was able to achieve my goals because I never lost sight of what I wanted to accomplish and remind myself often that advocating for yourself and expressing your goals is essential in achieving your desired results. My hope in sharing my story is to help inspire other women who don't want to choose between a family or career – you can have both!
What tips would you give to women who are starting their careers or feel like they are stuck in the same place?
Have a vision, and make sure others are aware of what that vision is and what you want to accomplish in your career. Proactively work toward achieving the skills and experience needed to reach the next level. Have an ongoing dialogue with leaders around expectations in what's required to achieve your next milestone. Ensure there is open communication and periodic check points between management and you to confirm you're on track.
Always be open to feedback and reflect on what you can do differently. Don't be shy to ask questions. Have a mentor. Get involved in organizations outside of your day to day network. Be confident and always remember that you can achieve anything you put your mind to.
Stella Natrielli, Director Supply Chain for Animal Nutrition, South LATAM
Tell us about your pathway at ADM so far.
My pathway at ADM started very recently in 2019, but it has been an intense and pleasant journey so far! I've learned so much about agribusiness and our customers while applying CPG company standards such as robust sales and operations planning, customer centricity, data-driven decision making and having a loss-eradication mindset.
Which moment or decision would you consider to be a career change?
I had several watershed moments in my 20 years career, but one of the most critical to me is the challenge when you become a mother and decide how to progress with your career while accommodating your family. When I chose to see my career not as an obstacle, but the very oxygen and nutrients to feed self-confidence, fulfilment and happiness, my personal and professional life became synergistic. This was a key moment and today I feel very good about my professional choices and as mother of three boys!
What advice would you give to women who are starting their careers or who may feel stuck in the same place?
#1: Be kind to yourself! Don't overthink it in demonstrating or proving yourself. Don't be afraid of committing mistakes. Just always do your best naturally, and the recognition and credibility will come!
#2: Don't be shy to act with your head and heart! Female perspectives can always add diversity of thinking, creativity and lead to solutions. The power is in the combination and diversity of thoughts.
#3: Be consistent: Do what is right all the time. Choose to work in truth and to speak your truth.
Alyssa Wang, HR Director, APAC
Tell us about your pathway at ADM so far.
I joined ADM in 2016. The reason why I chose ADM is that I enjoy working in a robust, multicultural environment. As the HR Director of ADM Asia Pacific, I have been working closely with colleagues all over the world. I am also a big advocate of ADM's diversity and inclusion strategy. There's such benefit brought by diverse opinions! As an HR professional, I enjoy driving the effort for creating a strong sense of belonging for our entire workforce.
I started my career in sales. It took my 15 years to develop from a technical sales representative for bio products applied in cleaning products, to the national sales manager for China. This experience provided me with opportunities to travel extensively and meet people from all walks of life. It allowed me to learn the value-chain of a business.
After that, I entered the HR field, which I have been pursuing for the last 15 years. This exciting journey has enabled me to help working professionals map out their career ambitions and fulfil their career paths. The basis of my career is rooted in people and making connections. My HR experience has extended my network and as a result, opened new doors to explore a deeper level of connection with people.
Which moment or what decision would you consider was career changing?
The biggest change in my career was the moment when I left the sales position and joined the HR field. I did so, because I wanted to take care of my work, my family and my personal life at the same time. When I was in the sales positions, I lacked balance.
When I considered a career change, it was important for me to know if my family can support me in the new set up, and vice versa. When you decide to leave the profession that you have done for 15 years, it is kind of scary. It's the same as unexpected career interruptions. But it's what I wanted.
At the moment of the change, I had been thinking about what I liked and what I was good at. What kind of jobs would allow me to spend more time with my family? It's a self-awareness journey to get clarity. I am glad that I made the choice for HR. Although sales and HR are very different business segments, the knowledge and skills that I had learned from my sales experience helped me develop quickly in my HR career path. So I have never felt that I started from scratch when in HR. Of course I still had much to learn, but some important competencies needed by an experienced HR professional had been installed by my previous experience.
What tips would you give to women who are starting their careers or feel like they are stuck in the same place?
I think it's important for women to take time to think about what you really want in your life and career. Implement a plan to achieve this over several years. The world is evolving so fast, so you want to remain flexible enough to tweak your plan.
Be a lifelong learner. Industries and jobs are expanding at a rapid rate. Job descriptions change and skill sets that used to be needed for a particular job may not be enough nowadays. Maintaining a keen learning attitude throughout your career journey will help you keep your mind sharp and stay up to date with current trends.
Develop a growth mindset. Individuals who believe their talents can be developed through hard work, good strategies, and input from others have a growth mindset.
Take initiative to create opportunities. In today's competitive work environment, the ability to take the initiative and suggest new ideas is critical in setting you apart from your peers.
---