Run Ian, Run!
Run Ian, Run!
In 2016, Ian Pinner's ADM career was taking him around the world. Living in Singapore and traveling between, offices, hotels and factories, he nevertheless felt that his fitness was suffering as he took on a series of new roles and challenges.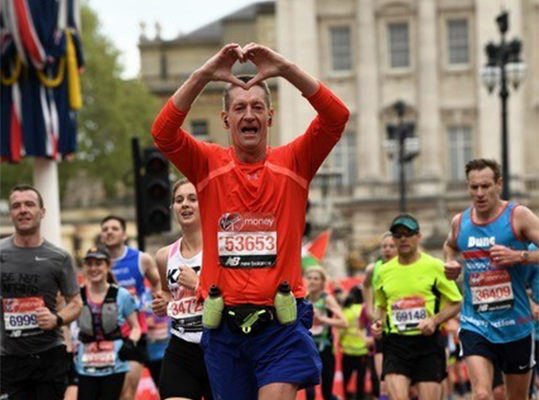 With a busy corporate agenda that seemed, Ian says, to involve lots of time in hotel gyms, he decided to intensify his exercise schedule. He had run at school and as a young man, why not take up running again, he asked himself?
Over the last four years, Ian, who is now Senior Vice President, Chief Strategy & Innovation Officer, has run thousands of training miles and half a dozen marathons. The motivation to keep training is not that hard, he says, as long as you keep your goals in mind, but it is exhausting! And the one thing worse than rising before dawn to run outdoors through the cold and the rain , says Ian, "is running a half marathon on a hotel treadmill - that's way more tedious!"
Ian has served 21 years with ADM, and in the last ten, he has lived in six different countries. For each of these moves Ian preceded his family by between 6 and 18 months, leaving him with stretches of time to spend either working or running.
"A little like Forrest Gump, I would just go out and run until I felt tired, and then I'd run back again." Living in Singapore with his family, Ian realised that his long runs in the city-state's heat could give him the fitness to complete a marathon. Having set himself that target, most of all, Ian says, he wanted to be able to finish in a good time and without getting injured.
But Ian's marathon career nearly didn't start at all. In December 2016, after ten weeks of training specifically for the 26-mile Singapore event, he injured his back and had to pull out without even reaching the race's start line.
"That was pretty depressing," he says. So in March 2017, when Ian started marathon training again, he worked with a physiotherapist to develop his core fitness, got back into training, and finished the Singapore marathon in December that year. When his career moved to a role in Chicago in 2018, Ian was able to run the marathon there.
"It was nice and flat, but the weather was a bit on and off with rain, so it was cold," he says. The upside was that the difference in temperature meant that he slashed 23 minutes from his Singapore time to finish in 3 hours 32 minutes. "Obviously, part of that improvement was that in Chicago I wasn't running in 100 degrees Fahrenheit."
"I think that's when I got the bug for it," says Ian, and he began thinking about completing all six of the world's iconic marathons: Chicago, London, New York, Boston, Berlin and Tokyo.
In 2019, Ian's project got underway when he ran the London and New York marathons. "Only a few thousand people in the world have ever run the world's six major marathons," and ADM colleague Ismael Roig, Ian points out, is already one of them.
In early 2020, Ian had a place to run the Tokyo marathon, scheduled for 1 March 2020, when the race was cancelled as the Covid pandemic struck. Since he was living in Chicago, Ian switched to another race. On the same date as the cancelled Tokyo course, Ian ran California's Napa Valley marathon, a route that takes the runners through the region's vineyards. That qualified him to run the Boston marathon, thanks to a personal best of 3 hours and 19 minutes.
Part of the motivation behind Ian's demanding training schedule is running on behalf of charitable causes.
Still, he says, "it's an enormous responsibility," not necessarily because of the money, but because "you just don't want to let people down, and when you've got family and friends or colleagues that rely on you to achieve what you set out to do, that gives you a determination to do it."
Ian has raised as much as $30,000 for three different charities with his marathons: The Ronald McDonald Housing Association, the American Red Cross and, in the UK, Get Kids Going, an organization that helps children with disabilities participate in sport.
Running marathons has reinforced his business mindset, Ian believes. Each race demands preparation and a strategy to keep going, so that bad weather, a business trip or injury don't distract from the goal. And, says Ian, as the running improves and results follow, achievements help you worry less about what's ahead. All in all your strategy works, because he adds, "you plan, you train, you're fit, ready, and deliver on your goals."
His strength and determination in the face of mammoth feats of physical endurance – coupled with the sense of responsibility he feels for the organizations he supports and the people who support him – is a testament to his resilience. Keep running Ian!
---