Shaping the Industry's Conversations on D&I: Understanding the Value of Networking with ADM's Jennifer Walker
Shaping the Industry's Conversations on D&I: Understanding the Value of Networking with ADM's Jennifer Walker
In the second of our two-part series of interviews with ADM's diversity and inclusion (D&I) champions, we talk to Jennifer Walker, ADM's VP for HR, following her participation at the recently held workshop organized by the Minorities in Agriculture, Natural Resources and Related Sciences (MANRRS) entitled "Your Network is Your Net Worth". We spoke with Jennifer about her views on networking, tips on how even introverts can get started, and the important role that companies play in collectively advancing D&I efforts.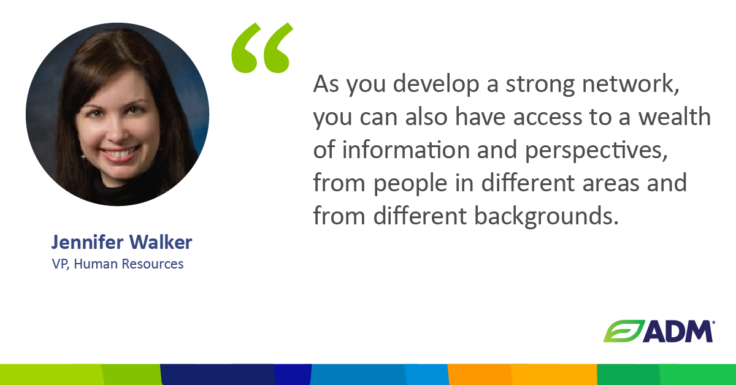 What is your view on the importance of networking in career development?
I believe that networking, whether within our places of work or externally, helps us invest in ourselves and grow as professionals. Sometimes we connect with a peer or a leader to learn about their journey and the experiences that shaped them along the way. These contacts can also help us find a way to contribute and form partnerships, whether on a new cross-functional team that has been formed to tackle an opportunity, or perhaps provide our expertise for an industry need. The contact is often the bridge to invest in our own development, and hopefully contribute in some meaningful way.
As you develop a strong network, you can also have access to a wealth of information and perspectives, from people in different areas and from different backgrounds. This is one of the aspects of D&I that we nurture at ADM. We value different perspectives and understand the importance of multiple viewpoints in driving innovation and solving global challenges.
What advice would you give to those starting out in their careers on networking?
If you are an introvert or not sure how to navigate networking events, a great way to start is by finding a mentor who can introduce you to people in your field or from a different industry. Connecting to people one-on-one can help give you more confidence when approaching people you do not know yet.
For example, at ADM, we have an internal educational platform where colleagues can access articles and podcasts to familiarize themselves with how to approach these opportunities. We also have a 70- 20-10 methodology whereby we encourage people to challenge themselves. You can start with goals – it may be to speak to two people at one event and to three people in the next one. Practice can empower you to get better at capturing opportunities.
You have represented ADM in several panel discussions to discuss D&I efforts along with executives from other leading agribusiness companies. Why is it important for ADM to take part in these D&I conversations?
Individually, companies like ADM are making great progress. More recently, we launched our Global Week of Understanding in 2019, conducted listening tours with colleagues, created regional D&I Councils to create key plans for action, to name just a few. Yet, when companies, like ADM, come together as an industry, from academic institutions, affinity groups, NGOs, agriculture and food companies, and legislative partners, we can build systematic and sustained change over time. Participating in discussions like these helps us learn from each other, and potentially identify opportunities to help us achieve our goals.
What are some of the key D&I-related topics and concerns that are driving discussions with other leading agribusiness companies?
The research is quite clear that more diverse and inclusive companies are more innovative and higher performing. It's not only the right thing to do, but it is a competitive advantage. The "what" is clear. The "how" is what each of our organizations are trying to solve: how do we build a more diverse pipeline of talent? How do we build support frameworks so that people feel safe to bring their authentic selves to the company to enable them to do their best work? How do we foster inclusive environments from rural geographic footprints to more urban locations? Much of this work cannot be done in silos and rests on strong collaboration among a variety of partners to succeed.
---