Supporting Sustainable Soy Production in India
Supporting Sustainable Soy Production in India
In a period of less than 20 years, global soy production has more than doubled, growing from 160 million tons in 2000 to more than 350 million tons in 2019. This skyrocketing demand has been driven by consumers seeking alternative protein options and the increased use of soy in livestock feed and industrial products.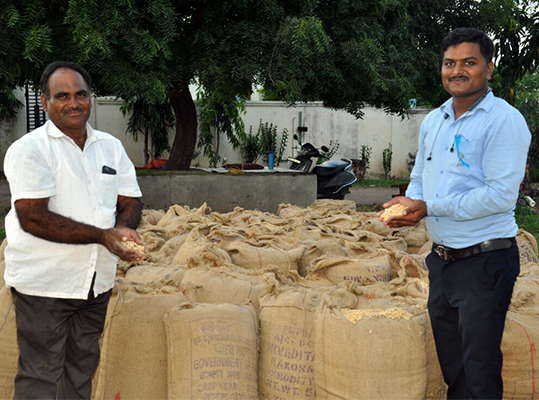 In response to the economic opportunity presented by the global soy market, smallholder farmers around the world are expanding the cultivation of soy. However, without sufficient understanding of how to cultivate soy successfully and responsibly in their areas, many farmers are producing inefficiently without the best agricultural practices or inputs. This can lead to lower yields for growers and be harmful for the environment.
In India, ADM identified an opportunity to support smallholder producers with improving their practices and accessing lucrative markets for organic and non-GMO soy. As the world's premier agricultural origination and processing company, ADM knew that by implementing more sustainable practices, soy farmers would benefit from higher profit margins while becoming better stewards of natural resources
For nearly two decades, ADM has worked with local and government partners to support a group of smallholder soy growers in the Indian states of Maharashtra and Karnataka. Under the partnership, ADM and India's Ministry of Agriculture aim to increase the income of small and midsize soybean growers by improving crop productivity and assisting farmers with efficient agricultural inputs, resource conservation, extension services, and market connections.
"We are proud to support smallholder soy farmers with the provision of critical rural infrastructure, best practices and new technologies, which add value across an integrated agricultural supply chain," said Amrendra Mishra, Managing Director Oilseeds India and Country Manager India. "This important work helps bolster the competitiveness of the country's rural farm economies and generates a supply of sustainably sourced soy for ADM's customers around the world."
Participating farmers receive comprehensive training on sustainable farming practices, support from the local government and universities in sourcing quality seed stocks, and financial assistance to purchase planting materials. In addition, they gain access to a sustainable credit provision from banks, which promotes investment in the development of an environmentally responsible farming sector.
The efforts of ADM and its partners have delivered incredible results. Soybean acreage in the partnership increased from 7,000 hectares in 2001 to 400,000 hectares in 2019, while yields per hectare grew by 50 percent. In 2020, ADM procured 466,000 metric tons of soybeans from farmers in the program. Economic conditions have improved within India's small and family grower communities and positive environmental impacts have been delivered for biodiversity and the conservation of natural resources. The program was named a finalist for Partnership of the Year by Reuters Responsible Business Awards and is a finalist for the US Chamber of Commerce Citizens Awards.
The world relies on soy for myriad uses – it is a versatile and sustainable alternative to many traditional chemical and ingredient solutions. ADM is committed to continuing its work with smallholder farmers in India, and to supporting the transition to a more sustainable global soy supply chain through programs and partnerships that inspire progress over the next decade and beyond.
---