Three ADM Operations Team Members Reflect on 135 Years of Combined Service
Three ADM Operations Team Members Reflect on 135 Years of Combined Service
ADM's Fred Kamps, all round operator; Henk Boer, silo administrator; and Willem van Toorn, production coordinator, all began their careers in 1975 at a grain elevator company in Rotterdam, which was eventually acquired by ADM in 2004. Since then, they have been working at ADM's Europoort bulk terminal, where crops transported by vessels are unloaded and transferred to our crushing facilities in Europoort and Germany to be processed into oilseed meals and refined oils, and where processed meals are loaded into barges and coasters on their way to customers in Western Europe.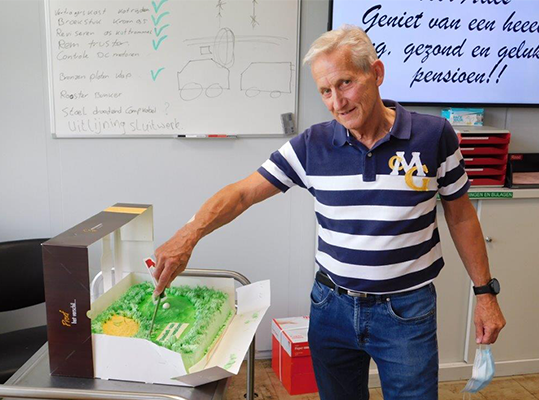 This year, they celebrated 45 years in the industry – 135 years combined. As they transition to retirement, we speak with them about their journey, the milestones they are most proud of and what they would tell young people pursuing a career in Operations today.
Tell us a bit about your journey with ADM and what excites you most about your role
Fred: I began my career on September 1, 1975, working as an operator on floating fleet elevators in the ports of Rotterdam. In the 1990's, I took on the role of bridge crane operator to unload soybeans and rapeseed. I worked on the crane 95, which was customized specifically for ADM and there is only one of its kind in the whole world! I feel privileged that because of my work being physically high up in my crane cabin, I have been able to enjoy the view from up above – the activity at Europoort, the incoming and outgoing shipping traffic and many beautiful sunrises and sunsets over the years.
Willem: When I began my career 45 years ago, I was working with a steam-powered grain elevator, which don't exist anymore. Over the years, I continued to build upon my experience and learned innovative ways of doing things. What I like most about my position is motivating my colleagues, thinking about improvements that we can implement and making the workplace safer for everyone.
Henk: I began working in September 1975, after two years of traineeship at the harbor vocational school. What I like about my role as silo administrator, a position I have held since 1985, is that I can organize most of my work schedule by myself, often in consultation with my colleagues. Together, we move in the direction of our goals.
What are some of the milestones over the last 45 years that you are most proud of?
Fred: I'm not one who likes to be in the spotlight, but in recent years I was more involved in discussing problems and solutions for the terminal and the crane. On July 1, my wife and I retired, and we hope to enjoy our time for a long time to come.
Willem: One of the milestones I most proud of is that I started working as an operator and worked my way up through many different roles to ultimately become a manager.
Henk: I have enjoyed being in a number of different positions over the years, including operator and foreman, eventually becoming a silo administrator. What appeals to me about ADM is that you can grow within the company into the position that interests you.
What would you tell young professionals pursuing a career in Operations today?
Fred: You must be able to have fun in your work, and face discussions, problems and challenges with an open mind.
Willem: Make sure you stay motivated and disciplined in your work.
Henk: Value the input of the older employees. Don't be afraid to take the initiative so that you can grow into positions that you aspire to and go as far as possible.
---