Using Data Science to Solve the Challenges of Today and Tomorrow
Using Data Science to Solve the Challenges of Today and Tomorrow
It's a plain fact. Women are underrepresented in the information and technology field. However, by educating young women about career opportunities, we can change that. Part of that effort is learning about real-life examples. We take a look at how four members of ADM's Emerging Technology group came to join Team ADM from very different backgrounds, and are now using data science to help solve the challenges of today and tomorrow.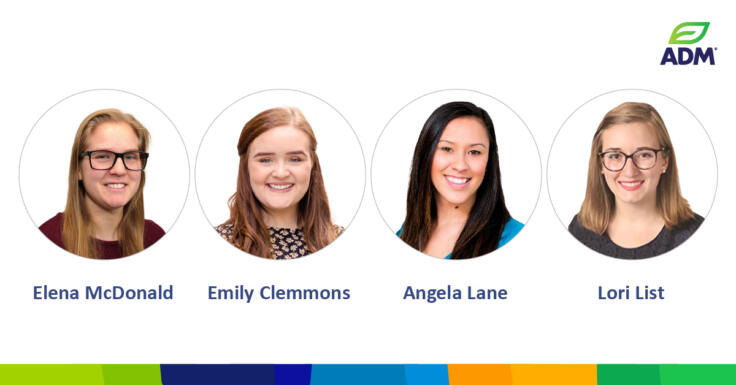 "The Emerging Technology team is critical to our efforts to ensure that colleagues across ADM have the tools they need to make timely and informed decisions that help grow our business and expand our capabilities," said Kristy Folkwein, senior vice president and chief information officer for ADM. "Reading their stories is a reminder of how important it is to have team members with different backgrounds and experiences — and why it's important to pay those opportunities forward by making sure that next generation is aware of the career paths available to them."
Tell us a bit about your career journey and what drew you to technology or data science.
Angela Lane, senior data scientist: My career journey is a bit different than others. I started my professional career as a high school math teacher. Growing up, I've always loved math, solving problems, and helping others. Naturally, you would think teaching was the career path I chose — but reflecting on my past, I realized I wasn't exposed to many other careers. It took until after a few years in the workforce and going to graduate school that I truly began to see what kind of opportunities were available for someone with my passions and skillset. I saw a world in technology that I didn't know existed — a world where I could still make a difference — and I knew that was where I was meant to be. Instead of educating our future engineers, managers and consultants, I am able to build solutions for our current engineers, managers and consultants to better position ourselves for the future. I may no longer be a teacher; instead, I am a data scientist, and I am still using math, solving problems, and helping others every day in my career.
Elena McDonald, data scientist: My background is actually in the field of statistics, but switching to data science has been a smooth transition. AP Statistics was my favorite class in high school – I've always been a "math person" and I enjoyed how applicable statistics was. Heading into college, the desire for statisticians and data scientists was starting to take off, so majoring in statistics was an obvious choice. After graduating with both a bachelor's and master's degree in statistics from Miami, I briefly worked as a statistician at a clinical research organization. Working on medical trials limited my abilities to be creative with my code and to use emerging technologies — it was hard to get excited about work. Then, I was approached about working as a data scientist at ADM. At first, I was hesitant to switch jobs during the pandemic, but at ADM I knew I'd have the ability to work with the newest tools and push the envelope with the latest statistical methods.
Emily Clemmons, data scientist: I was initially drawn to data science because it was the blend of the things I loved most: mathematics, technology, and problem solving. As I began my degree, I found that what kept me drawn to data science was the chance to impact a wide range of industries, beyond just traditional technology: finance, entertainment, agriculture and health care, to name just a few. Data science has the capability of enriching the lives of every person around the world. While pursuing my degree in data science at Northern Kentucky University, I had the opportunity to participate in an internship for ADM. Learning about ADM during my internship, it was hard not to think of the countless ways ADM could leverage data science across the business. This curiosity made joining ADM full time following my graduation in May 2020 a clear path for my career.
Lori List, senior data scientist: My academic background is in environmental science and public policy analysis, both of which are interdisciplinary and highly collaborative fields. When I learned about data science, it felt like a natural extension of the way I like to think and solve problems. Five years into my data science career, I continue to enjoy working with diverse teams, making connections between people and ideas, and learning something new every day.
I joined ADM as a senior data scientist in January 2021 and am focused on building emerging technology solutions for the enterprise.
What do you think most colleagues would be surprised to learn about the work you do at ADM?
Angela: As data scientists, it may be assumed that we build models or create some fancy AI tool. To be fair, that assumption isn't wrong. The part that I think will surprise you is that our work doesn't stop there. As the Emerging Technology team, our goal is to provide internal ADM customers solutions that they can and want to use daily. Our work allows us to be curious, creative and imaginative. If building a model, and delivering a prediction, doesn't provide them with the tools they need to be successful, we will figure out a solution that does. In my most recent project, I wore the hat of both a data scientist and full stack developer. I built a front-end application using React.js, added it to a CI/CD pipeline using Azure DevOps, and used Azure Functions to communicate between the frontend and the database. Wow, I would have never imagined that being something I would say!
Elena: I am always learning! Software is always updating and there is always a new tool. Additionally, statistical methods are constantly changing or improving. To stay relevant in this field, you have to be willing and open to learn all the time.
Emily: I think some colleagues would be surprised by how much work goes into understanding the issue, gaining the perspective of the end user, gathering and understanding the data, and preparing the data for the modeling, over actually running the intended model or solution.
Lori: Folks are often surprised by the capabilities and results we can produce with machine learning and artificial intelligence. My favorite part of the data science workflow is solution engineering – I love chatting with colleagues about the problems they're facing and how emerging technology can help.
What advice would you give to young women considering a career in technology or data science?
Angela: The first words of advice I'd like to offer is: Go for it! The biggest regrets are always the leaps you didn't take. Next, imposter syndrome is 100% a real thing. The challenging part is data science is a very broad topic but focusing on the skills you do have and knowing your worth will help ease the imposter syndrome feeling. Entering a data science role, you are not expected to know everything about the field you are in, all programming languages, or all analytical method, but my advice to you would be to find a few of each that you enjoy most and become an expert in those — but don't lose sight of all options that exist. Lastly, you are your biggest critic. Take a moment to pause, reflect, and remind yourself that only you can determine your success and happiness, so go out there and get it!
Elena: Become as versatile as you can! Expose yourself to as many coding languages, platforms and technologies as possible. Developing a foundational understand of these now will set yourself up to be an asset later on. Staying up to date is just as important, too — it can be easy to fall behind in a rapidly growing industry.
Emily: The most valuable thing I did was putting myself in situations where I would be surrounded by peers and mentors in the field of data science. My peers and mentors helped in making career decisions, discussing various data science problems and world news and giving insight on the various perspectives around it, and were there as a sounding board when I had a new project to work on.
Something I wished I had done earlier was begin exploring the building blocks of data science early on. I recommend young women take more courses in mathematics and statistics, play around with programming and understand the problem solving behind it, and read about various ways data science is being used around the world and the tools that support it.
Lori: I suggest diving right in. Talk to data scientists (even if it means reaching out to a stranger on LinkedIn), read about data science and AI applications, build a data science solution of your own — however you learn best, channel that. If you're a book learner, I recommend starting with "R for Data Science," "Python Data Science Handbook," or "An Introduction to Statistical Learning with Applications in R" (lovingly known as ISLR). The expert data scientists, statisticians, and open-source coders who authored these books have made them freely available for learners like you.
If after a few weeks or months you decide data science isn't for you, that's OK! The problem-solving skills gained will help you no matter the career you pursue.