Veronica Braker on Breaking Through Barriers and Fostering Inclusivity
Veronica Braker on Breaking Through Barriers and Fostering Inclusivity
At the Women in Agribusiness Summit held in Minneapolis this year, ADM Senior Vice President of Operations Veronica Braker spoke on a panel about transforming the workplace. The topic has been an area of focus for Braker. For nearly three decades, she has sought out opportunities to recruit, retain and advance women in manufacturing. She shares how she's worked to break down barriers in her own career, and what inclusion looks like at ADM.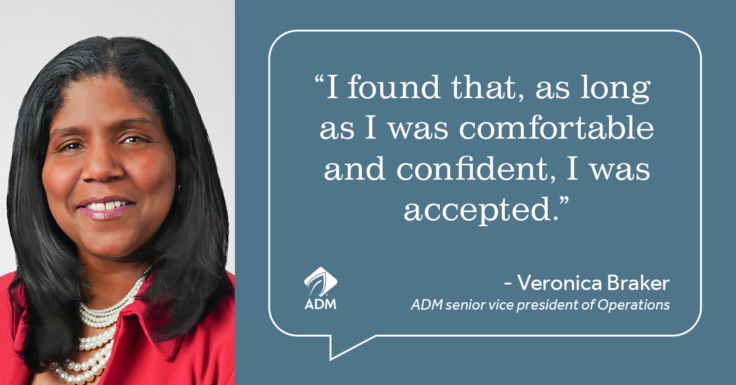 What is your current role, and how did you get your start in manufacturing?
In my role at ADM, I lead our global operations, which includes managing the company's Technology Center of Excellence; driving continuous improvement efforts; and integrating capital planning and execution across ADM plants worldwide. I've spent more than a quarter century in operations leadership.
But how did I go down this path? While working toward my degree in Chemical Engineering, I interned with several manufacturing companies. I fell in love with the fast-paced environment in manufacturing plants. There is nothing more energizing than working through an urgent and immediate issue with a group of highly motivated folks, or finally making a process improvement that addresses a decade-long performance issue.
How have you overcome stereotypes you've encountered in the workplace?
In my first job out of school, I had an operator tell me that the plant was no place for a woman, and that he would never allow his wife, mother or daughter to work in a plant. I was honestly in shock. After that day, I made it my mission to spend as much time with him as possible. I would put him on my project teams, and I would join his plant audit teams. I drove him crazy. It took almost a year, but he eventually came to me on his own and apologized for his comment. He explained to me that he was just protective of women. I found that, as long as I was comfortable and confident, I was accepted.
What can be done to encourage women to enter the field?
It is critical to start early. We need to be present and active in STEM programs from the elementary school level, which is a major focus for ADM Cares. We should also be encouraging our companies to have active programs that target women specifically for internships and other opportunities to have rich experiences.
How important is Inclusion at ADM?
Sometimes, you just need a sounding board and the comfort of knowing that you're not alone. One of the ways we're doing that is by including a Conscious Inclusion course as part of our annual training requirement for all colleagues. That module has been translated into 21 languages to ensure that every colleague has a common understanding of what inclusion looks like and why it matters. To date, nearly 20,000 colleagues have completed that training.
How is ADM working to advance women in their careers?
ADM is committed to developing all colleagues and helping them maximize their career aspirations through individual development plans, continuous learning, and by providing unique experiences over and above one's formal role. We have created a mentorship program to team up senior women with an Executive Committee member to help them identify and achieve their professional goals. We are looking at the moment to extend this program further to reach mid-level women in management positions.
---