Dairy
Dairy
ADM helps dairy producers maximize milk margins through individualized and innovative nutritional programs.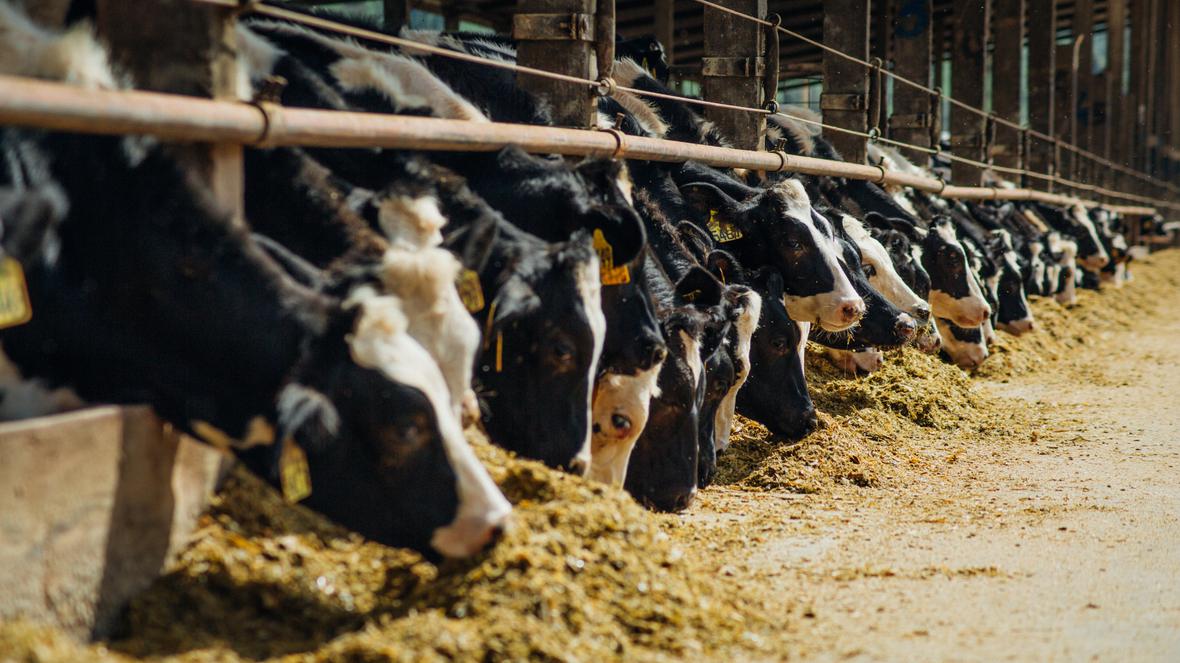 Solutions for Maximum Margin
The ADM Dairy Team takes a comprehensive approach focused on optimizing income over feed cost. This is done by first understanding producer needs, developing farm-specific formulation, and proactively addressing profit leaks through professional on-farm consultation. ADM is in a unique position with research assets and investment in modern feed manufacturing facilities to provide a one stop portfolio of products, ingredients, proprietary technologies, risk management programs and services for all phases of the dairy herd. When you choose ADM, you're choosing a company with a vast array of expertise with worldwide experience from commodities to cows. Partnering with ADM is partnering with a company focused on your individual goals, and providing science-based solutions to achieve maximum milk margin in a sustainable manner.
Three Areas of Importance in the Dairy Industry
Cost Efficient Production
Feed inputs represent the greatest variable cost on the dairy farm and are an important driver in the milk margin equation. Because increased input costs strain milk margins, effective cost control is essential. ADM uses sophisticated nutritional models to provide exacting nutrition and on-farm consulting to find profit leaks before they become a financial burden to the producer. Our focus is on providing optimally-balanced nutrition to provide the best return on the dairy producer's feed investment.
Environmental Sustainability
Dairy farmers take pride in being good stewards of the environment. ADM shares this same commitment. Whether it be when consulting at the farm level, or globally as a company, environmental sustainability is paramount to us. We strive to assist our producers in this common goal by providing the most nutrient-efficient, optimally-balanced, diets possible. Minimizing excess nutrient excretion is essential in lessening the environmental impact of livestock production. This in addition to enhancing the responsible use of natural resources will always be a priority of ours. Read more about our sustainability efforts.
Natural Means to Support Health & Production
Meeting consumer demand while maintaining the confidence they have in the wholesomeness and safeness of dairy products is critical to our industry. Being resourceful through nature and providing natural means to support animal health & productivity is an area ADM excels in. Our global priority is to develop natural solutions that are science-based, that optimize animal care and welfare, and serve as alternatives to antibiotics and growth promoters that are negatively perceived by the consumer. ADM's leading innovations in this arena focus on providing natural means to support health and production of the dairy cows through individualized and innovative nutritional programs. nutrition solutions.
We offer a global variety of dairy cattle product brands:
This content is based on United States laws and regulations applicable on the day of publication of this content. We point out that customers are required to ensure that any labeling and claims made by customers for their finished products must be based on the regulatory requirements and scientific standards of the country in which the final products are offered for sale. Not all products are available in all regions.
Partner with us now!
For general inquires, questions or more information, please reach out to us. We are here to help.