Innovation Fireside Chat
Innovation Fireside Chat
In this Fireside Chat, Divya Mohan, Director CD&D Global Health & Wellness, discusses the driving forces behind microbiome innovation and the clinical research backing its efficacy.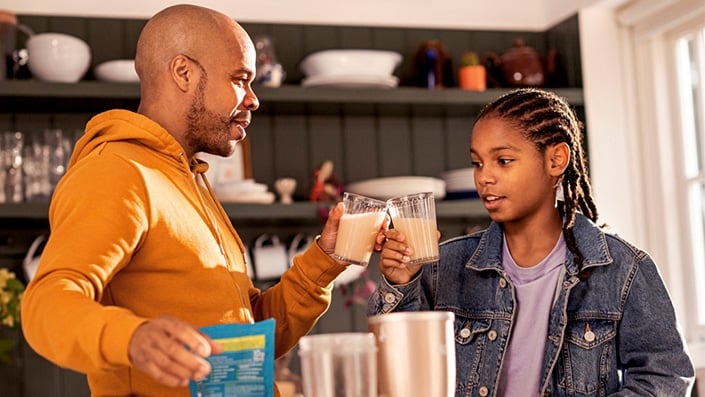 As the Global Health & Wellness Creation, Design and Development Director at ADM, Divya Mohan's expertise lies in how, when and why functional science-backed ingredients like probiotics and postbiotics can be incorporated in different food and beverages. Her work focuses on defining the desirability, viability and feasibility of developing stable fermented and non-fermented products that are subject to varying processing, packaging and storage conditions. Recently, Divya sat down with Lisa Schofield, Commercial Editor at Food Navigator for a 10-minute glimpse into the future of microbiome innovations. Click above to view the video.
1. How does ADM's health and wellness team determine what new innovation to bring to the market?
It is through consistently being open to understanding consumers' unmet needs and investing in resources that identify and develop desirable, viable, and feasible solutions that meet those needs. ADM's Health and Wellness Portfolio represents ingredients that are science-backed, efficacious with high standards of quality and safety. So innovation within this involves a cross-functional process with a lot of forethought. We have a global marketing team who feeds us with emerging trends, consumer data, and market needs; a science and technology team who establishes strong preclinical and clinical trials so we build evidence; a regulatory team, so we know what is allowed in different regions, for example, and a highly specialized product development team who identifies the capabilities and limitations, also called feasibility, of new innovation so we can offer solutions that we can stand behind.
2. Which new innovations will drive future growth of the health and wellness market?
I would say the keyword is microbiome, in my opinion. We have more microorganism cells in and on us than human cells, and a majority of this resides in our gut, right from regulating our immune system to stimulating the production of serotonin, which is called the happy hormone. Having a healthy microbiome is essential for us to lead a healthy life. Today, we consume mostly sterile or overly processed food while living sedentary lives, so we don't naturally replenish our microbiome.
At ADM, we offer a whole range of microbiome solutions to support this through prebiotics, both fiber and new technology, like phages. Probiotics, where we have the more traditional LAB strains as well as spore-forming strains which are more robust. Also, the newest technology called postbiotics, where we have two specific Bifido strains of Bifidobacterium longum is one that targets digestive health and the Bifidobacterium lactis, which is called BPL1, which targets metabolic health. And we have a lot more coming up in this new technology. So with this extensive portfolio, we are able to deliver biotic functionality in a variety of food, beverage, dietary supplement and pets solutions.
3. What benefits the customers working with ADM?
I would say we see customers as our partners. Transparent, clear, and collaborative working right from concept through commercialization. ADM's network of global marketing, our regulatory, our science and technology expertise and guidance extends to our customers. We also have an agile creation design and development team with product developers having expertise in making pretty much any application- the biscuits, gummies, energy drinks, capsules, as well as the expertise and different processes and scale-up systems so we can truly integrate and develop basically any format or unique formulation.
We have several innovation hubs as well where we invite customers to co-create so we can design products with customized functionality for them and also include desired sensory profile as our customers would intend to have almost like an extended arm to their development team.
4. What challenges do you see going to facing customers today?
Differentiating a product on an aisle is a challenge, especially in the food and beverage industry. Adding a microbiome solution helps. However, the industry was restricted to very selective applications like short shelf life, refrigerated yogurts, or dry products like capsules because they could only use traditional LAB strains. ADM now offers spore-forming bacteria like B. subtilis and DE111 that are more robust for applications like gummies or bars, or kombuchas, as well as for the new technology of postbiotics BPL1 and ES1 we are able to further expand the innovation to meet this challenge in applications like UHT process beverages, long shelf life food applications, and much, much more. I think another challenge we have identified our customers had was establishing credibility with their consumers. This is where we see brands wanting to associate with ADM as we invest in the science. We do extensive background work before we commercialize such ingredients, and this helps build that trust.
---