ADM Vessel Rescues Two Sailors off the Coast of the Western Sahara
ADM Vessel Rescues Two Sailors off the Coast of the Western Sahara
For the third time in four years, an ADM vessel conducted a search and rescue operation when it responded to a distress call in early July to rescue two sailors navigating the Atlantic Ocean in bad weather.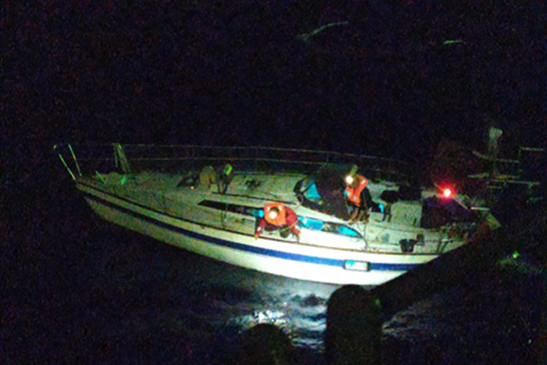 In the early hours of July 3, two sailors stranded on a yacht off the coast of the western Sahara in the Atlantic ocean were rescued by crew members aboard ADM's Harvest Frost vessel, which was carrying a cargo of maize from Brazil to Portugal. Our ship, identified as the closest to the distressed sailboat, received an SOS call close to midnight on July 2 from the Marine Rescue Coordination Center (MRCC) in Tenerife, Spain, requesting assistance to rescue the sailors.
The two mariners, of French and Spanish nationalities, had set out on a sailing trip on June 18 from Dakar, Senegal to Las Palmas in Spain. After two weeks at sea, the yacht experienced engine problems, eventually losing its sails and mast due to strong winds and sea swells up to four meters.
The 20-member crew responded immediately by diverting their course by 22 nautical miles, despite bad weather conditions in the middle of the night, to conduct the rescue operation. They established radio contact with the sailors to reassure and inform them that they would reach the yacht in two hours. About 7 miles from the yacht, the team sighted a parachute rocket, an aerial distress signal, used by the sailors to help the crew reach them. From that moment on, the crew were in constant communication with the sailors as they expertly maneuvered the ship to line up next to the sailboat and extended a ladder to help the sailors climb onto the ship.
Once they were onboard ADM's vessel, COVID-19 protocols and all due precautions were observed to ensure everyone's health and safety, including examining the rescued sailors for any symptoms of COVID-19 and checking them for injuries they may have sustained during their ordeal. The yacht was left behind, while the sailors were taken safely to their next port of call in Lisbon, Portugal.
"ADM's Harvest Frost vessel is 230 meters long, much bigger than a sailboat, so this operation was risky and required a high level of skill to ensure the safety of everyone involved. The crew, made up of staff from India, Russia, Ukraine, are very experienced and worked quickly and courageously to save the sailors. Each crew member is trained in rigorous safety protocols, because on the ship, the first priority is always safety," said Shakur Haji, fleet manager, who is based in Decatur and in charge of the Harvest Frost vessel. He worked with Hans Christian Jensen, director of ADM's Global Ocean Freight team to monitor the rescue operation.
---