Food Safety is Their Job. It's Also a Calling.
Food Safety is Their Job. It's Also a Calling.
You can hear echoes of ADM's purpose in the theme for this year's World Food Safety Day, "Safe food now for a healthy tomorrow."
When they first learned of the theme that was chosen for this annual United Nations celebration, which aims to draw global attention to the health consequences of contaminated food and water, members of ADM's Quality and Food Safety Center of Excellence were reminded of something else: the calling they felt that pulled them toward a career focused on ensuring that our families all have access to safe and nutritious food.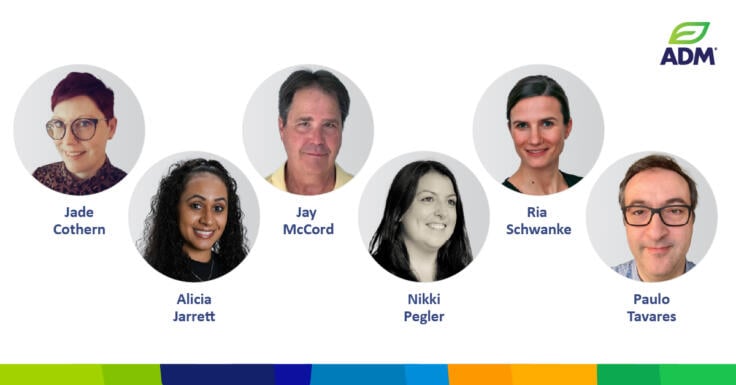 ADM has food safety professionals based around the world, and their backgrounds are as diverse as the businesses and growing product lines they support. In honor of World Food Safety Day, we asked several of them to reflect on what motivated them to heed the call to a career in food safety — and what keeps them motivated today and every day.
Tell us a bit about your career journey and what drew you to food safety.
Alicia Jarrett, food safety and compliance manager: I joined ADM in October 2013 as a laboratory technician at the West Refinery in Decatur, Illinois. After working two years, I did an internal transfer to ADM Trucking, where I worked in the Maintenance group processing invoices for accounts payable. While in these positions trying to find my niche, I realized that I was more interested in the quality aspect of the company. I had experienced quality control as a laboratory technician, and I was very interested in pursuing an opportunity in quality assurance to tie it all together and fully understand quality. It wasn't until 2019 that I started my career with ADM in food safety. What makes me passionate about food safety is knowing that I play a key role in ensuring that we are delivering safe food to consumers. Having an impact on the health and wellbeing of humanity is rewarding. Millions of people can confidently enjoy food simply because we guarantee it.
Jay McCord, corporate quality and global audit manager: I have been very blessed to be part of the ADM team. I started a job over 30 years ago at a flour mill in Indianapolis that became a career. I had no formal training in food safety when I began working, but a passion for safety in general — and food safety, in particular — started me on this journey. I've had the opportunity to go from cleaning out grain bins and boot pits to being the EHS and food safety supervisor at that flour mill to being project manager for companywide initiatives. I've been able to work with and get to know many of our great colleagues while performing quality and food safety audits and leading food safety training courses for every ADM division.
Ria Schwanke, quality assurance manager, Specialty Ingredients EMEA: I was actually more into languages back in high school, until I discovered my interest in chemistry and my passion for food more and more. I looked into the possibility of combining those passions and had the pleasure of studying food chemistry and food science at the university. After pursuing my degree, I had the opportunity to start working for ADM in Hamburg, Germany. From there, my journey led me from R&D to Quality Control and to Quality Assurance, which allowed me to work for different departments, and also the great opportunity to live in different cities across Europe while working for ADM.
What does a typical day look like for you? What types of projects have you worked on?
Jade Cothern, global food safety manager: Each day for me usually starts with getting caught up on emails and attending meetings, but after that no two days are alike! A typical week for me could include traveling all over the U.S. — not only ADM locations, but also co-manufacturers, suppliers and warehouses to audit their food safety programs. I might also host a PCQI, HACCP or internal audit training course, depending on the week. Some projects that I am currently working on are in the new Quality Management System Communications Team, Global Food Safety Week, as well helping ADM locations build robust GMP, internal audit and sanitation programs.
Jay: One of the things I love the most about my job is there is no "typical day." Things move fast and change quickly, so most days are different. This year, my focus has been on the Food Safety Auditing program and its role within the new Quality Management System that ADM is implementing. We have also had to adjust to performing virtual food safety training. It is very different from the live classes, but it has kept things from falling between the cracks. Still, I can't wait to get back to live training classes.
Paulo Tavares, quality and food safety manager: A typical day is quite busy and full of challenges to tackle. ADM is an exciting company and every day I learn something new, which is what drew me to food safety in the first place. Currently, we are focusing on standardizing best practices across the EMEAI Oilseeds division. The team is developing multiple guidelines that will support our facilities to improve their systems and, at the same time, standardize our practices.
What do you think most colleagues would be surprised to learn about the work you do at ADM?
Nikki Pegler, head of quality, Global Health and Wellness: I am always learning. There is always a new process to learn or problem to solve, so you can never get bored. Quality standards are always improving and getting to work for a company with such a diverse selection of products will always keep me on my toes.
Alicia: I think most colleagues would be surprised to know the amount of legwork that is done to ensure we remain compliant with regulatory standards. There's a lot of documentation to maintain: sanitation schedules, GMP inspections, calibration records, pest control documents, and more. We also perform internal audits, validations and verifications throughout the year to make sure our programs are robust. We are consistently looking for ways to drive continuous improvement within our facilities.
Jade: That it is not limited to just one area or program. What I do centers around food safety, but what really drives me is connecting with the people in our plants, hearing their struggles, and working to help make their jobs a little easier. I get so much joy out of building relationships with them and becoming a resource — but, most importantly, I become a friend. One thing that I think most locations would be surprised to know is that I am not just going to come to your location to point out problems; I will show you where you need to improve, but will work with the individuals to build best practices and provide guidance and programs. Like I said before, it is a relationship.
What advice would you give to a young person considering a career in food safety and quality?
Nikki: Communication is key. Being able to have conversations and convey your point of view to different personality types is a skill that will get you far. It is never too soon to perfect this sought-after and highly valued attribute. To do this job well, you need to have a good understanding of all activities that are performed in a manufacturing environment, from design and development through to delivery to the end users.
Paulo: Never stop wanting to learn. The more you know, the more you have the conscience that you need to learn more.
Ria: It's great when people consider working in the food safety and quality area, as I see this as a big responsibility. It is a great task to be responsible for assuring that products distributed into the market are of high quality and in compliance with food safety requirements. To be able to succeed in such kind of position, I recommend having the ability to stay strong when it comes to discussions if certain measures are necessary or not, having an eye for detail, and having a proactive mindset to make sure that all risks that might affect a process and, with that, product safety are considered.
---