How ADM is Supporting the World Food Programme in Madagascar
How ADM is Supporting the World Food Programme in Madagascar
Nicknamed Josela, 14-year-old Onjaniaina lives in the village of Beabo, in the Ambovombe district of southern Madagascar with her mother and two siblings. Like thousands of households in the region, her family suffered from an unprecedent food crisis caused by the ongoing drought, aggravated by the COVID-19 pandemic.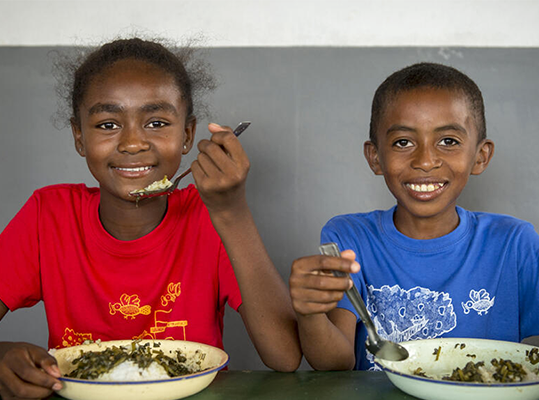 To help children like Josela in Madagascar and around the world, team ADM across several European countries came together for Impact Week, a series of weeklong activities aimed at unlocking donations through ADM Cares, ADM's social investment program. The activities included sports challenges, where colleagues ran, walked and cycled a combined distance of 24,000 km to unlock nearly 100,000 meals for the World Food Programme's (WFP) school meal initiative in Madagascar.
The WFP supports the Malagasy government in implementing the school feeding program for 200,000 school children in some of the most food insecure regions of the country. The money raised from ADM's Impact Week sports challenge directly funded the program in Madagascar, helping to change the lives of many children and encourage them to pursue their education and ultimately, their dreams.
"Life is tough here. There is no harvest and nothing to put on the table" says Marie Rosine, Joselas' mother. "Many families are limiting meals to one a day in order to survive. Children, women and men go to bed hungry. The most vulnerable of the population rely on crisis food such as cactus fruit, tubers or tamarind mixed with clay, but even these are becoming scarce because of the drought."
Marie Rosine runs a small shop selling biscuits and sweets to provide a basic income, but not enough to sustain the family's nutritional needs. Many parents resorted to withdrawing their children from school to help their family search for food. But, when school meals are provided as part of the program, parents send their children to school to benefit from the nutritious meal.
Josela is one of the fortunate children who attends Beabo primary school thanks to the WFP's school meal initiative. ''I feel lucky to attend school during these times" says Josela. "I love to learn and play with other children. My favorite subject is mathematics, but lunchtime is my favorite moment of the day when we all have lunch together."
At the school canteen, she is provided with a daily meal made up of rice, pulses and oil fortified with micronutrients provided by the WFP. "I am happy to come to school and study. The school meals give me energy to study, and this will help me get closer to my dream of becoming a midwife when I grow up,'' says Josela, full of smiles.
---