How ADM is Using Nutrition to Support Sustainable Shrimp Farming
How ADM is Using Nutrition to Support Sustainable Shrimp Farming
As the global population grows and people become more affluent, the demand for shrimp is only expected to continue rising. ADM has found a way to help produce shrimp more sustainably, using fewer resources while providing balanced nutrition through organic trace minerals we produce. Mirroring the plant-based protein trend in human nutrition, one of the main strategies in sustainable shrimp production in recent years has been the replacement of fish, one of the main ingredients in shrimp feed, with plant and even insect-based substitutes. Derived from wild-caught fish, the high levels of fishmeal and fish oil used in aquaculture feeds are unsustainable over the long-term.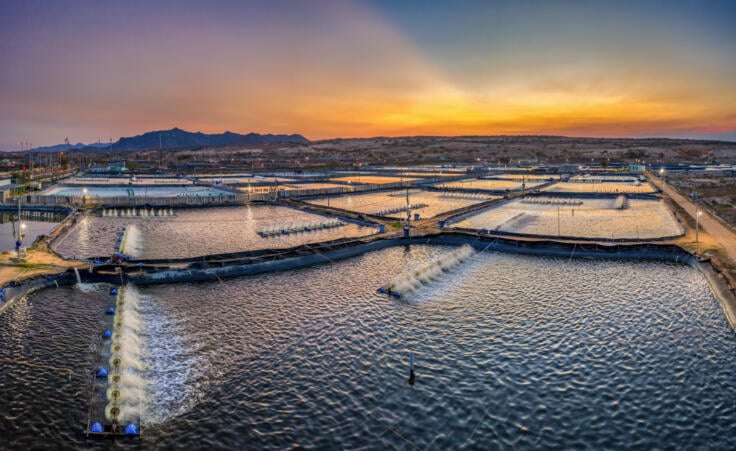 "The transition to plant-based ingredients isn't always easy and has an impact on the availability of other nutrients, including minerals, which affects shrimp production," said Mieke Zoon, product manager for minerals at Pancosma, ADM Animal Nutrition's feed additives brand. "Organic trace minerals, such as zinc, iron, and copper, which are essential for growth and development, are available at high levels in animal proteins, making it challenging to switch to plant-based aquafeeds. Using a nutritional approach, ADM is making it easier for shrimp producers to convert to sustainable production practices."
Organic trace minerals produced by Pancosma, have been shown to boost the availability of these essential nutrients in alternatives to fish-based feeds. Not only may the supplemented minerals support shrimp performance and production, but they can reduce the impact of shrimp waste on the environment by lowering the amount of minerals that are excreted to enable sustainable aquaculture.
Although sustainable production requires several measures to make a lasting impact, organic trace minerals can be part of a nutritional solution to support shrimp producers in developing sustainable ways to provide high-quality food for the world.
Read more about the science behind the use of Pancosma's organic trace minerals in sustainable shrimp production here.
---