How ADM is Using the Cool Farm Tool to Support Sustainability Efforts
How ADM is Using the Cool Farm Tool to Support Sustainability Efforts
As a major merchandiser of sustainable crops, engaging with growers is an important part of how ADM works to reduce environmental impact and promote sustainable agricultural practices. Now by becoming a member of the Cool Farm Alliance, ADM is using the platform's Cool Farm Tool to partner with farmers to better understand and mitigate greenhouse gas emissions across our global supply chain.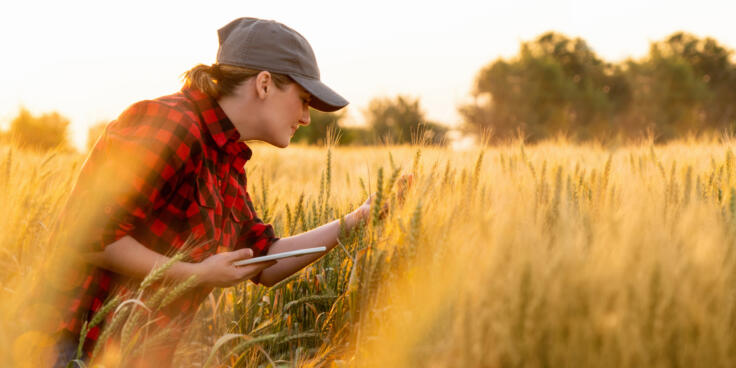 The Cool Farm Tool simplifies the complexity of calculating the carbon footprint of growing crops by providing an easy-to-use online assessment that farmers can access in multiple languages, requiring 10 – 15 minutes to complete. By entering data such as the types of crops grown, soil characteristics, the use of fertilizers, irrigation, and transport, among others, the science-based digital tool provides detailed information on the types and sources of greenhouse gas emissions across the growing process.
"The Cool Farm Tool offers us a widely used resource in the industry that is based on a standardized methodology to pinpoint where the majority of greenhouse gasses are being emitted at the farm level. Becoming a member of the Alliance allows us to collaborate with our suppliers to offer the use of this tool to the farmers in our supply chain free of charge. Together, we will track progress and analyze the impact of agricultural practices to enhance sustainability," said Ana Yaluff, ADM's EMEAI sustainability manager.
Jonathan Lane, head of grain trading at ADM Agriculture in the UK, and his team will be one of the first at ADM to start using the tool. They are gearing up to launch a pilot scheme to gather carbon footprint data from this year's summer harvest.
"We are acutely aware of the need to understand the amount of carbon used in the production of raw materials. If we can gain a better understanding of that, it will help us move the dial closer to zero carbon production and increase the sustainability of the raw materials going into our supply chain," said Lane. "We are delighted to be able to use the Cool Farm Tool as a way of working with our farmer customers to understand what they are doing and turn that into numbers that we can measure and improve over time."
The team plans to work with the growers over a period of three to five years to capture data and evaluate improvements in greenhouse gas emissions, in addition to expanding the program with more growers over time. The supply chain initiative aims to engage farmers and make them part of the partnership by providing them with contracts backed by ADM Milling and price security to better manage risk.
"As we expand the use of the Cool Farm Tool across our supply chain, the solutions to mitigate greenhouse gas emissions will depend on many factors, including local practices and resources that are available, and will most likely require multiple approaches that can be tailored to the needs of the farms. Knowing where to focus efforts to enhance our carbon footprint will not only reduce environmental impact, but it will help us support farmers with improved market access and respond to the growing demand for sustainable products from our customers," concludes Yaluff.
---