Recognizing Innovation: ADM's Psoriasis Formulation
Recognizing Innovation: ADM's Psoriasis Formulation
Globally, individuals are increasingly paying attention to their skin. Only 56 percent of global consumers are satisfied with their skin health, with concerns not only pertaining to appearance, but also the role skin plays in overall health and wellbeing1.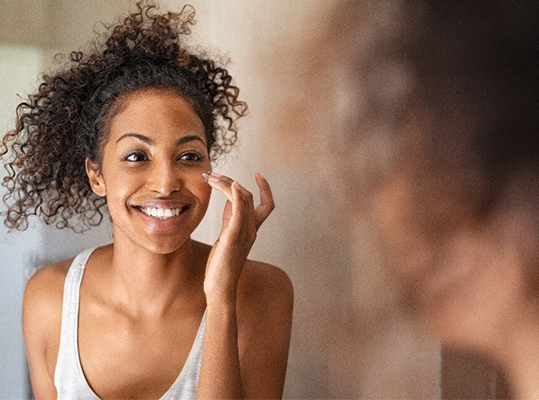 Notably, ADM has observed an increased demand for skin health solutions that address the root of the condition, rather than just alleviating symptoms, as well as alternatives to over-the-counter and pharmaceutical products. Indeed, analysis shows that the global skin health market increased by 1.3 percent between 2020 and 2021, indicating steady growth.[1]
ADM has developed a range of solutions to address many common dermatological concerns and support customer demands for alternative, non-pharmaceutical skin solutions. This week, Antonio Martinez (Vice President, Probiotics – ADM Health & Wellness) was featured in the Innovation Tour at VitaFoods Europe to showcase ADM's innovations in skin health solutions.
Recognizing Innovation – ADM's Psoriasis Formulation
Psoriasis is a skin condition that affects approximately 100 million people worldwide, causing rapid increases in skin cell production that lead to characteristic raised scaly patches. It can have a significant negative impact on quality of life, and often requires lifelong management. Currently the mainstay of treatment for mild to moderate psoriasis is symptomatic management with topical therapies, with more severe cases requiring phototherapy and additional systemic treatments, which are frequently associated with side effects.
Emerging evidence suggests that an imbalance of the gut microbiome can alter systemic immune function and may be associated with impaired skin health. Psoriasis, like other skin conditions – such as Atopic Dermatitis – may be associated with digestive dysbiosis (an altering of normal bacterial diversity).
ADM's Psoriasis formulation has been recognized as an innovative and unique approach because it addresses this connection between gut and skin health (or the gut-skin axis). Two of the three strains used in this formulation are also shown to modulate the composition of the intestinal microbiome.
ADM's clinical research results[2] show that our Psoriasis formulation in combination with a standard of care treatment is associated with a reduced Psoriasis Area and Severity Index (PASI) - the most widely used marker for the measurement of psoriasis severity - in comparison with the placebo group with simply received standard of care treatment. A post-trial follow up also indicated a lower risk of relapse associated with the combination including ADM's microbiome-oriented approach.
Alongside our Psoriasis formulation, ADM also offers a probiotic formulation targeting Atopic Dermatitis, which is shown to reduce the severity of symptoms in combination with a standard of care treatment (as measured by the SCORAD index).[3] Beyond skin health, we also offer a wide range of probiotic solutions targeting a variety of consumer health needs, such as metabolic, digestive and immune health. These can be incorporated into numerous applications, such as dietary supplements and specialized nutrition.
We partner with producers and manufacturers to deliver science-backed and innovative solutions in convenient formats to address consumers' shifting demands. Learn more about ADM's Skin Health formulations and other microbiome-supporting solutions here.
[1] Euromonitor ad hoc analysis – November 2020
[2] Source: Navarro-López V, Martínez-Andrés A, Ramírez-Boscá A, et al. Efficacy and Safety of Oral Administration of a Mixture of Probiotic Strains in Patients with Psoriasis: A Randomized Controlled Clinical Trial. Acta Derm Venereol. 2019;99(12):1078‐1084.
[3] Navarro-López, V. et al. (2018) JAMA Dermatology. 154: 37–43
---