Supporting the Next Generation of Flavorists in China
Supporting the Next Generation of Flavorists in China
Dreaming up flavors and using science to actually create them. It's a big part of what we do at ADM. And as part of our efforts to support STEM education globally, ADM Cares proudly supports the Shanghai Institute of Technology. Recently, we held an interactive ceremony with more than 250 students majoring in flavors and fragrance. The day included seminars with members of Team ADM, a multi-generational panel on the Future of Innovation, and everyone's favorite, an ADM Flavor Creation Competition.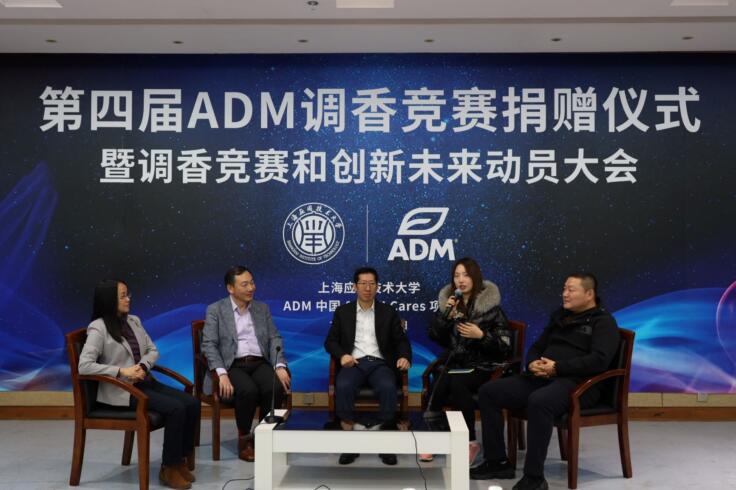 "For ADM, a global leader in nutrition, offering solutions from nature to meet any taste, we're so proud to support the next generation of flavorists," said Leo Liu, ADM President, APAC. "We create what's next in nutrition, with game-changing ideas and groundbreaking solutions. Our partnership with the Shanghai Institute of Technology ensures that our future, and the future of the industry, will remain bright."
Throughout the interactive, immersive day, students learned from members Team ADM from different levels in the organization, who described their own journeys in the flavor industry and at ADM. Yanzun Tong, an ADM flavorist trainee and SIT graduate, talked about his own path, sharing opportunities for professional development with the future professionals.
"Not long ago, I sat where these students are," said Tong. "My hope is to help guide these students, so that they may have a similar experience, and perhaps maybe gain colleagues in the future."
During the ADM Flavor Creation Competition, students showcased their own creations to a panel of judges from ADM, who will select the best flavor, based on creativity, a sensory evaluation, and product development and application.
In the spirit of going above and beyond, Liu says ADM Cares and ADM will continue to support SIT and the next generation of flavorists.
"Beyond the Flavor Creation Competition, and the Innovation Project, our team in Shanghai will provide further guidance to ensure student and program success."