Team ADM's Women Engineers On Shaping the World
Team ADM's Women Engineers On Shaping the World
Curiosity, analytical thinking, creative problem-solving, interpersonal skills, and leadership. They're just a few of the characteristics needed to make a successful engineer. As we celebrate this year's International Women in Engineering Day, we ask Team ADM engineers from around the world to share the insights and reflections acquired while pursuing their dreams.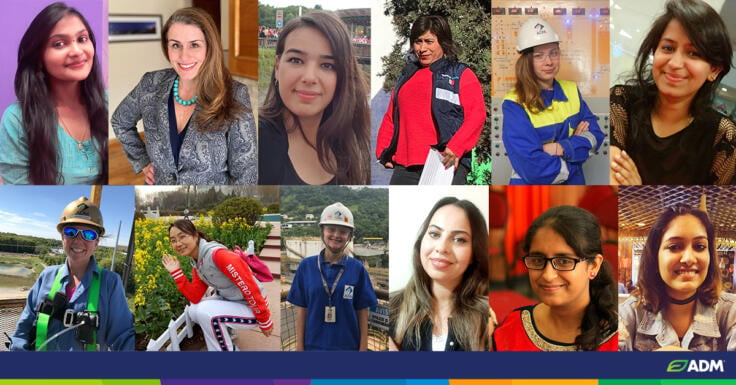 Sravya Kanaparthi, Electrical Engineering Trainee in Dharwad, India
Tell us about your pathway at ADM so far.
I joined ADM just under a year ago as an electrical engineering trainee and I can say that my first year has certainly been a great learning experience. Two months ago, I was presented with an opportunity to manage a team of seven electricians, all men. At first, I was a little nervous about the responsibilities of managing them at my young age (21), but I quickly got the hang of it and dove straight in.
In addition, our plant was scheduled to shut down as part of its annual maintenance, in order to give us the time to maintain and upgrade existing equipment such as panels and electrical connections, and install new ones. This was definitely a big challenge for me since I had never experienced a maintenance shutdown in a plant. 2020 has been quite a steep learning curve for me, but I'm loving it and looking forward to continuing my engineering journey.
Maiara Biz, Production Supervisor in Joaçaba, Brasil
What would you say is your favorite thing about being an engineer?
Mostly, an engineer is looking for a solution or trying to solve a problem. The feeling of achieving the goals I pursue, solving problems, finding solutions, optimizing processes are what appeals to me most as an engineer. Also, exercising my logical skills helps prepare me to successfully take on complex problems.
What is needed to be successful as an engineer?
You must enjoy taking on technical issues, solving problems and be willing to face challenges. Persistence is also required, and I believe that to be a successful woman in engineering, we need to maintain a positive mindset when our ability is tested. For many, having more women in the field of engineering is a cultural change, which makes it even more important to look for ways to support women in traditionally male-dominated professions.
Salma Messaoudi, Procurement Manager in Casablanca, Morocco
When did you first become interested in following an engineering pathway?
I've always wanted to follow a more technical career, since I was interested in mathematics and physics at school. I studied electrical engineering at the Mohammadia School of Engineering in Rabat, Morocco, and started working as an electrical engineer in the field.
Today you are working in a related to field to engineering, how have you experienced this change?
It's very interesting for me, because it shows the possibilities you have to switch from one area of the business to another. I used to work a lot more on site, but now I get to see another facet of our company. In a lot of ways, my experience in engineering has been valuable working in procurement, especially when it comes to problem-solving processes.
Rutuja Naphade, Production Engineer in Latur, India
How did you decide to become an engineer?
I've always really wanted to become an engineer. I have several female engineers in my family, and their stories inspired me to do follow the same path. So I decided to go to college and study chemical engineering.
What advice would you give to young female engineers starting up?
It's okay to have doubts and fears; we're all newbies at one time and we all want to learn. But be bold and don't hold yourself back. Connect with different people who have already have faced similar circumstances. Being vocal about your questions is a step forward and helps to bring in that knowledge. Find yourself a mentor, if possible, and take on the journey to gain your own experience.
Genoveba Martinez Vasquez, Production Planning Manager in Mexico
What has been the challenge in your career at ADM that you are most proud of?
Over time, the greatest pride is having a higher level of responsibility. I've built a beautiful history over the past 20 years, and I have had the enormous fortune to meet and work alongside valuable colleagues from whom I have learned a lot. Also I've transformed learning into a challenge. Undoubtedly, it has been a beautiful professional adventure in my life.
Were there any challenges you faced in choosing a career that is traditionally male-dominated?
Yes, many challenges! I thought that this career was exclusively for men, even more so during the time that I had the fortune to study as the idea of equality was not as prevalent then. However, having those challenges was also a great opportunity for me to develop other skills.
How do you think more young women can be encouraged to be engineers?
When you realize the scope that can be handled today as an engineer in a diverse and inclusive environment, there is no doubt that selecting this career is a good option. There is no magic formula, and the most important elements are your will, work, dedication and patience. Opportunities do not arise in every moment, but when they come you have to be ready to embrace them.
Kateryna Sharabaeva, Production Engineer in Illichivsk, Ukraine
What made you pursue a career in engineering?
My father was an engineer in the food industry, so that gave me a glimpse into this environment. And personally, I'm someone who is curious to understand how things work and learning about new technology.
What is it you enjoy the most about your role?
I enjoy finding the right product for the right purpose, determining the correct process to apply in order to achieve the desired product viscosity, for example. Those challenges fulfill me; it's a chance to learn new ways of using existing tools and develop my skills.
Leila Abdli, Quality Manager in Casablanca, Morocco
Can you tell us a little about why you decided to study engineering?
I knew pretty early on that I didn't want just any 9-5 career. I was looking for something where I could challenge myself, do something that not everyone was doing, and I also wanted to follow a technical career. Tech is, after all, the future! I got accepted in the engineering school in Rabat, which is very selective, only taking-in students with high grades, and obtained a degree in materials science and quality engineering.
Did you face any challenges in your career?
When I finished my studies, I started working in the construction industry, a traditionally male-dominated environment. I spent a lot of time in the field, visiting various construction sites, which really thrilled me. In the beginning, I sometimes felt that it was quite difficult to be accepted as a women in the field who manages technical projects, and remember seeing the look of surprise on people's faces when they realized my capabilities. This only made me advance further ahead and believe more in my skills; I saw this as more of a challenge rather than a barrier, giving me energy and drive.
Have things changed a lot today?
Today, I would say that we are seeing empowered women at all levels, including leadership and technical roles. We need to encourage women to pursue careers at all levels of work, especially in male-dominated fields, as an alternative to more traditional, female-dominated roles. Having diversity and equal opportunities makes a more healthy, balanced and effective workplace.
Deeksha Yadav, Quality Assurance Manager in Dharwad, India
Tell me what is it you like the most about your role today?
I relish the fact that I'm a part of the process responsible for putting food on the shelves for the community. And I enjoy the scope and variety each day brings, working behind the scenes of the whole manufacturing process and ensuring that safe products are delivered to our customers.
How would you encourage women to become engineers?
Engineering is now a very normal career opportunity for women. I'm seeing more and more women in technical roles in our plants. If we want to see gender balance in these roles, we need to step up and bring action to the words "Don't be part of the change, be the cause of change."
I was part of a group of four people recruited by ADM, and I was the only woman. And today, I'm the last one still here! Perseverance is key.
May Li, Food Analyst Engineer in Tianjin, China
What would you say is your favorite thing about being an engineer?
There's nothing I like more than when each batch of products passes our tests on physicochemical and micro indexes. We provide customers with safe foods and that makes me proud. The recent COVID-19 pandemic brought on some new challenges, but we made it work, ensuring a continued supply to our customers. It was very much a team effort.
How do you think more young women can be encouraged to become engineers?
Engineers are made, not born. These roles are not exclusive to men. Women have just as much aptitude as men in these fields. I think women can, and should do, whatever they want. Just follow your dreams!
Preet Batra, Regional Electrical Engineer in India, and part of the COE Utilities team
Tell us a little about your journey at ADM as an engineer
I joined ADM three years ago, initially as a trainee before becoming a full-time engineer, managing electrical projects relating to safety and implementing new technology.
What advice would you give to young women aspiring to become engineers?
Take up the challenge, but be prepared to face some difficult struggles. This is not your average job; it's highly demanding, but the rewards are worth the effort. Every day is different, and you will constantly need to adapt to the situation and find a way of solving problems. You need to be a natural, solution-oriented type of person, curious and determined to find the solution.
Melissa Hahn, Plant Superintendent in Decatur, Illinois
How did you choose a career in engineering?
I truly enjoyed math, chemistry and physics in high school. At the time, my father was an operator at a brass plant near my hometown. He organized a lunch for several engineers — male and female — that worked in the plant to explain their roles and responsibilities. From that moment on, I knew I wanted a career in engineering.
How do you think more young women can be encouraged to become engineers?
Having STEM programs in schools is a great start, but it is also important for young girls to be introduced to women engineers and for teachers to help promote that engineering is an absolutely achievable and great career for women.
Juliana da Silva, Starch Commercial Development Manager in Oak Brook, Illinois, with a background as a food engineer
How has your engineering background benefited you in your current role?
In my role, I often have to work with multidisciplinary teams and my background has helped me to be able to speak the language of technical team members and understand what we are trying to do or what problem we are trying to solve. It also allows me to apply a strategic view and process-oriented mindset to building commercial strategies for food ingredients. It is like being the maestro of an orchestra.
How do you think more young women can be encouraged to become engineers?
Solving problems and helping others is an amazing gift that engineers bring to the world, and engineering is a great skill to learn, especially for young adults. Being an engineer has given me many possibilities to learn and grow in my career, and has taken me places that I never thought possible. I have met and worked with so many intelligent people that appreciate the diversity in thinking that women can bring to the table. Engineers are sometimes not given proper credit for their creativity, but for me, this is work that fuels my creative juices.
---