Using Innovative Video Technology and Augmented Reality to Solve Problems in the Era of COVID-19
Using Innovative Video Technology and Augmented Reality to Solve Problems in the Era of COVID-19
With the arrival of COVID-19 and widespread travel restrictions, our operations IT team had to get creative. Maintaining and repairing equipment at our more than 800 facilities around the globe is of vital importance. Many times, ADM engineers in our plants will call upon an expert on our team to help with a specific piece of equipment. In the past, this has required that the expert travel to the plant. But in the time of COVID-19, the team had to figure out how to bring in the experts without travel.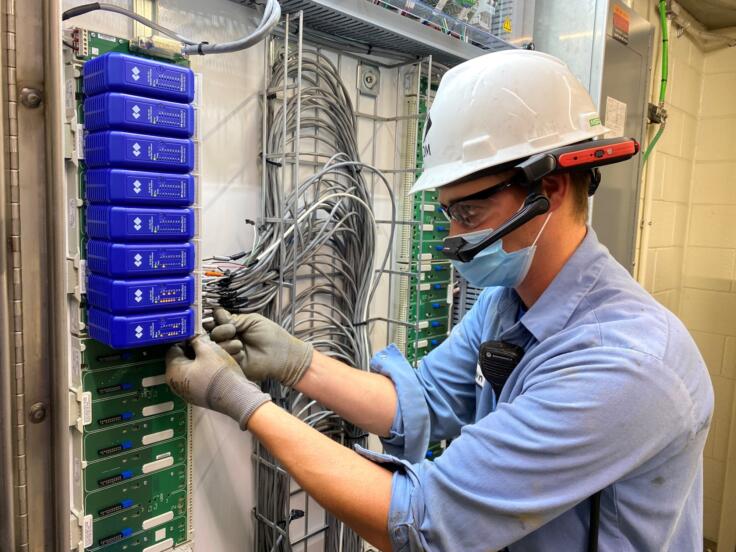 Like so many others in recent months, ADM Instrumentation Engineer Brandon Pennock has been working from home. Previously, he would travel to ADM locations, helping maintain and repair equipment in our facilities. Much of his job requires that he see the equipment in real time to help diagnose any issues. Thankfully, by leaning on video and augmented reality technology, the team has devised a way for Pennock and others in similar roles to solve problems in real time, while still remote.
"We had to think creatively about how we get the expert to the problem," Pennock said. "We had already been using different types of technology to do this, but this has accelerated our adoption."
The video technology ADM uses works much like the now ubiquitous Zoom or Skype call, connecting users through live video and corresponding audio. In ADM's case, an operator in one of our facilities wears a video headset, allowing Pennock to see everything in front of him, essentially transporting him from his home office to one of our plant facilities.
"Adopting this innovative technology has helped us in our ability to diagnose a problem and devise a solution," Pennock said. "By seeing the problem in real time, we can see exactly what the operators are dealing with."
The augmented reality technology takes that idea a step further. Imagine you're thrust into the tense, action-movie cliché of having 30 seconds to dismantle a ticking time bomb, and you're not sure whether to cut the blue wire or the red wire. Thankfully, you're holding a screen where an expert can draw a circle on the live video of the bomb right in front of you, allowing you to clip the correct wire.
"Augmented reality provides 'just-in-time' support," Pennock said. "If I need to show them a diagram, manual or checklist—I can put it right in their field of view on their iPad. There's no need to locate and print out a manual or other materials, so we're seeing efficiencies in this way of working."
At a time when physical proximity may not be an option, technology is bringing us together to solve problems. Currently, the team is using the augmented reality technology in eight U.S facilities, but are exploring new uses all the time.
---