Pet Food Solutions for Manufacturers
Pet Food & Treat Manufacturers
Our innovative pet food & treat solutions include raw materials, extruded products, premix/pre-blend services, functional ingredients and tailored solutions.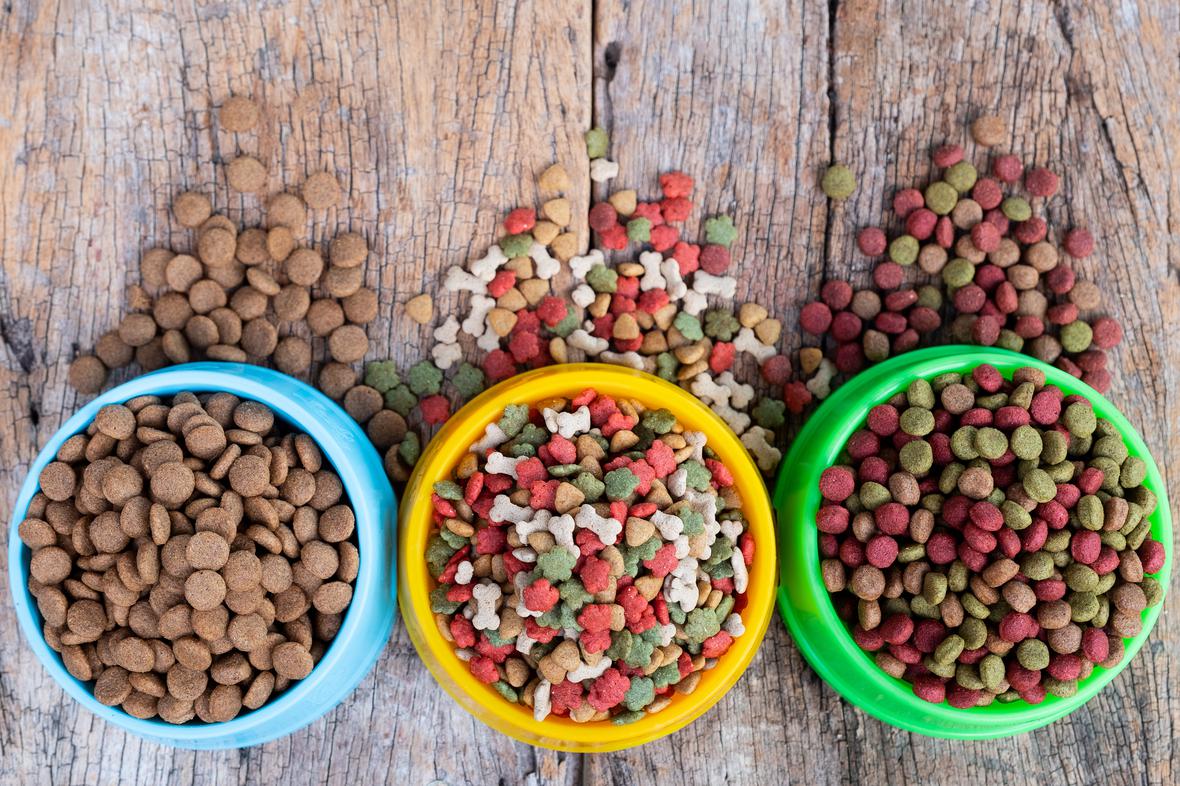 Pet Food Solutions
Pet food is the fastest growing segment in animal nutrition, fueled by nutrition breakthroughs, technical advancements, and product potential. As a fully integrated partner—and one of the largest U.S.-based contract extruded-treat manufacturers—ADM accompanies you every step of the way to help your projects come to life.
Whether you are a branded pet food company or a private label pet food manufacturer searching for additional production capabilities, you can choose from the most comprehensive range of products in the industry.
But we offer more than just a broad portfolio. Our solutions range from traditional ingredients and raw materials to cutting-edge science-based functional ingredients. We have targeted tailor-made solutions, including ingredients, finished products, ingredient blends, extrusion capabilities, and finished foods.
Wide Portfolio of Ingredients
Whatever your pet food & treat needs, ADM is your resource for:
On-trend ingredients
Ancient grains and holistic ingredients
Functional ingredients
Alternative proteins, including Versity® Yeast Protein, a complex, high-quality protein composed of dry, inactive Saccharomyces yeast
Customized premix and ingredient blends
Customized flavors
Colors from Nature®
Your Fully Integrated Partner
From selecting ingredients to developing the finished product, you'll benefit from the ADM global origination, transportation, processing and distribution network. Our unrivaled expertise in manufacturing services enables us to maximize our product knowledge and production efficiency, all devoted to your success. And we make an unwavering commitment to traceability and quality control.
Manufacturing and Technical Services
ADM Animal Nutrition is a leader in the manufacturing and distribution of a wide range of vitamin and trace mineral premixes, specialty ingredients and food additives for companion animals. Longtime industry leaders, ADM Animal Nutrition has specialized in formulating and manufacturing custom premixes and ingredient blends for many years.
ADM's powerful know-how and expertise in human nutrition transfer to and help inform our pioneering pet nutrition solutions. We are a leading provider of premixes and pre-blends, which provide precision nutrition handling, especially with ingredients that have unique handling properties, such as flavors, colors, digestive & oral health, coat and complex proteins.
Innovation Know-How & Expertise
At our industry-leading Animal Nutrition Technology Center (ANTC), our cadre of scientists, engineers, food technologists and animal nutrition experts provide the following to help your products succeed:
Consumer insights
Custom marketing programs
Sensory science marketing
Flavor and product development
Environment stewardship
Innovation and technology, e.g., pilot processing and scale-up
Quality Standards
We take the quality standards of our pet products seriously. To validate the accuracy of each production batch, we utilize in-depth quality control measures throughout our production processes, including NIR testing of incoming ingredients, metal detection and barcoding.
Customized Solutions
Collaborate with our expert team to turn your unique ideas into niche products. We thrive on working directly with clients on ideation and development plans for new product introductions. With more than 400 ingredient options, customers can rely on ADM's manufacturing and nutrition expertise to produce a variety of custom blends, including vitamin premixes, trace mineral premixes and dry ingredient blends.
This content is based on United States laws and regulations applicable on the day of publication of this content. We point out that customers are required to ensure that any labeling and claims made by customers for their finished products must be based on the regulatory requirements and scientific standards of the country in which the final products are offered for sale. Not all products are available in all regions.
Partner with us now!
For general inquires, questions or more information, please reach out to us. We are here to help.