Grower Connect: Morter Family
Grower Connect: Morter Family
Meet the Morter family, our local growers in the Pacific Northwest who cultivate wheat for the area.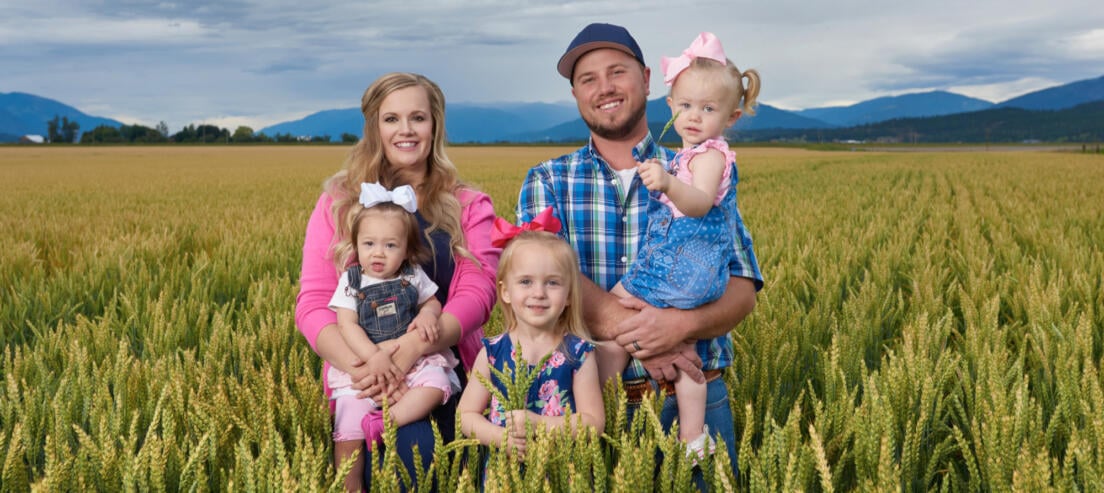 Grower Connect: Morter Family
Farming has long been in Brian Morter's blood. He grew up near his grandfather's land in Oregon, which is where he always envisioned his future.
Brian now lives with his wife, Courtney, on the family farm in Bonners Ferry, Idaho. Brian's parents, Roger and Carla, farm the Oregon homestead. Brian and his dad manage the farms together and travel the 330 miles between the two to ensure each farm's unique needs are met.
Because of the geographical distance, the two farms have very different land qualities. The Oregon farm is dry, high desert and only supports a crop every other year, due to lack of moisture. The Idaho farm benefits from significantly more moisture, making the timing of each growing season different. While seemingly cumbersome and challenging, this allows Brian and his dad to work each farm as needed.
The Morters are very proud of their self-sufficient farms. "We don't hire a lot of outside help. We try to do as much as we can ourselves. We build our own grain bins, haul our own wheat and manage our own equipment. We sell alfalfa and keep the grass hay to feed to cattle. We try to be diversified—hay, cattle, timothy seed and wheat. That helps save money, which we can put toward buying more land."
Along with growing their farmland – they added 1,200 acres in 2013 – Brian and Courtney are also growing their family. They have three kids, Hadley, Hailey, Harlow, and another on the way. Brian loves raising his children on the farm. "It's a simple lifestyle that teaches a strong work ethic and valuable skills, things you can use later in life."
Courtney shares her husband's passion and commitment to the family farm and all that comes with it. Her goal is to make sure the family implements sustainable farming practices. They are beginning to use no-till farming practices to reduce erosion and soil compaction. Courtney remarked, "The big advantage to no-till operations is the time you save. Time is the resource that farmers never have enough of, so going to a minimal-till operation really saves time, as well as fuel."
Even though farming has changed drastically since Brian's grandfather owned the land, he is extremely passionate about the farming way of life. He says, "I love it. I think it is the best lifestyle a person can have. We live off the land, we work with our hands, we watch everything grow and harvest our own crops. There is so much fulfillment in that. It is a great way to raise a family. It is a great way to make a living."
Brian and Courtney, along with Brian's parents, will continue putting in the long, hard hours to ensure both farms remain sustainable and profitable for the next generation.
---