Diversity & Inclusion at ADM: 2020 Highlights & 2021 Outlook
Diversity & Inclusion at ADM: 2020 Highlights & 2021 Outlook
As 2020 comes to a close, we speak with Ana Apolaro, VP of HR in Latin America about the progress that has been made this year on our diversity & inclusion (D&I) initiatives and what we can look forward to in 2021.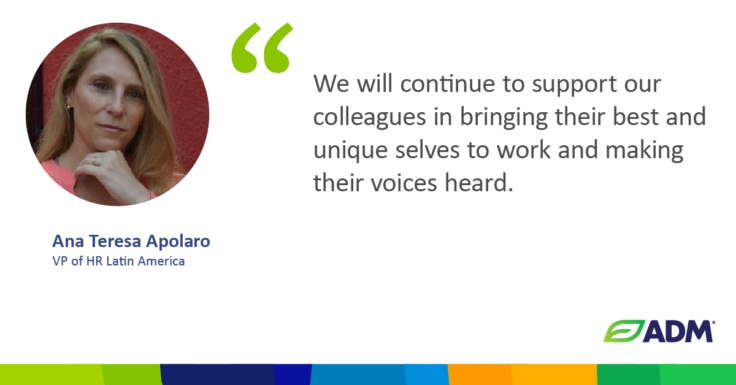 Can you tell us about some of the progress that's been made on the 2020 D&I global action plan?
I'm proud of the D&I progress that we have made this year, which received global recognition when we were announced as a finalist for the Reuter's Responsible Business Awards in the D&I Leader category in October. Our Global D&I plan is based on four pillars that are championed by our regional D&I councils, and they include Leadership Engagement, Training and Communication; Recruitment; Advancement and Retention; and Networks and Sponsorships.
Our leadership engagement, training and communication pillar has championed D&I by moving from awareness to action through storytelling. Guided by our global communications calendar to celebrate D&I-related events all year round, such as the Juneteenth Pause for Reflection campaign, Pride Month, which we commemorated for the first time at ADM this year, International Women's Day, and the Global Week of Understanding. We have been producing stories to inspire colleagues as well as provide guidance. In the training arena, we launched an Unconscious Bias refresher module that is now a mandatory course for all colleagues. The module focuses on listening and learning tools to foster inclusion and a two-way conversations among team members.
Externally, our senior leaders, Jennifer Walker, VP of HR, and Leticia Goncalves, president, Specialty Ingredients, have been championing D&I with our partners in the industry to collectively shape the discussion on these crucial topics by actively taking part in D&I related summits and conferences. We also became a silver sponsor of the Women in Food & Agriculture (WFA) network and Jennifer Walker joined the WFA 2020 Advisory Board to promote gender equality with our partners in the food and agribusiness sectors.
Through our inclusive hiring initiatives in the recruitment pillar, we not only established strategic partnerships with external agencies that are devoted to recruiting talented candidates from underrepresented groups, but we also used technology to ensure diverse candidate slates and interview panels for all salaried open positions at ADM. When it comes to advancement and retention, we expanded gender pay equity analysis throughout the regions and an action plan was put in place to address any issues.
2020 has been a challenging year for the world. How has it shaped our D&I activities?
We remain passionate and committed to focus on what matters the most to our people. While we have continued to work on our pledge of increasing the number of women in senior leadership roles, our efforts have also evolved with the events that have taken place this year. We held listen and learn tours with our African American colleagues, and our executive committee members conducted interviews to better understand their experiences. Several initiatives were also launched to boost our longstanding support of organizations that champion social justice in the communities where we work through ADM Cares donations.
How does ADM's D&I strategy and its progress compare with the rest of the industry?
Through the consortium "Together We Grow", of which we are a founding member, ADM has advocated open dialogue and collaboration with our partners in the industry, universities, non-governmental agencies, customers, and vendors to build a more diverse and inclusive workforce in the agriculture sector. By exchanging best practices and developing initiatives together on recruiting the brightest talent, we are collectively making progress across the industry.
What will be the D&I focus for ADM in 2021?
Next year, we will continue to work towards achieving gender equity, in partnership with Paradigm for Parity, and advance momentum on our efforts to promote social justice. Our listen and learn tours will become a regular feature of our global D&I plan, and we will continue to support our colleagues in bringing their best and unique selves to work and making their voices heard. Our target is to strengthen our inclusive and winning environment by championing allyship and benefiting people as a whole by unlocking the power of diversity.
---