How ADM is Helping Make Packaging That's Better for the Planet
Packaging is a ubiquitous part of our daily lives. Almost everything we purchase, consume and use comes in a box, packing material, or container of some kind – from food and beverages to household goods and personal care products. But even as today's consumers enthusiastically buy and order packaged goods from near and far, ever-growing concerns about climate change are making them increasingly cognizant of the environmental impact of their purchases. This is motivating more and more shoppers to choose products that come in eco-conscious packaging. In fact, a recent survey found that 86% of Americans are more likely to purchase a brand if the packaging is considered sustainable.[1] And for some, it can even be a make-or-break factor. In a separate survey, 44% of consumers said they won't even consider buying products that come in packaging that is harmful to the environment.[2]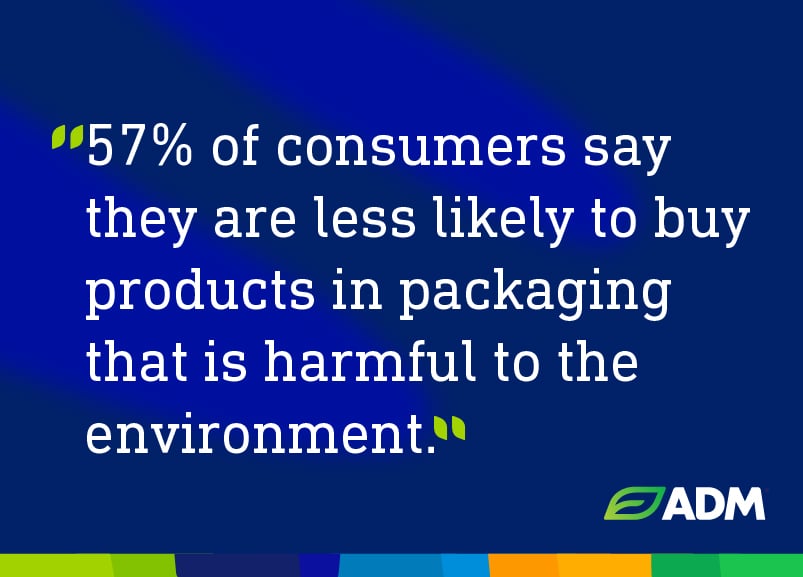 This is leading a growing number of businesses to seek out sustainable packaging solutions that can help them reduce their environmental footprints and satisfy consumer desire for eco-conscious materials. As a pioneer of plant-based solutions with over a century of experience, ADM is uniquely positioned to meet the burgeoning demand for sustainable packaging. We got our start as a regional linseed oil business in 1902, but in the 120 years since, we have grown into one of the world's largest agricultural processors and providers of food ingredients. As the business has expanded, ADM has cultivated extensive R&D expertise and technical ingenuity that enable us to develop innovative solutions, including the ability to maximize the use of renewable raw materials and focus on recyclability and efficiency to help the packaging industry become more sustainable. Here are three ways ADM is transforming how paper and packaging are made:
We Make Starches That Increase the Recyclability of Paper and Paper Packaging
Businesses in every sector are facing pressure to become more sustainable, and concerns about environmental impact have many consumers shunning plastic wrapping and packaging. A 2021 survey by Oceana found that 87% of consumers think major online retailers should curb the amount of plastic packaging they use[3] and a recent ReSociety study found that 80% of consumers want to see a reduction in plastic packaging following the COVID-19 pandemic.[4] As a result, paper products made with renewable raw materials are quickly becoming the ideal substitute for companies looking to satisfy today's eco-conscious customers. To meet demand, paper makers and corrugated cardboard manufacturers are looking for ways to boost the recyclability of their products without sacrificing the quality. At the same time, they also want to find ways to decrease their overall energy consumption, so they can shrink their carbon footprint.
Paper making is the largest non-food application of starches – it consumes millions of metric tons of starch globally every year. ADM manufactures a wide array of starches from crops such as corn and wheat, and the fiber from these crops can be used to create paper-grade starch that allows paper makers to reduce the amount of virgin tree pulp they use, without diminishing the brightness or strength of their product.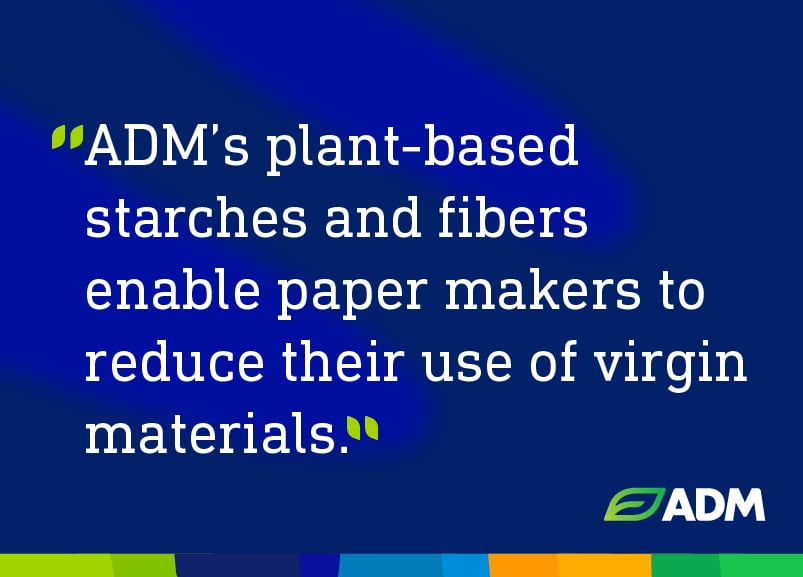 We Enhance Starches with Natural Adhesives to Optimize Box Manufacturing Processes
As e-commerce businesses have flourished over the last decade, the use of corrugated cardboard boxes and paper packaging has soared. The global corrugated boxes market was valued at $67.4 billion in 2021 and is expected to reach $82.8 billion by 2028.[5] Corrugated boxes are disposable, recyclable containers that are made up a several layers of material, rather than a single sheet of cardboard, and they are constructed using starch-based adhesives. They are ideal for shipping because it's easy to print on them, and they are strong, durable and widely recycled.
To help manufacturers of corrugated boxes reduce their carbon footprint, ADM developed a natural starch-based glue with a thermal bonding enhancer additive that makes the gluing process more efficient by lowering the temperature required for curing, thereby reducing the time it takes to produce a corrugated cardboard box. This enables manufacturers to lower their energy consumption, which limits the environmental impact of their business.
We Produce Sustainably Produced Flour to Help Make Cardboard Boxes
Right now, there is an unprecedented demand for cardboard boxes and not enough starch in the world to meet it. To address this need, ADM is using our sustainably produced flour as a replacement for some of the starch in cardboard boxes. This provides box makers with another plant-based material that they can use to bring down the starch level of their cardboard without compromising the structural integrity of the final product. The processed flour does turn the cardboard slightly brown, but this is a negligible concern given that most shipping boxes tend to be that color anyway.
The flour we are supplying to cardboard box manufacturers is also produced using a number of different sustainability practices. At our flour mills in the U.S., we have implemented energy efficiency projects and technology updates that have helped us reduce the environmental impact of our operations. We've also been able to lower the carbon footprint of our U.S. flour milling network through the purchase of renewable energy certificates and the sequestration of CO2 at our carbon capture and storage facility.
There's More to Come
In addition to these existing packaging innovations, ADM is using our vast experience, resources and partnerships to unearth more plant-based sustainable packaging solutions. For example, we are exploring other ways to use starch as an eco-friendly optic brightener for white paper products, and we are investigating additional packaging and label applications for our plant-based adhesives.
ADM is bringing plant-based solutions to a multitude of industries, to help foster a more sustainable future. Our plant-based products are used in food, personal care products, construction materials and much more, and we have made robust commitments to incorporate sustainability into every step of our value chain.
People need packaging. It extends the life of products and allows them to be safely stored and transported. The world urgently needs solutions that reduce the environmental impact of packaging, and manufacturing with sustainable materials will be key as we move forward. That's why ADM is working hard to turn plants into products that make it possible to produce packaging that's better for the planet. It's one of the many ways we are unlocking the power of nature to enrich the quality of life.
To learn more about ADM's sustainable packaging offerings and other biosolutions, visit ADM.com.
[1] https://www.bakeryandsnacks.com/Article/2022/08/03/Brands-cannot-afford-to-ignore-consumers-sustainable-packaging-demands
[2] https://www.prnewswire.com/news-releases/new-data-reveals-preference-for-sustainable-packaging-remains-strong-in-a-changing-world-301530676.html
[3] https://oceana.org/blog/opting-out-amazon-shoppers-would-choose-plastic-free-packaging-if-they-had-choice/
[4] https://newsroom.tomra.com/consumer-awareness-is-the-driving-force-is-businesses-becoming-more-sustainable/
[5] https://www.globenewswire.com/news-release/2022/04/14/2422438/0/en/82-Billion-Corrugated-Boxes-Market-Size-is-Expected-to-Grow-at-a-CAGR-of-over-3-50-During-2022-2028-Vantage-Market-Research.html
---