Grower Connect: St. John Family
Grower Connect: St. John Family
Meet the St. John family, local growers in the Pacific Northwest who cultivate wheat for the area.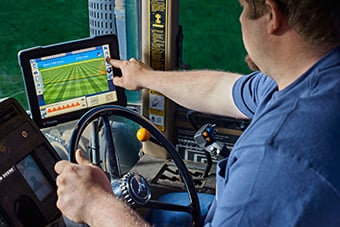 The St. John family credits their successful farming business to a deep love of dirt, hard work and continuing education. But in the beginning, their career paths did not include farming.
Dave and Cathy were friends growing up and married after both returned from college. Dave had majored in ag education and taught at the local high school, and Cathy was an accountant.
Having grown up on a farm, Dave listened to his dad talk about the realities of farming: "It's a good life, but it's a hard life. You are always counting on Mother Nature, and there is always a problem to solve."
Dave made the tough decision to farm full-time after his father was injured in a farm accident. Cathy supported his decision and worked alongside him, even helping Dave harvest their fields the day after their wedding.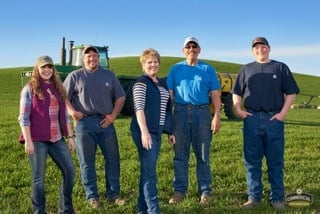 Dave's education taught him agronomic best practices and practical mechanical experience that helped him with day-to-day operations on the farm. Cathy's accounting background was perfect for managing the business and the books. They knew that with hard work and continued education, they could make farming work for their family.
Being a lifelong learner and valuing continued education, Dave's goal is to continue to improve his skills and his business. His dad taught him to keep learning and stay up-to-date on new technologies and farming techniques. Dave and Cathy are instilling this value in their kids, as well.
Their son, Zach, has big plans for the future of the farm. He researches new products and services that will help their business run more efficiently. "We've learned to balance cost against profit and long-term value of any new venture. We have started using geo-reference soil sampling and variable rate applications and are looking more into field mapping," he said.
When asked why they keep farming, Cathy replied, "It's in our blood. It's the family farm that everyone contributes to. It's a good life." Following in his dad's footsteps, Zach said, "My ultimate passion is to farm. I have a deep love for the dirt."
---