Meet Our Growers: Tee Family
Grower Connect: Tee Family
Meet the Tee Family, our local growers in the Pacific Northwest who cultivate wheat for the area.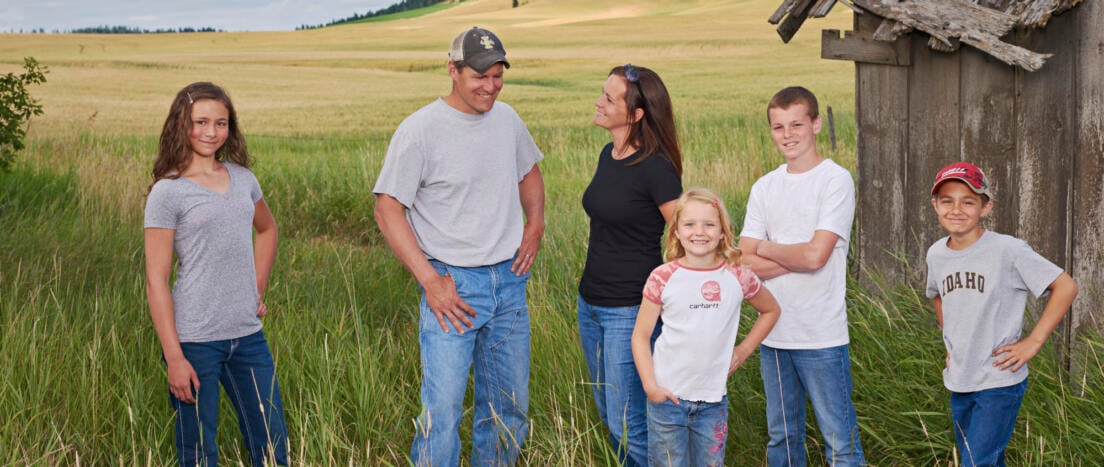 When it comes to raising kids and farming, Jeff and Kaci Tee of Latah, Washington can relate to the old adage, "it takes a village…" Parents to four children spanning the ages of 7 to 13, the Tees know it takes a network of like-minded people sharing resources to improve farming practices, change consumers' perceptions of farming and help feed the world.
Jeff was born and raised in the Latah area where he didn't exactly always dream of becoming a farmer. His plan was to "go out and climb the corporate ladder." He headed off to college and stayed in the city to work but when he met Kaci, his plans changed. The couple decided to move back to Latah. Moving home would allow them to raise their family in a supportive farming community.
Jeff commented, "It's nice to have a group of young farmers in the community who you can talk with. They are both friends and colleagues, and they are smart, hardworking, business-savvy people. We routinely and openly share information in support of one another."
Aside from sharing resources, knowledge and best practices in the field, there's another aspect of this extended farming family that makes it extraordinary.
"Our farming network understands the strains, stresses, ups and downs of our unique farming lifestyle. Everyone is ready to lend a helping hand, whether it's in the field or with the kids. It's a caring community with a reach that stretches beyond the dirt and the field."
While the connection between farming families is strong, the Tees recognize a major disconnect between food on the store shelf and the farmers who grow it. Jeff said, "I'm not sure consumers understand how crucial agriculture is to keeping food on the shelf. If all farmers were to stop harvesting wheat today, in 47-52 days the world would be out of wheat; that's an eye-opening fact."
The Tees want everyone to know, "farmers work very hard to provide consumers with the best, safest and most economical food supply in the world, and we take a lot of pride in doing it."
Jeff and Kaci enthusiastically accept the challenges of the lifestyle they've chosen and have an unwavering commitment to their family, their "village" and the consumers who enjoy their harvest. They teach their children the importance of being good stewards of the land, and of the farmer's critical role in feeding the world.
---