Climate
Climate
Protecting the environment and enhancing environmental sustainability.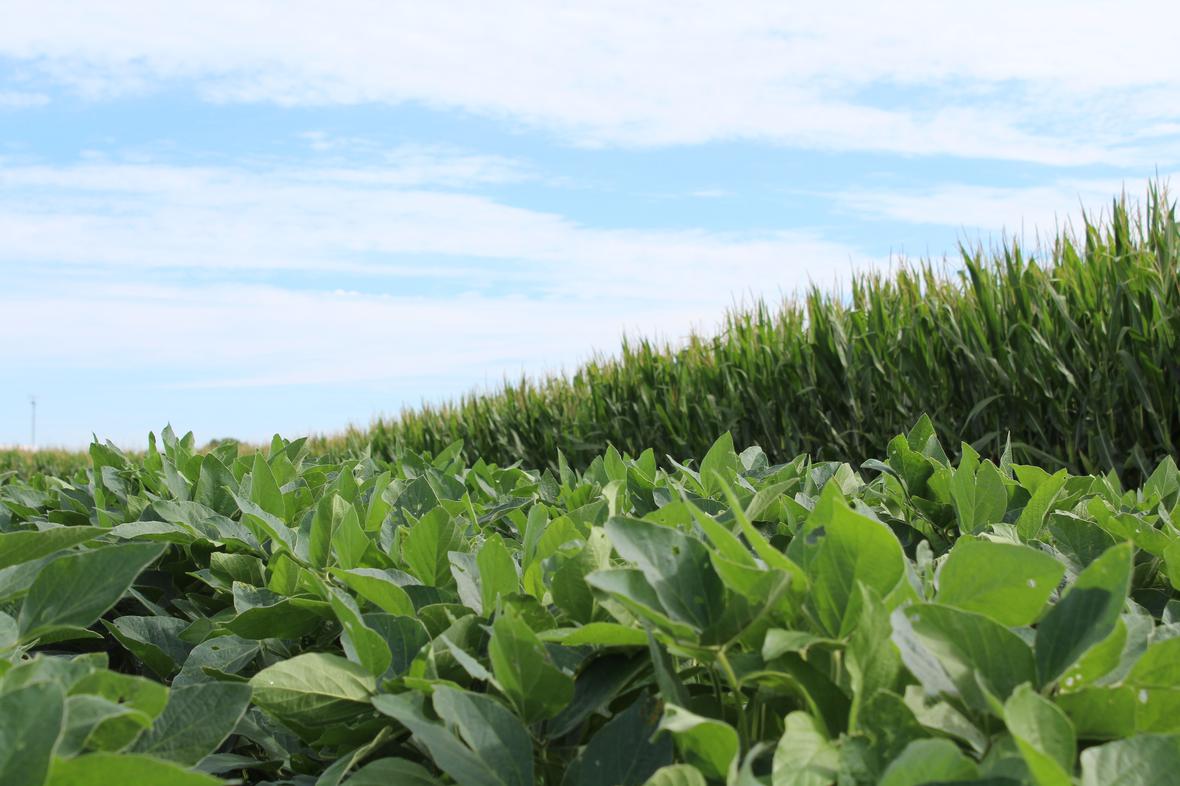 Efforts to Combat Climate Change
We know that the health of our natural resources is critical to our future, and that our commitment to sustainable practices will result in a stronger ADM and a better world.
We are committed to meeting our environmental obligations, while pursuing ways to continually improve our efforts in both protecting the environment and enhancing environmental sustainability.
At ADM, we have a robust Environmental Management System (EMS) aligned with ISO to manage our operations and facilities. We minimize our impacts to the environment by following different foundational procedures and ensure we meet our environmental obligations. We launched the company-wide EMS in 2012, and since then we have worked to continually improve and standardize the structure across all operations and align with other company initiatives such as Performance Excellence (PE) and Quality.
We have released an update of our efforts toward acheiving our Strive 35 goals which includes discussion of future technologies and efforts that will support our net zero aspiration.
Environmental Footprint
GHG Emissions - Scope 1 + 2
Each year, we inventory and calculate Scope 1 (direct emissions from our equipment) and Scope 2 emissions (from the electricity and steam we buy from local utilities) globally for facilities under our operational control. With global operations, we select regionallyappropriate factors from the International Energy Agency (IEA), United States Environmental Protection Agency (U.S. EPA), or The Climate Registry (TCR), unless the facility has Continuous Emissions Monitoring Systems which take precedent. Our assessment includes all six Kyoto protocol gases, plus additional refrigerants and is based on The Climate Registry, except where otherwise required by law, such as the U.S. EPA Part 98 Mandatory Reporting Rule.
We have identified several projects to help us achieve our Strive 35 reduction targets, some of which are highlighted below:
Renewable Energy Procurement: In Brazil, we have signed a 15-year agreement to purchase 31.9 MWh of energy from a wind power plant that will reduce our carbon emissions by 19,000 metric tons per year.
Transportation Fleet Upgrades: As a U.S. EPA SmartWay Certified carrier, our trucking fleet is implementing several fuel economy improvements, including upgrading to vehicles with automatic transmissions that use adaptive cruise control and governed speed to optimize fuel economy as well as swapping out dual tires for super single/wide base tires. The lighter weight and reduced rolling resistance increases fuel efficiency. In addition, we blend our own fuel with ADM-produced biodiesel allowing our fleet to run on a 20-30% biodiesel blend rather than the standard 5% blend available at commercial fuel stations. We are continuing with our trials of compressed natural gas and 100% biodiesel fueled trucks with positive initial results.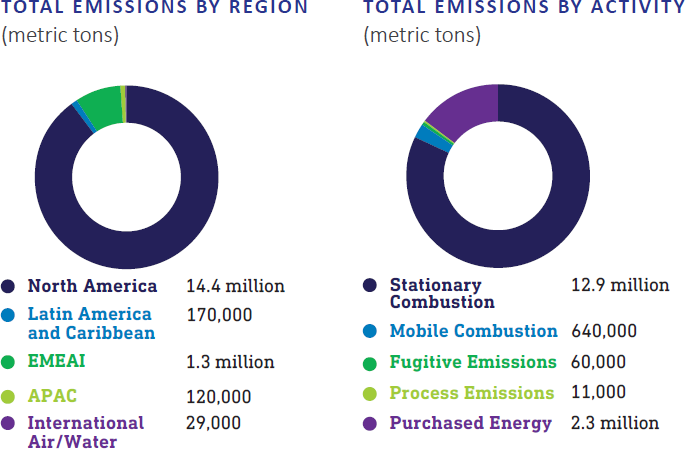 Coal Conversion: At our Mankato, Minnesota; Des Moines, Iowa; and Lincoln, Nebraska oilseeds facilities, we have started conversion projects to replace existing coal-fired boilers with high pressure, natural-gas-fired boilers which allow efficient cogeneration of steam and power using a lower carbon fuel. This project is estimated to reduce our Scope 1 and Scope 2 GHG emissions by over 150,000 metric tons per year, and the upgrades will also allow us to pivot to other lower carbon fuels such as renewable natural gas or hydrogen when they become commercially available.
NET Power: We are exploring efforts to purchase energy from a planned NET Power cogeneration facility to be built adjacent to our processing complex in Decatur, Illinois. This cutting-edge technology uses a semi-closed loop technology that combusts natural gas with oxygen instead of ambient air to produce low or zero-emission power. Oxy-combustion results in a more pure CO2 exhaust stream that is recycled through the system to drive turbines instead of steam. After being recycled through the unit, the CO2 will be captured and sequestered in our onsite sequestration well. Through this project, we expect to reduce our annual GHG emissions by 1.5 million metric tons.
GHG Emissions - Scope 3
We have announced a new commitment to reduce our Scope 3 greenhouse gas emissions across our supply chain by 25% by 2035 against a 2019 baseline. We are focusing our reduction efforts on five material categories: purchased goods and services, fuel and energy related emissions, upstream transportation and distribution, waste, and the processing of sold products/goods. This target builds on our ambitious Strive 35 sustainability goals.
To achieve our Scope 3 reduction goal, we will continue to work in close collaboration with farming communities, suppliers and customers. We are working with partners in the industry to implement projects that focus on supporting growers in adopting practices that address water quality and soil health, such as cover crops, reduced tillage, complex crop rotations, and nutrient management to reduce soil erosion, nutrient run-off, and greenhouse gas emissions. We also recognize the importance of protecting forests and watersheds as critical carbon sinks. Ensuring we only source deforestation-free commodities in our supply chains will reduce land use change emissions.
Our transportation business unit has been working to reduce upstream transportation emissions by contracting with U.S. EPA SmartWay Certified shipping companies. We are also assessing emissions from ocean freight through our membership in the Sea Cargo Charter which, aligned with the ambitions of the International Maritime Organization, aims to reduce shipping's GHG emissions by at least 50% by 2050.

Energy
We continue to identify, assess, and implement innovative ideas that reduce our energy intensity, allowing us to produce more while using less energy. In 2020, we announced our goal to reduce energy intensity per ton of product 15% by 2035 over a 2019 baseline, as a part of our Strive 35 goals. To ensure we are on track to meet our goals, we set a 5-year interim target to reduce energy intensity 6% by 2025.
Our facilities have implemented an energy management program based on ISO 50001, with 16 facilities ISO certified. In 2021, we began the process to certify another ADM facility, which will increase the total number certified production facilities to 17.
We calculate energy consumption for all facilities under our operational control using a combination of utility bills, operations data tracking systems, and fuel purchase records, which consists of:
Renewable fuel consumption (biofuels such as wood and biogas burned onsite).
Non-renewable fuel consumption (fossil fuels burned onsite).
Electricity consumption (purchased from utilities or power providers).
Steam consumption (purchased from utilities or other off-site providers).
The fuels burned onsite are used to generate steam and heat, as well as electricity at locations with cogeneration facilities. To ensure proper accounting, any electricity produced by our cogeneration facilities that gets sold to the grid is subtracted from our total energy consumption.
In 2021, we implemented over 75 energy-saving projects across our business units. These projects are expected to reduce more than 175,000 MWh of energy while achieving an annual cost savings of $4.4 million. We also continued our global Energy Treasure Hunt Program through which we were able to identify additional energy reduction opportunities of around 177,000 MWh annually. Some examples include:
Heat Recovery Studies – We completed heat recovery studies on several of our boilers and cogeneration facilities which identified significant energy savings, while simultaneously increasing reliability. We implemented suggested improvements at our facilities in Cedar Rapids, Iowa; Gomez Palacio, Mexico; Kershaw, South Carolina; and Hamburg and Straubing, Germany. Collectively, these improvements are expected to result in annual energy savings of over 57,000 MWh.
Waste Heat Optimization – At our facilities in Decatur, Illinois; Bazancourt, France; Adana, Turkey; and Des Moines, Iowa, we have improved waste heat recovery by optimizing energy usage, eliminating waste, and adding new heat recovery loops. These projects are expected to save over 45,700 MWh of energy annually.
Compressed Air System Improvements – We conducted 10 system audits and 11 leak surveys, repurposed idle equipment, and replaced inefficient equipment in our compressed air systems at facilities in the U.S., U.K., and Germany. These repairs and adjustments are expected to result in around 6,000 MWh of annual energy savings.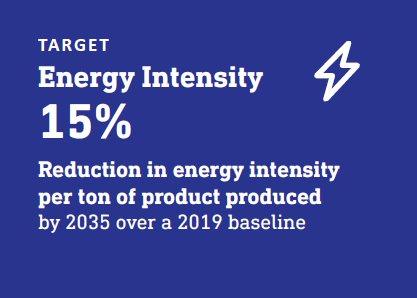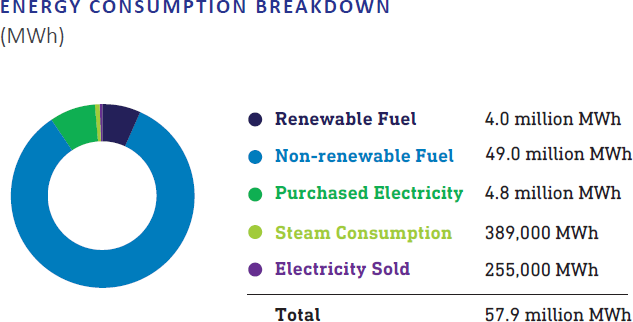 Water and Wastewater
With global water resources becoming increasingly scarce, the water crisis has become a pressing issue. The availability of water is vital for our operations, which is why we have factored it into our risk management framework and developed programs to respond to current and potential future water shortages.
In 2020, we announced our target to reduce water intensity by 10% per ton of product produced at our largest sites by 2035 over a 2019 baseline. To ensure we are on track to achieve this goal, we have set a 5-year interim target of a 5% reduction by 2025. In addition, to support the health and wellbeing of the communities where we operate, we are developing a global improvement strategy in priority watersheds by 2025.
With the help of a professional service firm, we are developing our Strive 35 Water Scarcity Program. In 2021, we completed the first phase of this effort, addressing the program's strategic objectives, and we are continuing our efforts in defining the operational and institutional practices for the program.
Our water use reduction efforts are focused on 45 of our largest sites, which collectively account for more than 95% of our global water usage. We refer to these sites as our Major Water Users Group (MWUG), and we measure water usage at these sites using a combination of flow meters and utility bills. We exclude once-through cooling water from our withdrawal numbers because we return the water to its original location with only a change in temperature. Although we reuse and recycle water through various processes such as cooling tower recirculating, for calculation purposes we only include the water reused after it has been processed in our onsite wastewater treatment facility.
To reduce the use of fresh water, we practice the three Rs: reduce, reuse, and reclaim. Our sites have adopted best management practices for minimizing water use and maximizing its reuse before disposal. Further, we have advanced a number of reclaim operations where wastewater is further treated and returned for use within our facilities. Across our MWUG locations, we are regularly investigating new technologies that could increase water reuse and reclaim opportunities and further reduce our fresh water intake.
In 2021, our water intensity number increased due to lower production rates and increased water usage. We are renewing our focus and looking forward to additional projects we have planned to help us achieve our Strive 35 goal.
Expansion of Decatur Water Reuse Program – We made significant improvements in the Decatur water reuse system and now have the capacity to supply over 22,700 m3 of reuse water per day to our cooling tower operations around the campus. This expansion project will enable us to reduce our fresh water intake by 3.45 million m3 annually in Decatur alone.
Evaporative Capture Technology Pilot – One of the largest sources of water usage and loss takes place in ADM's recirculating cooling towers. We are piloting an innovative technology that can capture the evaporative loss and return it to the cooling tower operation, reducing the need for fresh make-up water.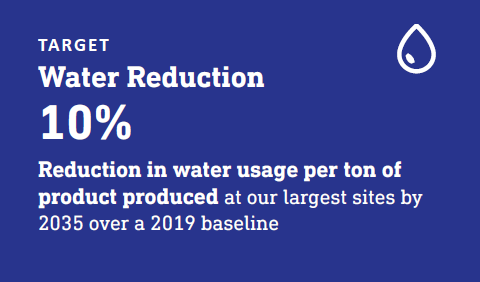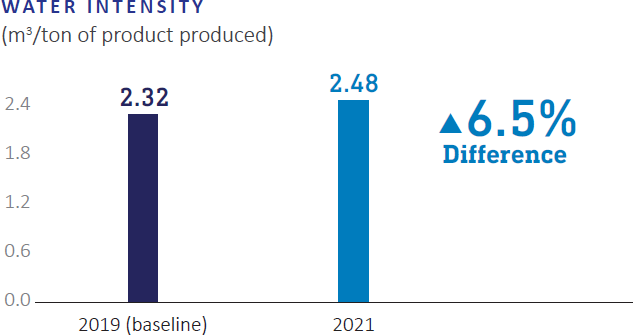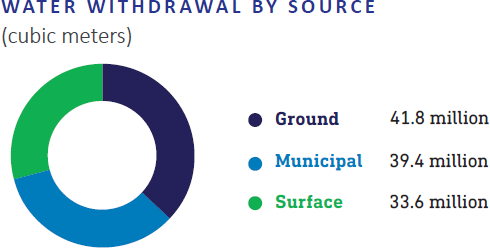 Operational Waste
In 2020, we launched our Strive 35 waste diversion goal, establishing a commitment to beneficially reuse, recycle or otherwise divert from landfill at least 90% of our waste by 2035. To achieve our goal, in 2021 we engaged a third-party waste management vendor in North America, tapping into an extensive network of beneficial use and recycling outlets. Our operations in Europe and South America are currently piloting similar programs.
Last year, we improved our landfill diversion rate to 83.8%. Some examples of landfill diversion projects include:
As an alternative to coal, our facility in Cebu, Philippines began using wood briquettes to fuel its steam boilers, creating a high-phosphorous ash suitable for land application by local farmers, reducing both greenhouse gas emissions and waste to landfill. The site is now diverting approximately 200 metric tons of
waste annually.
Our corn wet mill in Cedar Rapids, Iowa began shipping previously landfilled biomass from its wastewater treatment operations to a local farmer to help return nutrients to agricultural fields. Each month, the site averages four loads of wastewater treatment biomass sent for beneficial reuse, diverting approximately 1,200 metric tons per year of wastewater treatment biomass from landfill.
Our animal nutrition facility in Morelos, Mexico implemented a source separation awareness campaign with its cleaning staff and plant colleagues to promote recycling. To support the campaign, the facility's waste vendor provided an extra container that remains onsite to facilitate further separation of recyclables from waste destined for landfill. The newly implemented program has helped improve the site's landfill diversion rate from 75% in 2020 to 88% in 2021.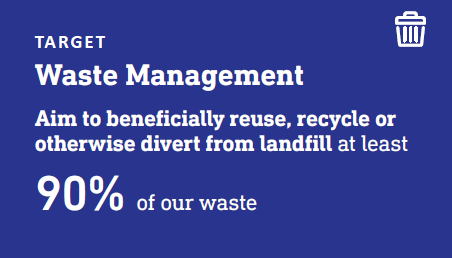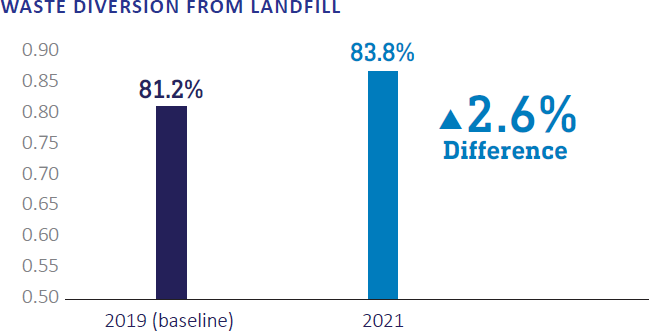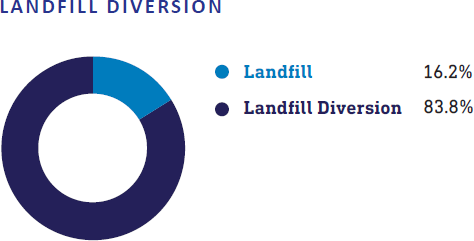 Technology and Innovation
Our eyes are always toward the future – to new ways, new formulas, new flavors and new possibilities. We're at our best when we're on the cusp. And we thrive as partners, co-creators and instigators, using technical ingenuity to spark game-changing ideas and groundbreaking solutions.
Fuels of the Future
Demand for sustainable aviation fuel (SAF) is expected to increase as major U.S. airlines, airports, shippers and the U.S. government have agreed to work together to advance the use of cleaner sustainable fuels. The U.S. and the EU have set goals that together would support almost 4 billion gallons of annual SAF production by 2030, and more than 45 billion by 2050.
In October 2021, ADM and Gevo, Inc., a pioneer in transforming renewable energy into low carbon, energy-dense liquid hydrocarbons, announced that they have signed a memorandum of understanding (MoU) to support the production of SAF and other low carbon-footprint hydrocarbon fuels.
Our Columbus, Nebraska and Cedar Rapids, Iowa dry mills as well as ethanol from our Decatur, Illinois operations could transition from fuel ethanol to serve growing demand for lower-carbon aviation fuel. The MoU contemplates the production of both ethanol and isobutanol that could then be transformed into renewable, low carbon-footprint hydrocarbons, including SAF, using Gevo's processing technology and capabilities. About 900 million gallons of ethanol produced at these three locations could be processed utilizing this technology, resulting in approximately 500 million gallons of SAF and other renewable hydrocarbons.
The companies intend to work together to determine full commercialization plans and enter into definitive agreements enabling a timeline such that production of SAF can begin in the 2025-2026 timeframe.
Bio-based Fertilizer Additive
A rising global population and shrinking arable land are increasing pressure on improving agricultural output and achieving "more from less". Add in increasingly extreme climatic events and a tightening regulatory landscape, and the magnitude of the problem becomes quite clear.
Bio-based ingredients can play a pivotal role in helping the industry rise to these challenges. With global pressure mounting against the use of pesticides and biocides, using more natural and plant-based ingredients are an effective alternative. These components deliver the same functional benefits while helping to reduce the carbon footprint of the agriculture industry.
ADM CS43 is a next-generation bio-based crop input that improves corn yields. It is formulated to boost the natural power of beneficial soil microbes. By stimulating microbial activity, it increases nutrient use efficiency, enhances plant vigor and boosts yields.
This cutting-edge crop input provides the energy source needed by soil microbes to boost their activity, resulting in greater nutrient availability. In addition, years of research have shown it can increase corn yields by seven bushels per acre when used in combination with starter fertilizer.
Leveraging CCS as a Transition Pathway
As we look to a low carbon future, we are mindful of the role technology can play in the transition. Our carbon capture and sequestration facility in Decatur, Illinois has allowed us to safely and permanently store more than 3.5 million metric tons of CO2 a mile and a half under the surface of the earth. We recently signed a Letter of Intent with Wolf Carbon Solutions US LLC to enable additional decarbonization via the construction of a pipeline – developed, owned and operated by Wolf Carbon Solutions – which, together with a commercial agreement, will allow for the capture, compression and transportation of carbon dioxide produced at our Clinton and Cedar Rapids, Iowa, facilities.
Designed as the backbone infrastructure needed to support the region's lower carbon transition, the 350-mile steel trunk line will be capable of transporting 12 million tons of CO2 per year. The pipeline will offer dedicated capacity to transport CO2 from our facilities in Clinton and Cedar Rapids to be stored permanently underground at our sequestration site in Decatur, Illinois. The pipeline would have significant spare capacity to serve other third-party customers looking to decarbonize across the Midwest and Ohio River Valley.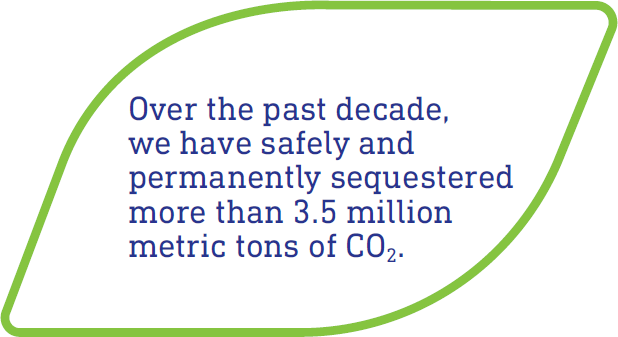 Partner with us now!
For general inquires, questions or more information, please reach out to us. We are here to help.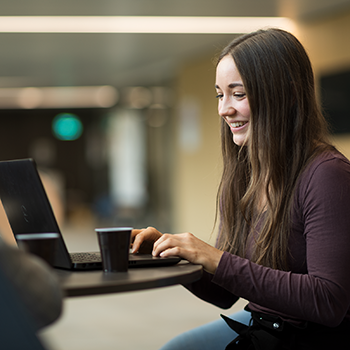 ---