Climate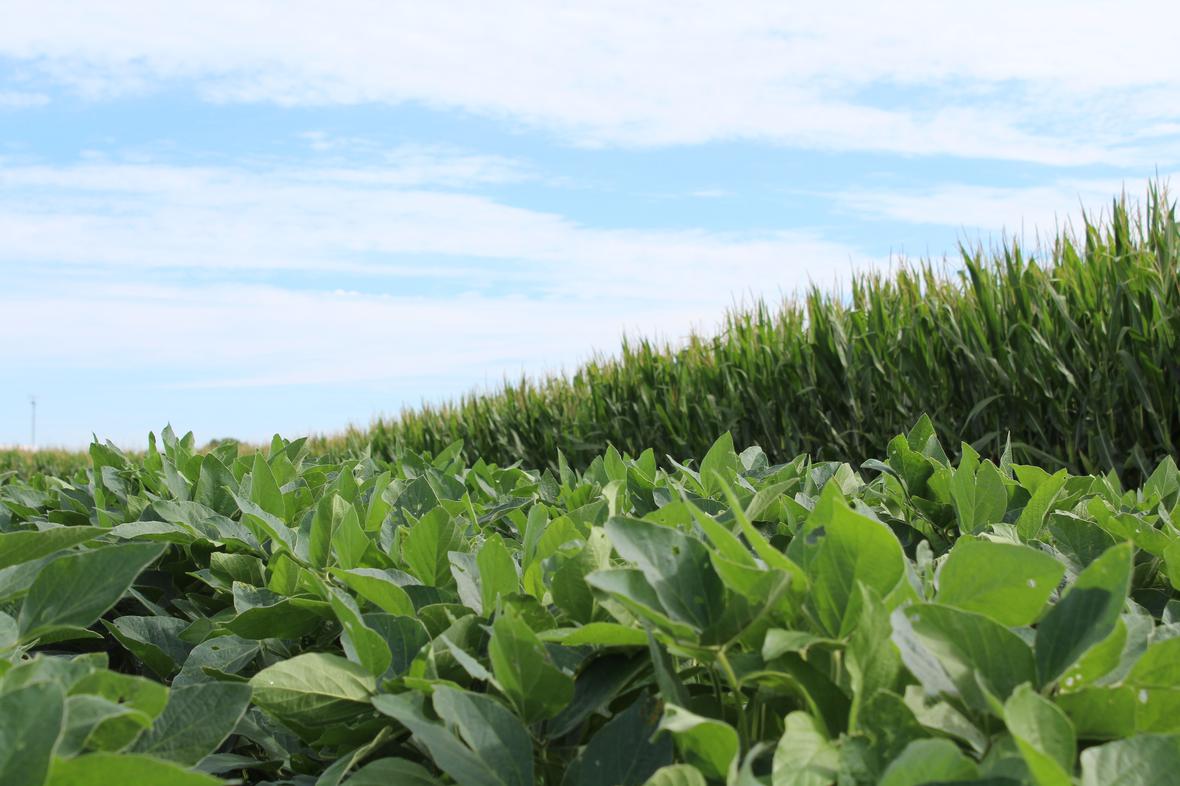 Climate
Protecting the environment and enhancing environmental sustainability.
New Goals to Combat Climate Change
We know that the health of our natural resources is critical to our future, and that our commitment to sustainable practices will result in a stronger ADM and a better world.
We are committed to meeting our environmental obligations, while pursuing ways to continually improve our efforts in both protecting the environment and enhancing environmental sustainability.
We have a large industrial footprint and believe it is important to reduce greenhouse gas (GHG) emissions related to our business activities and the entire agricultural supply chain. We use internal and external resources to identify opportunities and take action to reduce our GHG emissions globally to meet our commitment to mitigate the effects of climate change.
In 2020, we engaged with a leading engineering professional services firm to conduct an in-depth carbon reduction feasibility study and help us shape our new set of goals to combat climate change. Our new environmental goals, collectively called "Strive 35"—an ambitious plan to, by 2035, reduce absolute GHG emissions by 25%, reduce energy intensity by 15%, reduce water intensity by 10% and achieve a 90% landfill diversion rate. We also committed to developing a global strategy focused on improving community well-being in priority watersheds, including water-stressed areas, by 2025.
Environmental Metrics
GHG Emissions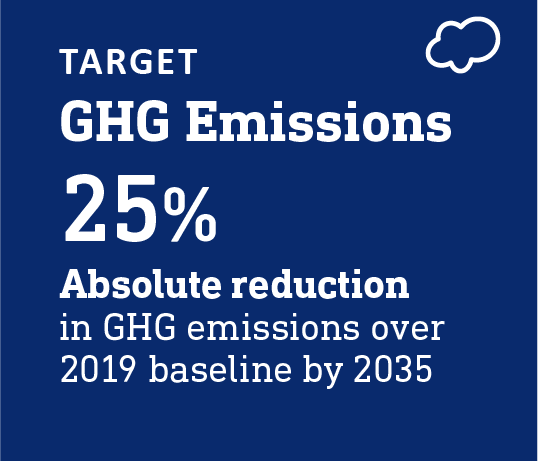 Each year, we inventory and calculate Scope 1 (direct emissions from our equipment) and Scope 2 (emissions from the electricity and steam we buy from local utilities) emissions globally for facilities under our operational control. With global operations, we select regionally-appropriate factors from the International Energy Agency, United States Environmental Protection Agency, or The Climate Registry, unless the facility has Continuous Emissions Monitoring Systems, which take precedent. Our assessment includes all six Kyoto protocol gases, plus additional refrigerants and is based on The Climate Registry, except where otherwise required by law, such as the US EPA Part 98 Mandatory Reporting Rule. We currently use location-based Scope 2 calculations, although we are assessing market-based mechanisms to reduce our footprint and will adjust our reporting in the future as needed.
For our Strive 35 goals, we established a new baseline year of 2019 because it was the most recent, full year of data available while conducting the carbon reduction feasibility study that informed our goal setting process.
At our Decatur, Illinois facility, we operate a carbon sequestration well that has the capacity to permanently sequester 1.1 million metric tons of CO2 annually. The amount of CO2 sequestered is subtracted from our Scope 1 and 2 emissions to calculate our total global emissions.
In 2020, we saw an 8.9% reduction in absolute GHG emissions. Although we implemented several energy efficiency projects in the previous years and are starting to see the results of those efforts, the majority of the reduction in emissions came from the shutdown of our dry corn mills in the U.S. The mills were not in operation for three quarters of the year, although in Q2 2021 they resumed operation.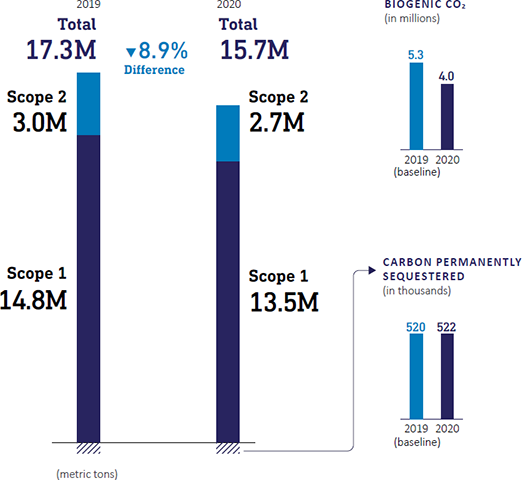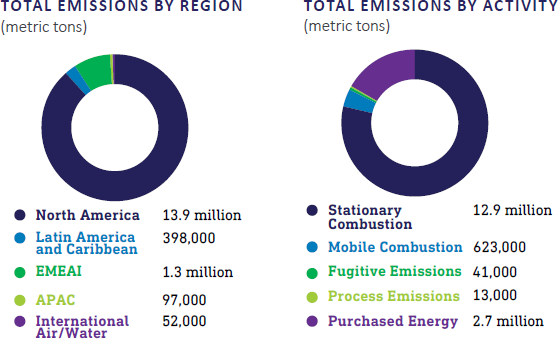 Scope 3 (Supply Chain) GHG Emissions
In 2018, we conducted an assessment of our Scope 3 emission profile and identified the top categories where ADM can focus its efforts to reduce the supply chain GHG emissions. While considering ADM's ability to drive change, significance to stakeholder groups and absolute contribution of emissions, the assessment identified the below categories as material for ADM: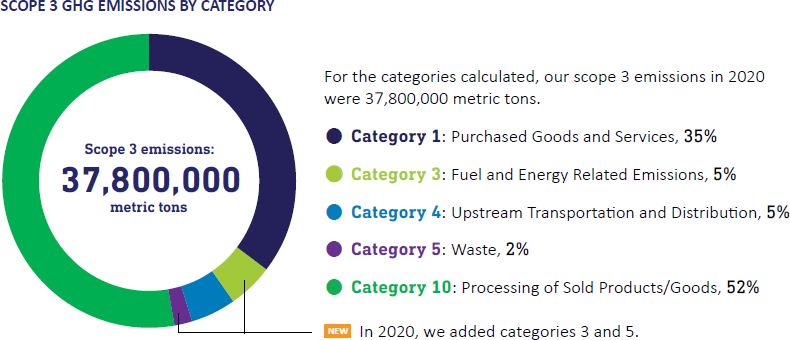 Working to address our Scope 3 footprint, we have identified categories 1 and 4 as our greatest opportunity to make meaningful reductions. Our direct grower relationships enable us to participate in supply chain collaboration projects focused on sustainable and regenerative agriculture. In the U.S., Field to Market is one such alliance, through which we drive continuous improvement programs in agricultural practices and systems across the U.S. Through the collaboration, we partner with downstream customers to implement projects that focus on supporting farmers in adopting practices that address water quality and soil health, such as cover crops, reduced tillage, complex crop rotations and nutrient management to reduce soil erosion, nutrient run-off and GHG emissions.
We intend to set a Scope 3 reduction target in 2021.
Energy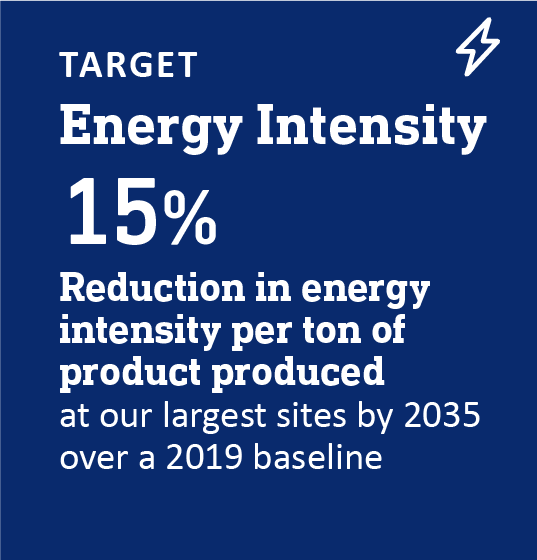 In 2020, as a part of our Strive 35 sustainability goals, we announced our goal to reduce energy intensity per ton of product 15% by 2035 over a 2019 baseline. We have identified three pathways to conserve energy and reduce our GHG footprint: purchasing renewable energy, fuel switching and energy efficiency initiatives. With the vision and scope defined, we set a five-year interim target to reduce energy intensity 6% by 2025. This provides a guiding path and helps ensure continuous progress toward our goal.
To calculate our energy consumption, we gather information on all facilities under our operational control using a combination of utility bills, operations data tracking systems and fuel purchase records. Total consumption is made up of renewable fuel consumption (biofuels such as wood and biogas burned onsite), non-renewable fuel consumption (fossil fuels burned onsite), electricity consumption (purchased from utilities or power providers) and steam consumption (purchased from utilities or other off-site providers). The fuels burned onsite are used to generate steam and heat, as well as electricity at locations with cogeneration facilities. To ensure proper accounting, any electricity produced by our cogeneration facilities that is sold to the grid is subtracted from our total energy consumption.
In 2020, we implemented more than 50 energy saving projects across various business units that will result in annual cost savings of more than $12.4 million, while reducing over 273,400 MWh of energy and avoiding around 117,000 metric tons of GHG emissions. We conducted our yearly Energy Treasure Hunt Program virtually at eight of our locations and implemented changes in control strategies and operating procedures that resulted in energy reduction of 108,900 MWh. We have also instituted multiple capacity enhancement projects to improve productivity and save energy by repairing, upgrading or replacing inefficient equipment. Examples include:
Compressed air studies and leak identification/repair efforts—Compressed air systems are mostly inefficient but vital for our manufacturing facilities. In Latur, India, we replaced an old air compressor that will reduce 250 MWh of electricity use per year. We also completed engineering studies of compressed air systems at six facilities in North America.
Standardized boiler tuning model at South American operations— The boiler-tuning process varies for different biomass-fueled boiler systems in our South American facilities. We created a standardized process for boiler tuning at our facility in Uberlandia and then implemented it across all regional systems. Through this initiative, we expect reduced woodchip consumption equivalent to over 71,000 MWh of energy.
Combined Heat and Power (CHP) commissioning—At our oilseeds facility in Windsor, Canada, we installed two high-efficiency gas turbines with waste heat boilers and waste heat recovery economizers. These systems are producing 93% of the total electricity requirements for the site while also generating 100% of the steam required. This project resulted in a net production efficiency improvement of over 41,000 MWh through the deployment of updated cogeneration technology.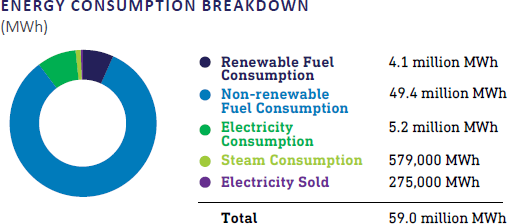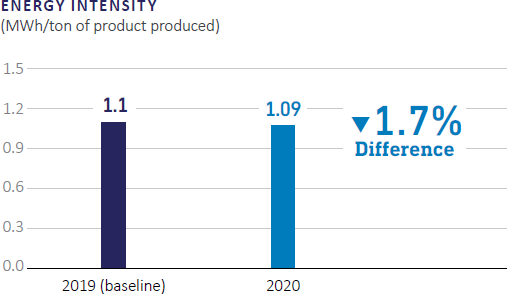 Water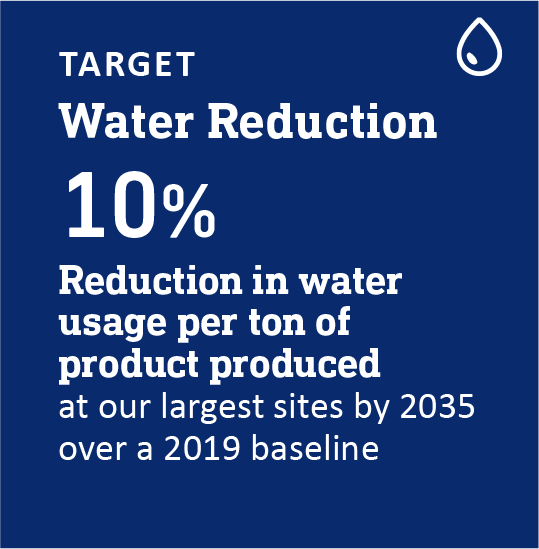 Water availability has become a critical issue in the last few years. As we see an increase in regions classified as water scarce or projected to be water scarce in the future, the importance of reducing water consumption and improving water quality is clear. In 2020, we announced our target to reduce water consumption by 10% per ton of product produced at our largest sites by 2035 over a 2019 baseline. In addition, to support the health and well-being of the communities where we operate, by 2025, we will develop a global improvement strategy in priority watersheds. This approach will allow us to implement projects where they will be the most impactful.
Our Major Water Users Group (MWUG) consists of facilities that use more than 400,000 cubic meters of water per year. The MWUG makes up more than 96% of our global water usage and are the sites for which we calculate water usage and efficiency for our Strive 35 reduction tracking. We monitor water usage using a combination of flow meters and utility billing data. We exclude once-through cooling water from our withdrawal numbers because we return the water to its original location with only a change in temperature.
Although we reuse and recycle water through various processes such as cooling tower recirculating, for calculation purposes we only include the water reused after it has been processed in our onsite wastewater treatment facility.
We focus our water intensity reduction efforts on the MWUG. In 2020, we added five sites to the group. We implemented ten water conservation initiatives across the group that helped us save 935,035 cubic meters of fresh water with a cost savings of $3.3 million per year. Initiatives that we implemented in 2020 include:
Installed membrane bioreactors at our Campo Grande, Brazil oilseeds facility to reduce pollutant loading in the wastewater generated by the facility, allowing the site to reclaim a portion of its wastewater for operational needs. This allows us to reduce our water withdrawal while also reducing the organic and ammonia loads in our wastewater by 80% and suspended solids by 90%.
Upgraded the wastewater treatment performance at our Decatur, Illinois complex using ultrafiltration membranes, providing additional reclaimed water for use across the campus. This initiative helps reduce our water usage by 19,000 cubic meters per year.
In our Cedar Rapids, Iowa corn plant, we have modified our water sampling process to reclaim, clean and reuse the sampling stream water instead of sending it to the sewer. This reduces our sewer loading and make-up water needs by 24,000 cubic meters per year.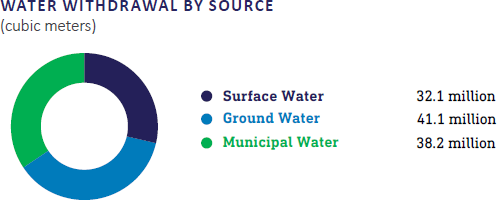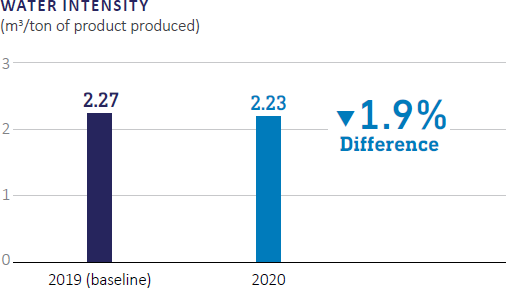 Waste Management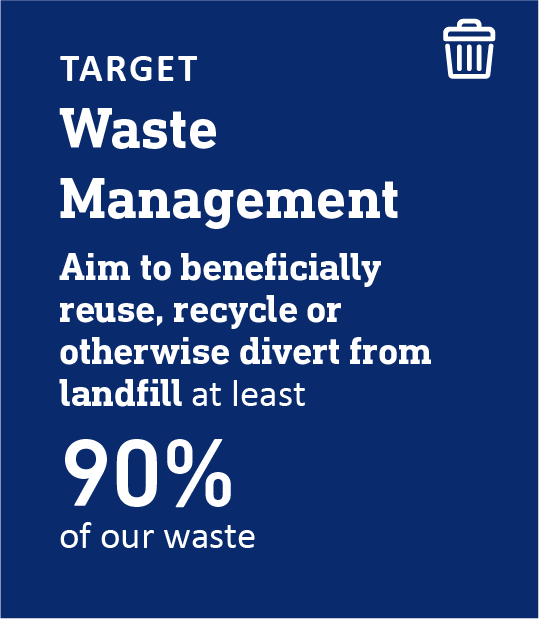 In 2020, we announced our new waste diversion goal. We aim to beneficially reuse, recycle or otherwise divert from landfill at least 90% of our waste. To achieve this goal, we have focused on developing a strategy to standardize our waste management and reporting program. We created a Landfill Diversion Team and rolled out our new Strive 35 Waste Management standard operating procedure. In North America, we have engaged a third-party waste management vendor that will help us to identify and implement programs on beneficial reuse.
Last year, we diverted 83% of our waste from landfills. Some examples of diversion projects include:
Waste to Electricity
ADM colleagues at several facilities identified opportunities to divert waste streams for use as fuel for electricity generation.
Our oilseeds facility in Erith, U.K. sent organic wastes to anaerobic digestion plants to generate electricity, diverting more than 1,800 tons of waste per year from landfill.
Our rice facility in Arbuckle, California sent approximately 78,000 tons of rice hulls to a local electric generation company
In Alejandro Roca, Argentina, our Golden Peanut facility sends over 21,000 tons of peanut hulls for energy generation annually
Beneficial Reuse of Waste
At our Decatur, Illinois location, we sent more than 2,900 tons of materials that had previously been landfilled to a food byproducts solutions provider for reuse as an animal-feed blend. The plant also signed a beneficial reuse agreement for oil tank foots, which will help us to reuse and divert over 1,200 tons of waste per year from landfills.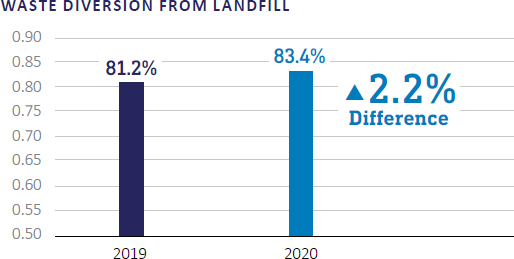 Innovation
Improving Traditional Proteins
Methane Reduction in Cows
Colleagues at our Pancosma facility are researching botanical compounds derived from cinnamon and cloves in addition to capsicum oleoresin from chili peppers, for their potential to target a key metabolic pathway in ruminants that could lead to reduced methane emissions.
Methane is a powerful greenhouse gas with a global warming potential 25 times higher than carbon dioxide. Studies suggest that, in addition to its effect on climate change, reducing the amount of released methane could lead to more energy being made available for animal performance.
Pancosma is currently conducting in vivo trials to quantify the level of methane reduction depending on the ruminant species and a range of production conditions. Meanwhile, ADM's Feed Additives business is conducting additional studies to identify new potential additives that could be of interest to further lower enteric methane emissions. In vivo and in vitro studies will be performed in ADM research facilities in France and U.S.
Sustainable Shrimp Farming
Global demand for shrimp is steadily rising and expected to continue. ADM has focused sustainability efforts in aquaculture toward using fewer resources, while providing balanced nutrition through organic trace minerals. Mirroring the plant-based protein trend in human nutrition, one of our main strategies for optimizing shrimp production in recent years has been the replacement of fish, one of the main ingredients in shrimp feed, with plant and even insect-based substitutes. Derived from wild-caught fish, the high levels of fishmeal and fish oil can be resource-intensive.
In addition to plant-based alternatives, Pancosma is investigating the use of organic trace minerals to boost the availability of essential nutrients in alternatives to fish-based feeds. Not only may the supplemented minerals support shrimp performance and production, but they have the potential to reduce the impact of shrimp waste on the environment by lowering the amount of minerals that are excreted, enabling sustainable aquaculture.
Although long-term sustainable shrimp production is complex, incremental changes in the supply chain efficiency and sustainability can make a lasting impact. Organic trace minerals could play a part in developing a more sustainable nutritional solution to support shrimp producers in their efforts to provide high-quality food for the world.
Insect Protein
Insect feed has become an increasingly popular protein ingredient for the agriculture and aquaculture industries, as demand for animal feed has now reached an all-time high and consumers look for food that is sustainably and responsibly grown.
In November 2020, ADM and InnovaFeed—the world leader in producing premium insect ingredients for animal feed—announced plans to collaborate on the construction and operation of the world's largest insect protein production site, in Decatur, Illinois. "At a time when the demand for animal feed protein is steadily increasing, insect farming stands out as a true solution for the future," said Chris Cuddy, ADM senior vice president and president of the company's Carbohydrate Solutions business.
Performance Excellence
Manufacturing innovation is the cornerstone of a sustainable process. Our operations team takes an innovative approach to continuous improvement, using advanced analytical tools to enhance troubleshooting and optimization of our processes. While these efforts have a significant impact on the bottom line, they also help us reduce our global footprint. In 2020, our efforts to improve yield and operational stability resulted in lower chemical, energy and water usage.
Refined Oil Neutralization
Our colleagues in Hamburg recently took a data-driven approach to assessing operational performance across our facilities. Leveraging the data output, we designed, implemented and replicated projects across the organization.
For example, to improve the performance of chemical additives in the oil neutralization process at our refineries in North America, the team collected all the relevant process data and wrote a machine-learning algorithm to model the existing process. Based on the model output and after validation by the process experts, we implemented new process parameter settings. This allowed us to reduce chemical usage while maintaining product quality.
The recommended processing parameters were implemented at several facilities with impressive results. One canola refinery lowered its citric acid consumption by 40% during the first month. At a corn and soybean oil refinery, the new parameters lowered caustic consumption by 94,000 pounds per month. The reduction in citric acid usage corresponds to 14 fewer trailers purchased and brought onsite each year, and the reduction in caustic consumption equates to 24 fewer trailers. In addition to the chemical savings, the reduction in side reactions led to more oil being sold as oil instead of as animal feed. Efforts around chemical reduction and yield increases during the neutralization process continue across our North American, EMEAI and South American oilseeds facilities.
Wet Mill Operation
Corn wet milling operations are complex processes with numerous recycle streams, process constraints and lots of processes that must run 'just right' to keep the process stable. This interconnectedness means that any adjustment causes changes to many other variables, which makes finding optimal values for any one part of the mill difficult. By leveraging a model that accounts for all variable interactions, ADM optimized all parameters at once, leading to an increase in mill starch, protein and oil recovery. This increased the amount of product produced without increasing the raw material inputs such as corn, chemicals, water and energy. Moving forward, our Focused Improvement and Analytics team will work to replicate this optimization model in all ADM wet mills.
By using this innovative, data-driven approach, we optimized processes throughout the company, driving value and lowering our industrial footprint. By replicating these projects at additional facilities, we can quickly bring these benefits to our operations around the globe. Our journey does not stop with these projects. We will continue to leverage our Performance Excellence team to assess and implement projects that protect our environment.
ADM Biosolutions
We are seeing a rapid acceleration of key trends in food security, sustainability and innovative nutrition, with global customers increasingly wanting global solutions to serve their growing needs in traceability, food safety and availability, climate-change mitigation and overall nutritional quality. With these trends in mind, we're determined to continue integrating, broadening and globalizing our portfolio of sustainable solutions in our efforts to meet customer needs and seize growth opportunities in the market. We have created a new Biosolutions Platform within our Carbohydrate Solutions Business Unit that will focus on plant-based renewable solutions for industrial applications such as paper and packaging, construction materials, plant health, fermentation and home and personal care. This new platform, along with our R&D partnerships, have positioned ADM as a key player in the Biosolutions space.
Plant-Based Superabsorbent
ADM is working with LG Chem to jointly develop a route to produce plant-based acrylic acid. Through ADM's recent investments in microbial solutions and competency in fermentation technology and LG Chem's strength in chemical catalysis, our partnership is poised to deliver a bio-based superabsorbent alternative to downstream customers. Preliminary analysis estimates this new alternative could cut the greenhouse gas footprint of the disposable diaper industry in half.
Replacing Silicone with Terpenes
For many years, silicone polymers—such as dimethicone—have been used in cosmetic products to provide smoother coverage, skin softening and frizz reduction, as well as emulsifiers and surfactants. ADM has partnered with P2 Science, which has discovered a way to leverage terpenes (compounds naturally present in citrus plants) as a plant-based alternative to silicone polymers. The team at ADM is helping P2 make the most of their technology by optimizing access to feedstocks. By leveraging ADM feedstocks and technology, we are helping P2 position their products competitively in the market. At the same time, we are helping our customers reformulate products to meet or exceed performance expectations, while providing consumers with clean-label, plant-based alternatives.
Renewable Green Diesel
We see a growing interest from our customers to address the carbon intensity of the products and ingredients they use as food ingredients, feed ingredients, fuels of the future, packaging materials and a whole host of other industrial products as well. To that end, we are excited about the expansion of Renewable Green Diesel (RGD) and the role we can play as a feedstock supplier and partner to RGD producers. In 2020, we saw additional capacity come online and more is planned over the next five years. Our expertise in the industry has us well positioned to be a go-to partner with innovative solutions for our customers. For the foreseeable future, biofuels, including RGD, will play an important role in decarbonizing the global economy. Using our expertise in biofuels, technology and sustainable sourcing, we can reduce the carbon intensity scores of existing vegetable oils, integrating our technology into the production process and working with growers to lower emissions on the farm.
Partner with us now!
For general inquires, questions or more information, please reach out to us. We are here to help.