Responsible Sourcing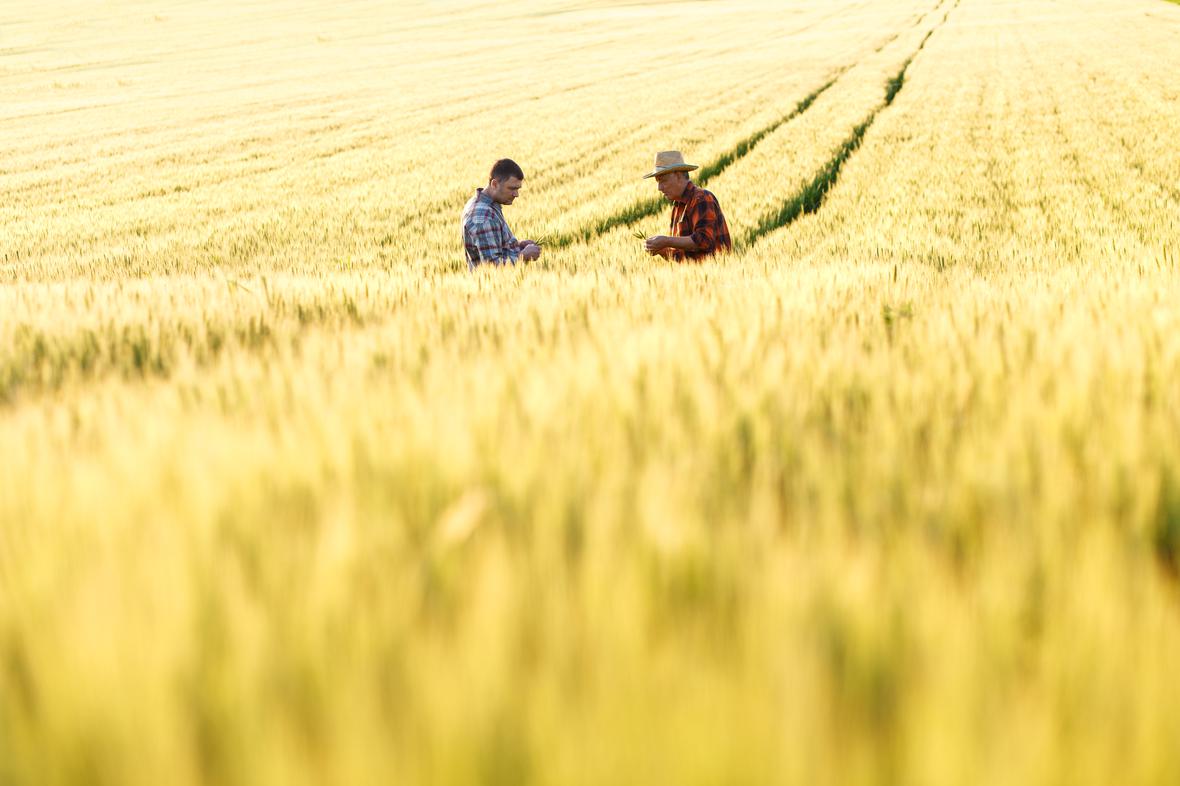 Responsible Sourcing
Reducing Our Impact Through Sustainability, Traceability and Transparency
A Global Company Dedicated to Local Communities
ADM procures agricultural commodities around the world, and our vast supply chain has a direct impact on the land use and biodiversity of those regions, as well as the lives of individuals living and working there. Some of our sourcing regions are at a particular risk for deforestation and human rights violations. Our policies and commitments related to these issues apply to our entire supply chain with implementation activities focusing first on high-risk geographies.
In addition, we leverage our experience in responsible sourcing practices to enhance local communities' access to clean water and sanitation (as part of our commitment to human rights) and sustainable agriculture practices.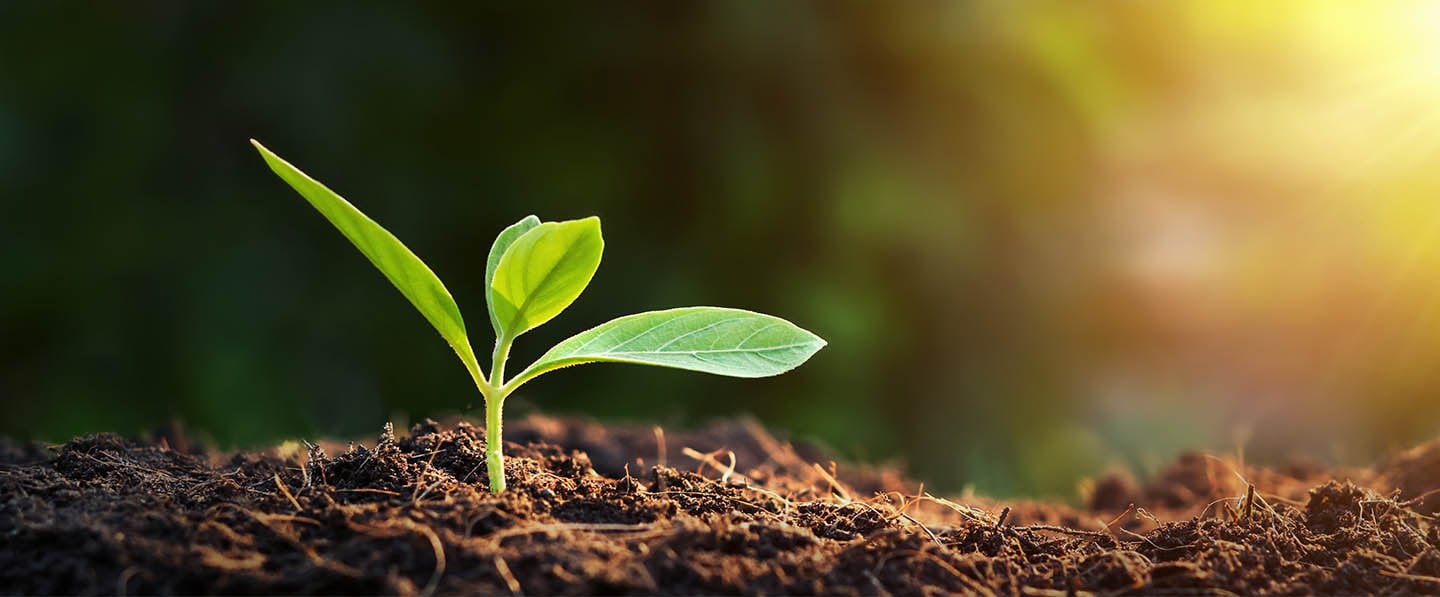 Our Traceability Program
Sustainability from the field to the table. Ensured by traceability.
Sustainability Commitments and Policies
ADM has set forth several key social and environmental commitments and policies that collectively outline our expectations for our colleagues, business partners and contractors, and our organization as a whole with respect to our sourcing operations. They establish clear standards that govern our approach to raw material sourcing, environmental stewardship and employee conduct, among other areas, and they state our positions on issues of widespread public interest.
These standards were developed with input from our operations, law, compliance, environmental, and health and safety teams, and were approved by Chairman and CEO Juan Luciano.
Grievances and Resolutions
ADM is working hard to develop supply chains that meet our Commitment to No-Deforestation and Human Rights Policy. To that end, we invite stakeholders who have concerns related to the implementation of our policies to email us at responsibility@adm.com. When making an inquiry and/or raising a grievance, please make sure to provide us with the following information:
Your full name (optional)
Name of your organization (if applicable)
Address
Phone or email
Detailed description of the issue
Evidences to support the issue
We will address non-compliances in accordance with the Managing Supplier Non-Compliance procedure. All allegations or potential non-compliance issues received will be investigated following the workflow of the grievance and resolution protocol.
Protecting Forests, Biodiversity and Communities
ADM is fully committed to ending deforestation, and to preserving biodiversity and water resources in our supply chains. We believe that sustainable, ethical and responsible production by the food industry is critical for curbing global warming, conserving native biodiversity, and upholding the rights of indigenous communities and smallholders. We aim to eliminate deforestation from all of our supply chains by 2030.

Building a More Sustainable Agricultural Value Chain
We are the foundation of food on tables the world over—flavoring culture, forwarding health and wellness, and venturing into new possibilities and discoveries for human and animal nutrition. Creating value through the entire supply chain gives us the opportunity to help build a more sustainable food system.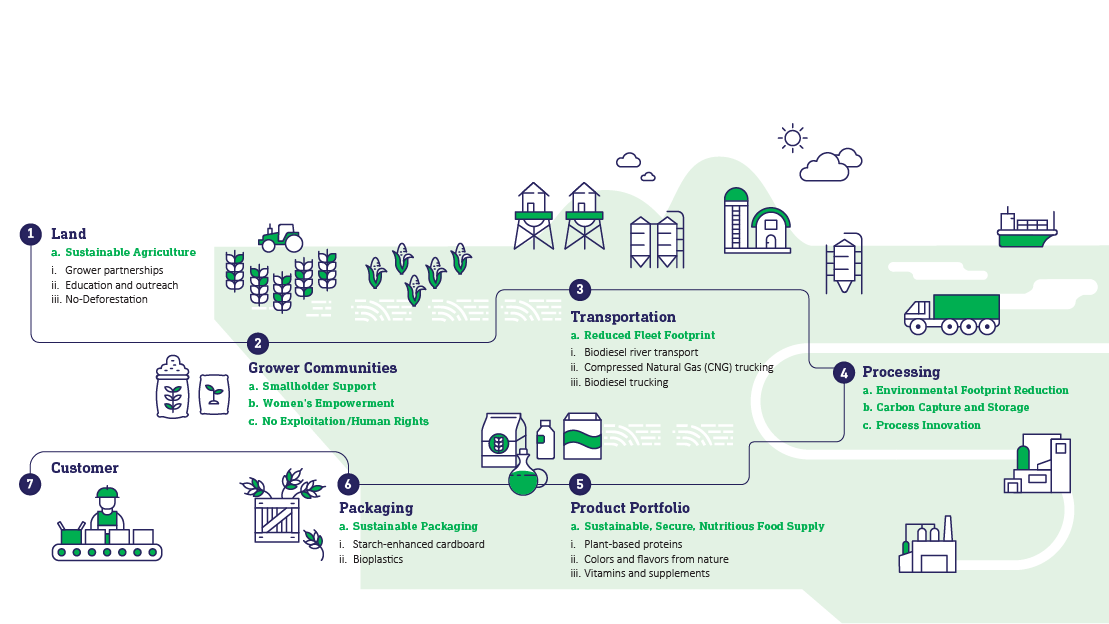 Sustainable Agriculture
Food is fundamental. It sustains us, fulfills us and fuels our well-being. It's the most basic need with the most critical impact. To ensure we are able to feed a growing global population for generations to come, it is essential to work with suppliers to implement sustainable agriculture practices. At ADM, we recognize the opportunity we have to work together with our growers to identify and implement farming practices that can reduce environmental impact, sequester carbon in the soil and improve on-farm economics and labor conditions.
Sustainable agricultural practices often have multiple positive outcomes. For example, cover crops can sequester carbon, lowering GHG emissions while also reducing soil and nutrient run-off, protecting our growers' most vital assets. In a similar fashion, reduced tillage can protect soil from wind and water erosion and, over time, can improve soil resiliency, adding a long-term benefit for growers. These types of sustainable agriculture practices are critical to ensuring a viable supply chain into the future, while also reducing environmental impacts.
Sustainable agriculture is a key topic for ADM because it contributes to all five of the SDGs we've identified as core for our business.
Zero Hunger—Improving the resiliency of our food supply chain to feed a growing global population
Clean Water and Sanitation—Reducing soil and nutrient run-off to improve water quality and protect drinking water sources
Decent Work and Economic Growth—Educating and enabling growers to protect smallholder resources and increase income
Climate Action—Implementing practices to reduce direct emissions and sequester carbon in soils
Life on Land—Protecting forests and biodiversity to preserve ecosystems
Our commitment to sustainability extends throughout our value chain. It includes our work with growers to implement responsible farming practices including the 13 million acres we've enrolled in sustainable agriculture programs across five continents in recent years. For example, in South America, working with Aliança da Terra, we have dedicated over 6.5 million acres to address local issues such as labor and safety practices and environmental protection.
We represent a unique position in the supply chain—as an aggregator and processor of commodities, we can leverage the relationships we have with our customers, upstream and downstream to implement sustainable agriculture programs. Our approach recognizes and accommodates the variances in commodities and geographies from which we source as not all practices are a good fit for every farm.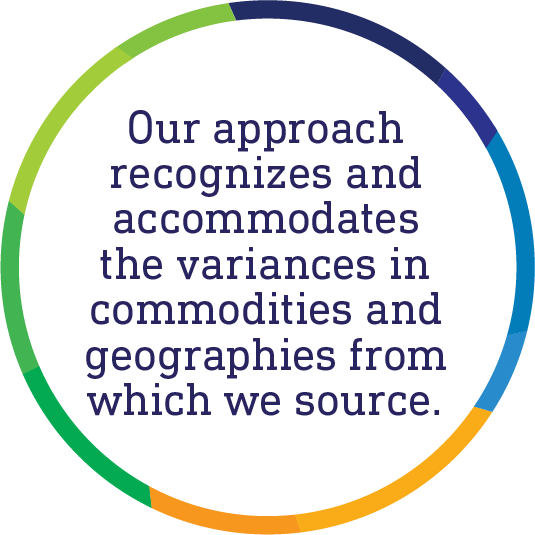 We participate in several certification and rating programs, including ADM Responsible Soy, 2BSvs, Round Table for Responsible Soy, International Sustainability and Carbon Certification, Roundtable on Sustainable Palm Oil, Sustainable Agriculture Initiative—Farm Sustainability Assessment, Red Tractor, Food Alliance and Fair Trade.
In addition, we work with downstream customers to implement customized and targeted sustainable agriculture projects based on education, outreach and continuous improvement. These programs focus on specific outcomes such as irrigation efficiency, carbon reduction and sequestration, or water quality impacts. We have identified four key practices that can provide positive outcomes in several or all of these areas—complex crop rotations, nutrient management plans, reduced tillage and cover crops.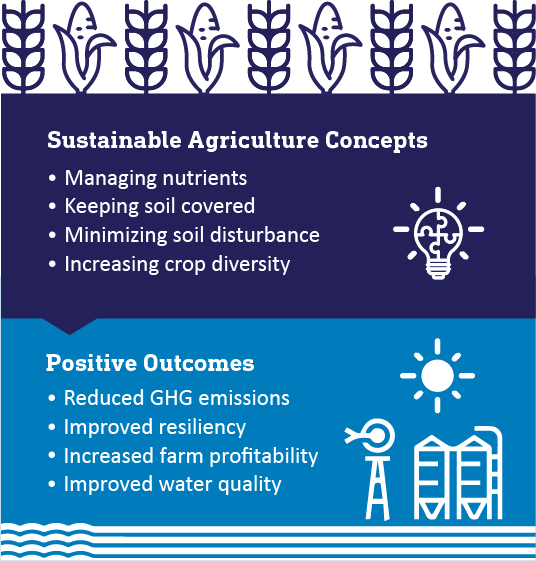 Working across 11 active projects in the United States, we engaged growers representing over 800,000 acres of corn, soy and wheat in 2020. We continue to focus on implementing projects that educate and incentivize positive change. In addition to direct financial incentives, we partner with agronomy specialists to provide technical assistance to ensure growers have support and success when implementing new practices. Three of our projects are collaborative efforts with downstream customers focusing on increasing the usage of cover crops. In 2020, growers in these projects planted over 130,000 acres of cover crops reducing nutrient run-off and soil erosion while sequestering carbon in the soil.
Traceability Achievements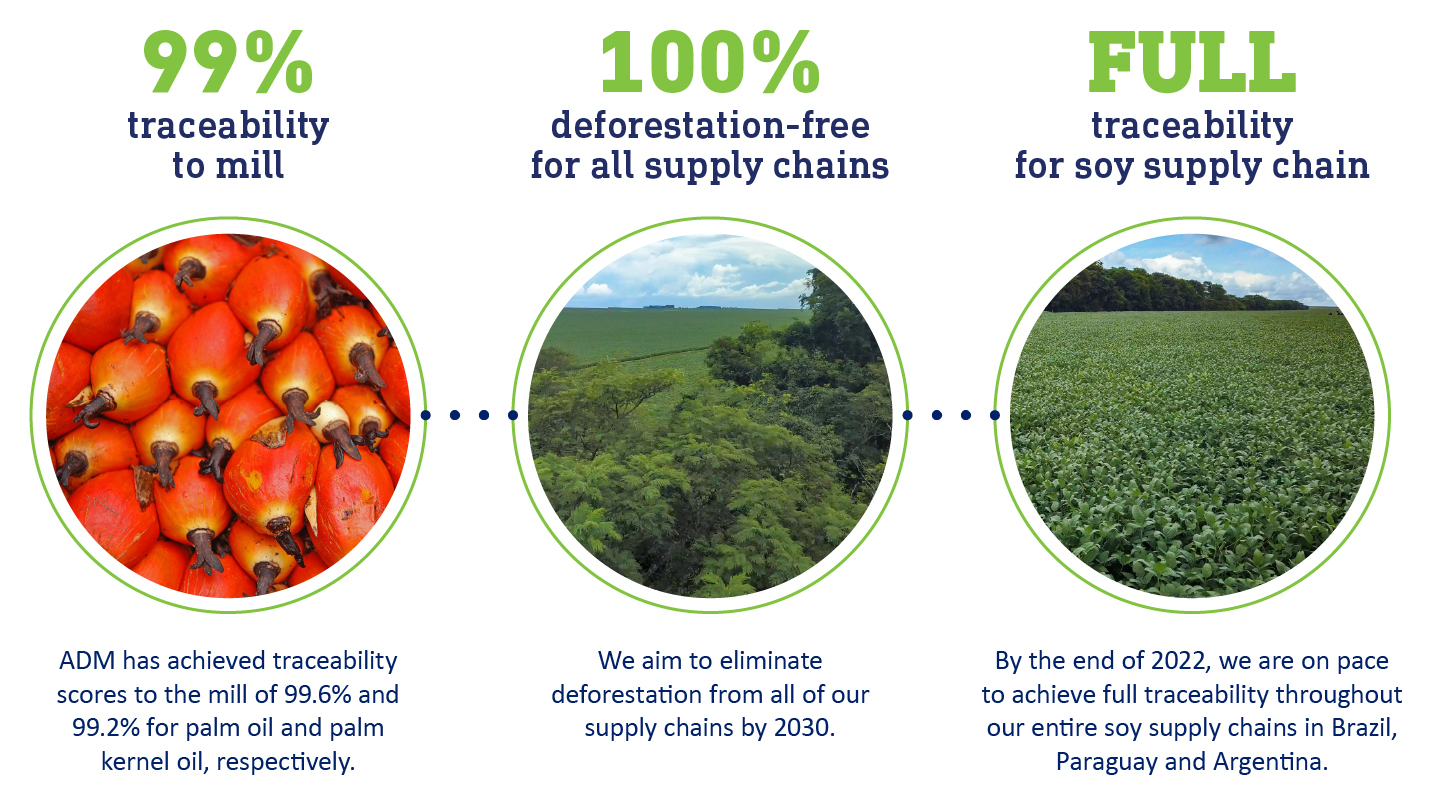 ADM has achieved 100% traceability for direct sourcing and 97% deforestation-free and conversion-free supply chains in the 25 municipalities at greatest risk for deforestation in the Cerrado biome of Brazil. By the end of 2022, we are on pace to achieve full traceability throughout our entire soy supply chains in Brazil, Paraguay and Argentina, including direct and indirect sourcing.
Since 2018, ADM has maintained a high level of traceability to the mill in the palm oil supply chain. At the end of 2020, we had achieved traceability of 99.6% of our palm oil sourcing to the mill of origin and 44.9% to the plantation of origin, and 99.2% of our palm kernel oil to the mill of origin and 25.9% to the plantation of origin.
Transparent Reporting
At ADM, transparency is a core value. We maintain monthly updates to our grievances and resolutions log, through which we publish updates on investigations into each inquiry about our supply chains. Further, our policy describes ADM's non-compliance protocol for suppliers.
We also publish biannual progress reports on focused palm oil and South American soy, which contain specific milestones and data on progress toward achieving our commitments
Fast Facts: Sustainable Palm
ADM is working with suppliers with No Deforestation commitments
In 2020, 100% of ADM's direct suppliers had a publicly available No Deforestation policy in place. In addition, 99.3% of palm volume was sourced from direct suppliers who have a supply chain implementation plan with targets in place.
ADM has a palm supplier scorecard tool in place to closely monitor performance
ADM used a third-party assessor to gather data and assess our direct palm suppliers' performance using a scorecard tool. According to the findings, for palm sourced from our direct suppliers, approximately 97% of the volume was monitored for deforestation and 99% was covered by human rights due diligence.
ADM is reporting and tracking its palm oil supply chain progress
Beginning in 2021, ADM will be using the Integrated Reporting Framework (IRF) to report and track our progress in implementing our No Deforestation commitments in our palm oil supply chains. ADM is a participating member of the NDPE IRF Active Working Group, allowing us to be at the forefront of driving progress. We will soon be able to report the percentage of our sourced volumes that are delivering against No Deforestation criteria and will therefore be considered verified deforestation free.
Fast Facts: Sustainable Soy
ADM is a signatory to the Amazon Soy Moratorium, a member of the Soft Commodities Forum and the Pará Green Protocol of Grains.
Compliance with the Amazon Soy Moratorium, which provides that soy will not be sourced from land in the Amazon cleared after 2008, is audited annually by satellite imagery and a multi-stakeholder board comprised of respected global environmental NGOs. Simultaneously, production of soy in the Amazon increased by 400% through cultivation on existing agricultural land. ADM does not buy from non-compliant farms. Additionally, ADM is also a founding member of the Soft Commodities Forum link to site and is committed to the Pará Green Protocol of Grains.
ADM is also member of ViSeC (Vision Sectorial del Gran Chaco), a recent multi-stakeholder initiative to address soy production and conservation in the Argentinian Chaco.
ADM monitors its soy suppliers in high-risk areas via satellite imagery
Sustainable sourcing and traceability are priorities for ADM. New and cutting-edge satellite imaging technology allows unprecedented transparency into our supply chain. This innovation will help enable verification of our goal to achieve and report full traceability (100%) of our soy supply chains in Brazil, Argentina and Paraguay by 2022, including direct and indirect sourcing.
ADM will report deforestation and conversion-free volumes in Brazil by 2022
By June 2021, ADM aims to report its deforestation and conversion-free volumes for all direct soy sourcing in Brazil. As well, by December 2022, ADM will report its deforestation and conversion-free volumes for indirect and direct soy sourcing in Brazil.
Partner with us now!
For general inquires, questions or more information, please reach out to us. We are here to help.