What Is Responsible Sourcing?
Responsible Sourcing
Reducing Our Impact Through Sustainability, Traceability and Transparency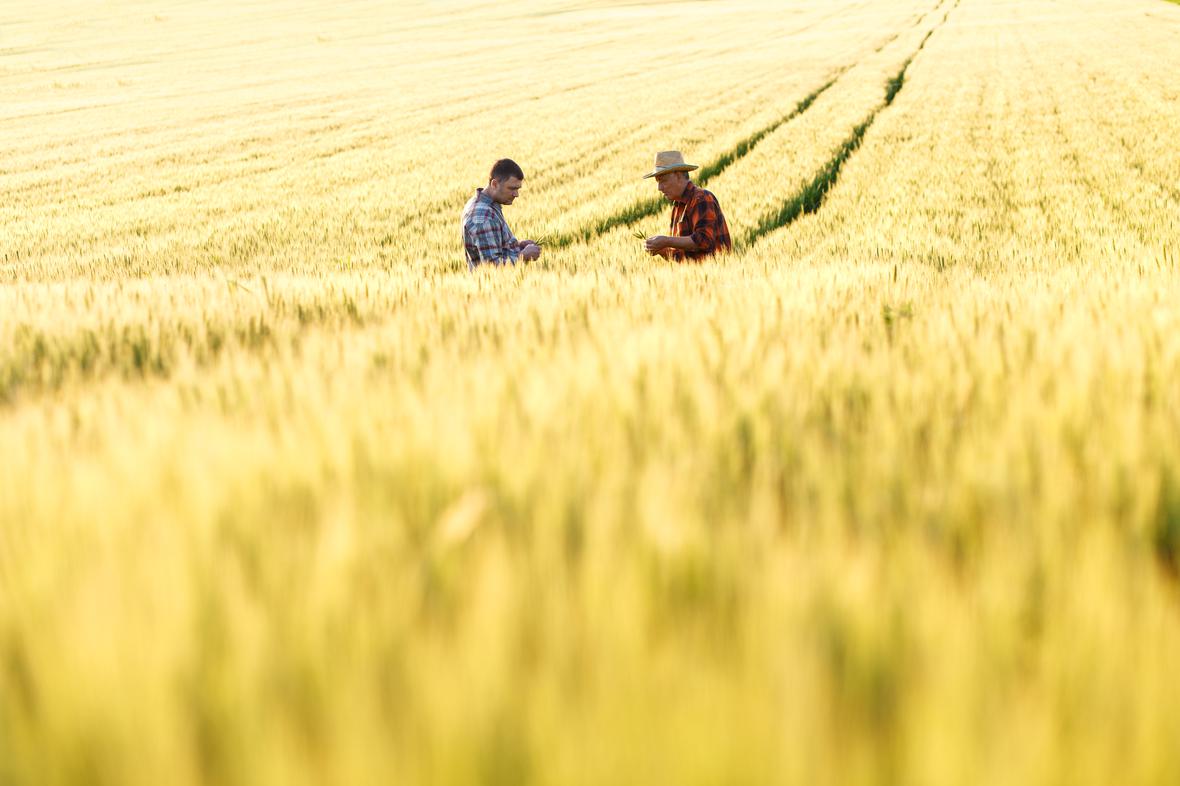 A Global Company Dedicated to Local Communities
ADM procures agricultural commodities around the world, and our vast supply chain has a direct impact on the land use and biodiversity of those regions, as well as the lives of individuals living and working there. Some of our sourcing regions are at a particular risk for deforestation and human rights violations. Our policies and commitments related to these issues apply to our entire supply chain with implementation activities focusing first on high-risk geographies.
In addition, we leverage our experience in responsible sourcing practices to enhance local communities' access to clean water and sanitation (as part of our commitment to human rights) and sustainable agriculture practices.
Click here to read our 2022 program implementation assessment report.
Building a More Sustainable Value Chain
We are the foundation of food on tables the world over – flavoring culture, forwarding health and wellness, and venturing into new possibilities and discoveries for human and animal nutrition. Creating value through the entire supply chain gives us the opportunity to help build a more sustainable food system.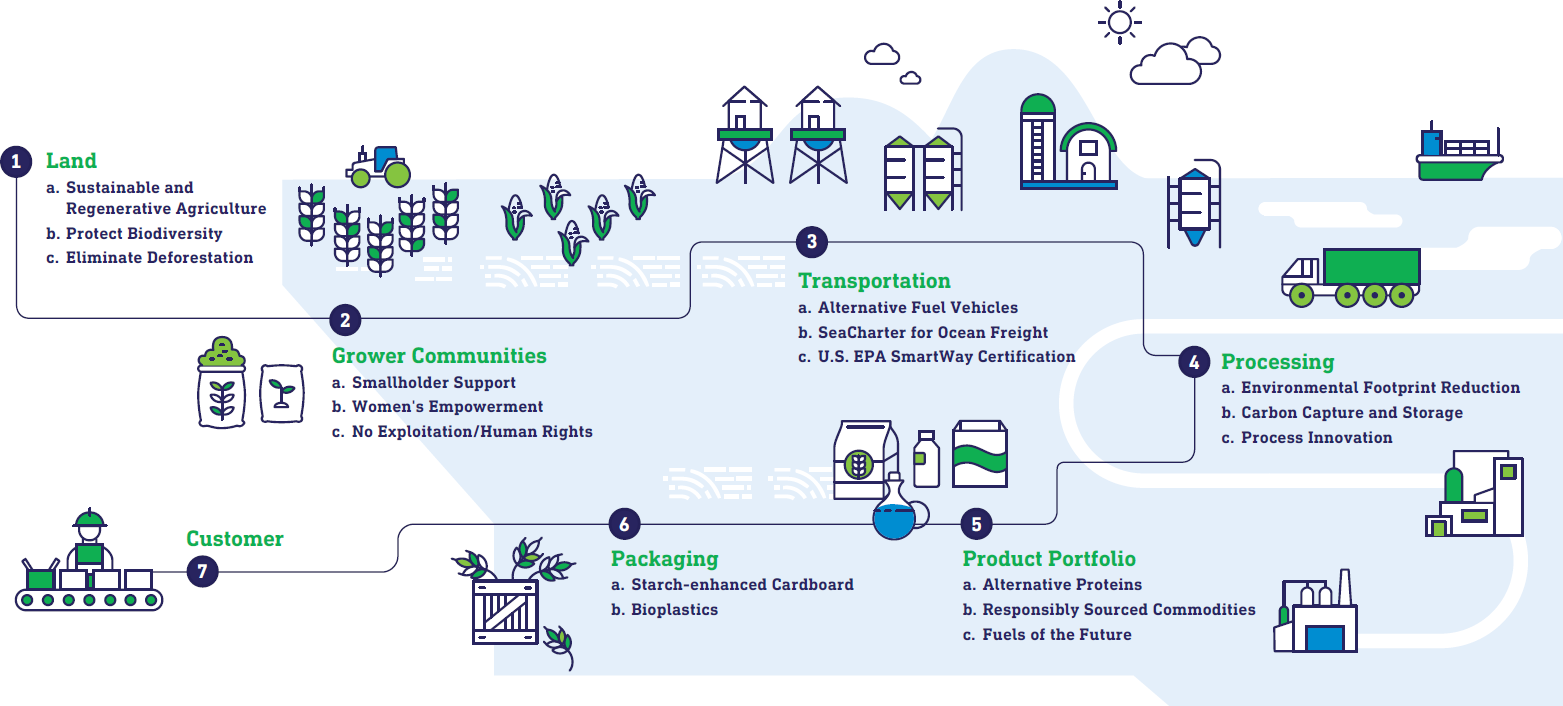 Hi! BRB
ERROR CODE: 503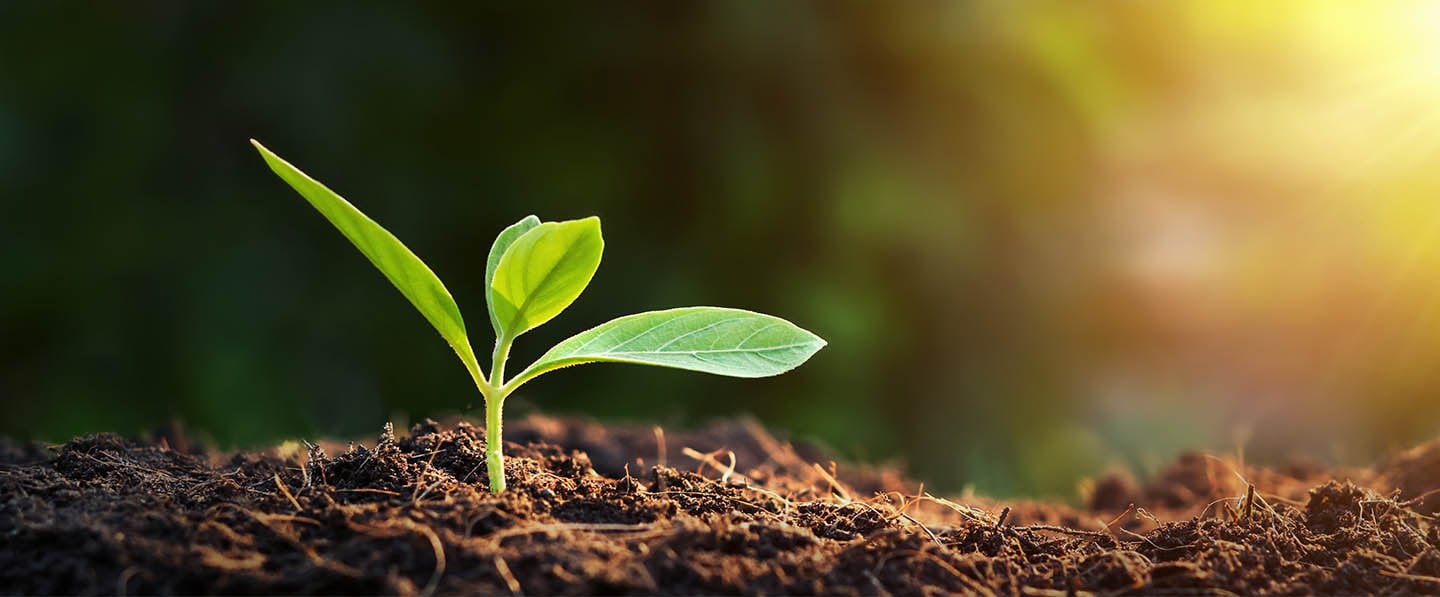 Our Traceability Program
Sustainability from the field to the table. Ensured by traceability.
Grievances and Resolutions
ADM is working hard to develop supply chains that meet our Commitment to No-Deforestation and Human Rights Policy. To that end, we invite stakeholders who have concerns related to the implementation of our policies to email us at responsibility@adm.com. When making an inquiry and/or raising a grievance, please make sure to provide us with the following information:
Your full name (optional)
Name of your organization (if applicable)
Address
Phone or email
Detailed description of the issue
Evidences to support the issue
We will address non-compliances in accordance with the Managing Supplier Non-Compliance procedure. All allegations or potential non-compliance issues received will be investigated following the workflow of the grievance and resolution protocol.
Protecting Forests, Biodiversity and Communities
ADM is fully committed to ending deforestation by 2025 and to preserving biodiversity and water resources in our supply chains. This includes holding our suppliers accountable for producing commodities in ways that do not further deforestation in order to reduce impact on climate change. We believe that sustainable, ethical and responsible production by the food industry is an important part of curbing global warming, conserving native biodiversity, and upholding the rights of indigenous communities and smallholders.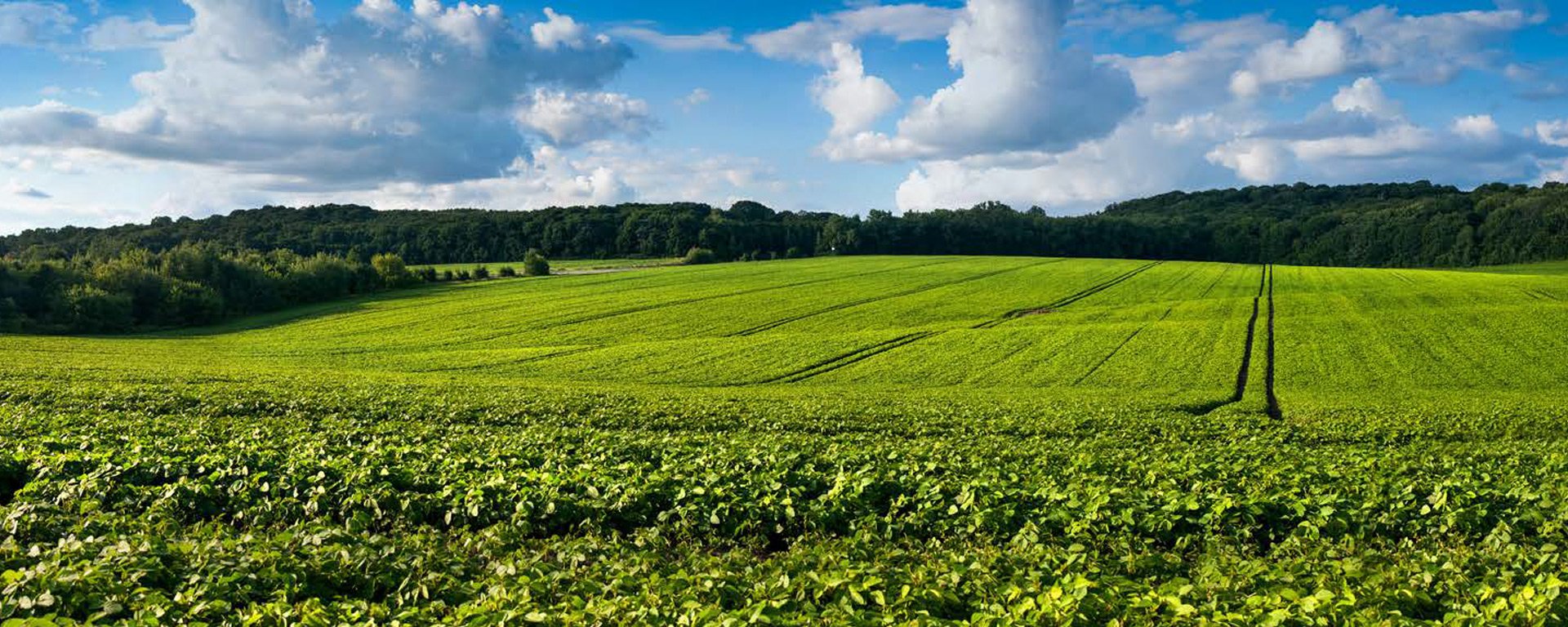 Sustainable and Regenerative Agriculture
We believe in taking action for climate change, integrating sustainable practices into every facet of our global operations in an effort to minimize our footprint worldwide. We recognize the opportunity we have to work together with growers in our supply chain to identify and implement farming practices that can reduce environmental impact, sequester carbon in the soil, and improve on-farm economics and labor conditions.
Our sustainable and regenerative agriculture programs work to identify and implement customized and targeted projects focusing on outreach, education, and continuous improvement to drive adoption of practices. We have identified five key advanced agricultural practices that have multiple positive outcomes such as reducing GHG emissions, improving soil health, and protecting water quality. These practices include nutrient management, year-round soil coverage, minimized soil disturbance, integrated pest management, and diverse crop rotations.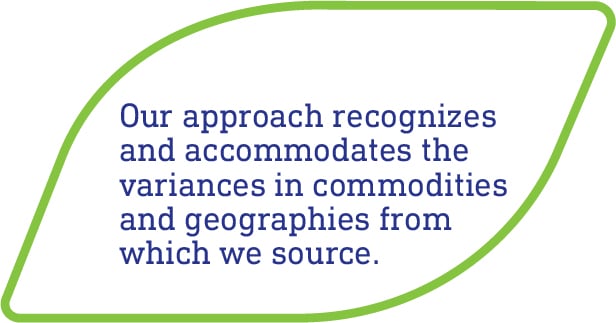 We represent a unique position in the supply chain – as an aggregator and processor of commodities, we can leverage the relationships we have with our customers, upstream and downstream, to implement sustainable agriculture programs. Our approach recognizes and accommodates the variances in commodities and geographies from which we source; not all practices are a good fit for every farm.
We leverage regional programs to offer growers in our supply chain solutions that work for their operations. In the U.S., we are members of Field to Market, and we have regenerative agriculture programs that work with growers to plant cover crops. In Brazil, we are working with Produzindo Certo to help growers identify best management practices for their farms.
We also participate in several certification and rating programs, including ADM Responsible Soy, 2BSvs, Round Table for Responsible Soy, International Sustainability and Carbon Certification, Roundtable on Sustainable Palm Oil, Sustainable Agriculture Initiative – Farm Sustainability Assessment, Red Tractor, Food Alliance, and Fair Trade.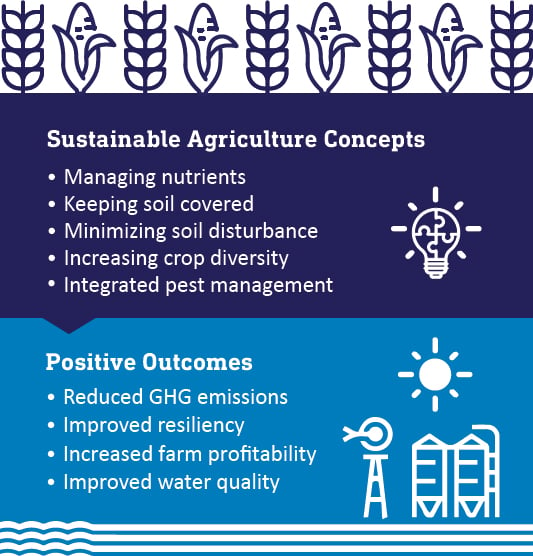 Responsible Pesticide Management
We recognize that pesticide use in the agricultural sector has led to concerns regarding the potential for unintended environmental and health impacts. We also recognize that worldwide an estimated 45% of crop production is lost to pests annually. While we do not own farms and can not mandate practices, we do strive to work with growers across our diverse global supply chains to support sustainable practices that substitute natural controls for some agrochemicals, foster ecosystem balance, reduce greenhouse gas emissions, and mitigate crop losses.
Grower Engagement
We work with growers around the world on implementing sustainable and regenerative agricultural practices, including integrated pest management (IPM) and cover crops. For example, in the U.S., we engage growers using the Field to Market metrics and framework. Four of the eight metrics are impacted by pesticide application: Water Quality, Biodiversity, Energy Use, and GHG Emissions. Through these programs, we connect growers with agronomy experts who can support the adoption of advanced agricultural practices such as cover crops and IPM. In Brazil, our ADM Responsible Soy program as well as the Doing It Right program both have IPM as a key component. Further, ADM is one of the sponsors of the Soja Plus Program, a program organized by the Brazilian Oil Industry Association and the Soy Farming Association, that provides training on farms, including training on the "conscious usage and correct handling of agrochemicals."
Cover Crops
Environmentally sustainable pest management starts with building healthy soils. Research has shown that crops grown on biologically active soils resist pests better than soils with low fertility, extreme pH, poor structure, and low biological activity. In addition to increasing soil health, specific cover crops can directly assist with pest management. For example, cover rye can control some diseases, weeds, and nematodes. Cover crops also provide valuable habitat and protection for predators that naturally control pest populations. They can act as a key prevention measure of an IPM plan. In a recent study, predatory insect populations were 7-10 times higher in cover cropped fields. These predators reduce the insect pest population, allowing for reduced pesticide application.
Integrated Pest Management
IPM is designed to reduce risks to human health and the environment from the use of pesticides. According to a study published in the Proceedings of the National Academy of Sciences, IPM can reduce insecticide usage by 95% with no effect on yield. These programs use current, comprehensive information on relevant pest species, including their life cycles and interaction with the environment. Combined with available pest control methods, the information is used to design a plan to prevent and manage pest damage by the most economical means, with the least possible hazard to people, property, and the environment. IPM includes four steps:
Set Action Threshold - Growers first determine the threshold at which pest populations or environmental conditions indicate that control actions must be taken.
Monitor and Identify Pests - Many organisms are harmless, and may even be beneficial. Proper identification of and monitoring for pest species is critical to ensure pesticides are only used when needed.
Prevention - Methods to prevent pests such as rotating crops and selecting pest-resistant varieties.
Control - If action threshold indicates pest control is required, IPM plans outline control methods to balance effectiveness and risk. First, growers can use pheromones to disrupt pest life-cycles or mechanical control. If these methods fail, targeted spraying of weeds would be implemented. Broadcast spraying of non-specific pesticides is a last resort.
Organic
Certified organic foods are grown and processed according to strict regulatory standards, depending on local rules. For example, in the U.S., organic producers rely on natural substances and physical, mechanical, or biologically-based farming methods and are inspected annually to verify practices. In the E.U., organic regulations limit the use of artificial herbicides and pesticides and prohibit the use of ionizing radiation and genetically modified organisms. Organic growers adopt several approaches to maintain soil fertility and plant health including crop rotation, pest-resistant varieties, and natural pest control techniques such as IPM.
Sustainable, Certified and Organic Product Sourcing
We source sustainable, certified and organic commodities to meet customer demand and sustainable sourcing objectives. Several of these programs have components that specifically impact pesticide usage. Through Field to Market, we are incentivizing adoption of cover crops, in addition to other regenerative agriculture practices. The ADM Responsible Soy, Doing It Right, Food Alliance, ISCC, RSPO, and RTRS programs all require the development, implementation and monitoring of IPM plans. Organic farming prohibits the use of synthetic pesticides.
In 2021, we sourced volumes as follows: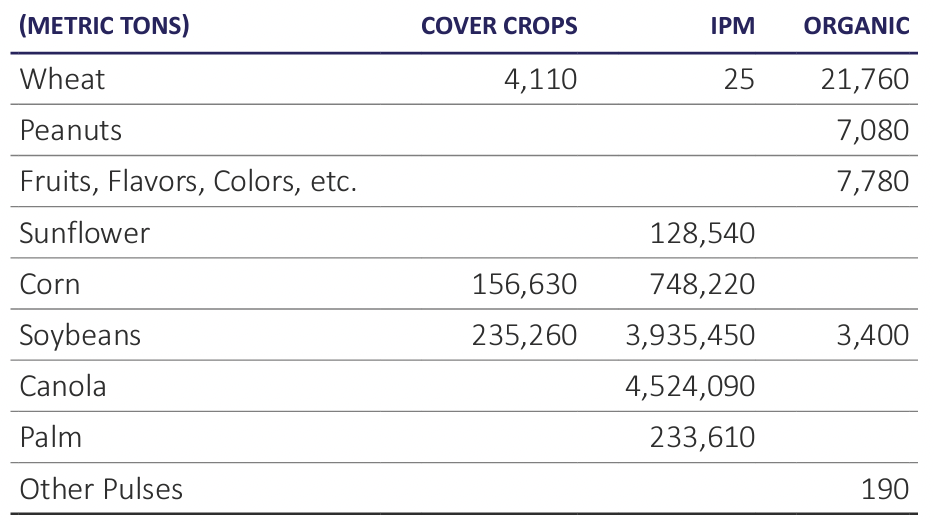 Partner with us now!
For general inquires, questions or more information, please reach out to us. We are here to help.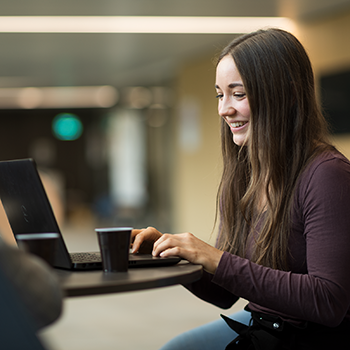 ---