Feed the World
Feed the World
Food is fundamental. It sustains us, fulfills us and fuels our wellbeing. It's the most basic need with the most critical impact. ADM is devoted to that impact every single day.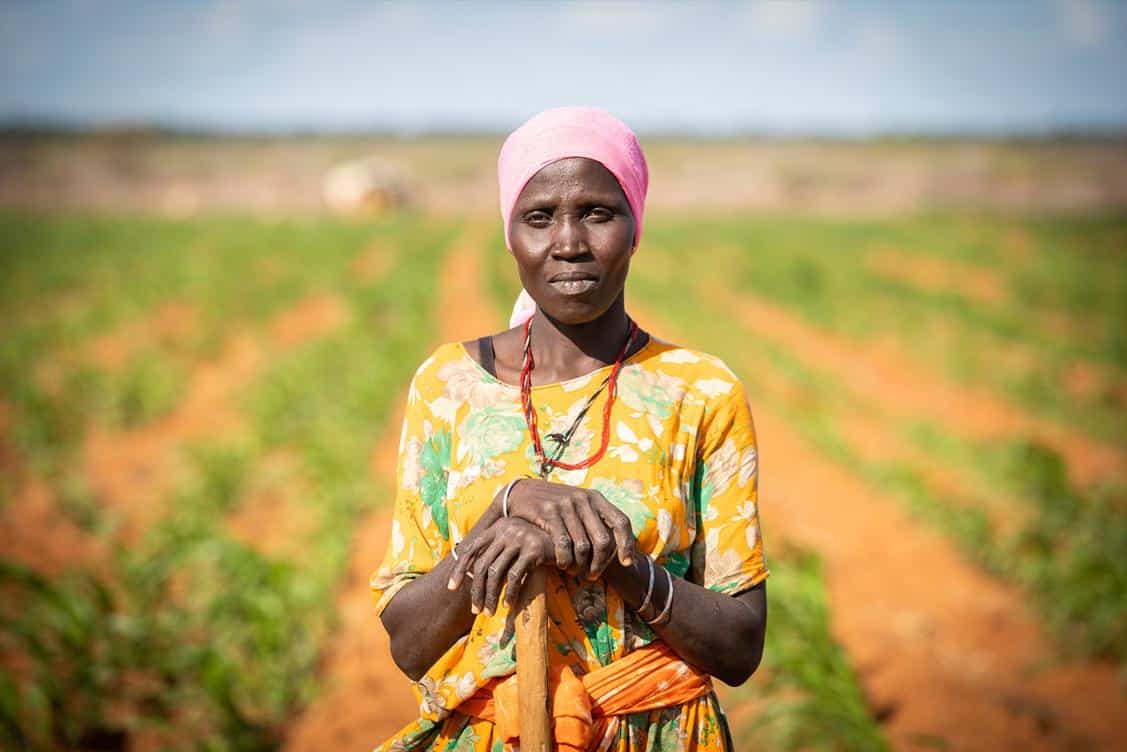 Innovation
Innovating products like biostimulants that can increase yields allowing farmers to produce more crops on the same footprint, and developing and mainstreaming new and innovative ways to increase availability of protein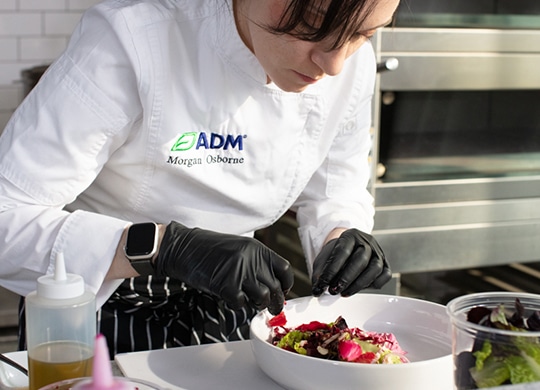 Biostimulants
Improving crop yields is vital to enhancing food security and improving agricultural sustainability. As the global population and resulting demand for food continue to grow, increasing yield – defined as the amount of food or grain produced from a given amount of land – continues to be a vital tool. Biostimulants are a new and promising innovation, with some focusing on crop yield improvements. According to The Fertilizer Institute and U.S. Department of Agriculture, "a plant biostimulant is a substance(s), microorganism(s), or mixture(s) thereof, that, when applied to seeds, plants, the rhizosphere, soil or other growth media, act(s) to support a plant's natural nutrition processes independently of the plant biostimulant's nutrient content. The plant biostimulant thereby improves nutrient availability, uptake or use efficiency, tolerance to abiotic stress, and consequent growth, development, quality or yield."
ADM has introduced a new agricultural biostimulant, NeoVita 43TM, that boosts corn yields by improving nutrient use efficiency. We collaborated with the University of Illinois to design, implement, and analyze research trials to evaluate the performance of NeoVita 43. In most trials across multiple years and locations, NeoVita 43 boosted yields over the control when used alone or with starter fertilizer. Following this consistently positive performance, ADM expanded testing efforts to precommercial on-farm trials with ADM fertilizer customers in 2022.
NeoVita 43 is formulated to closely mimic the plant root exudate that supports soil microbial activity to promote nutrient availability and uptake by the plant. By increasing the availability of these key nutrients to the soil microbiome early in the growing season, developing plants can increase nutrient uptake and get off to a stronger start, which can lead to higher yields.
Alternative Proteins
At ADM, we believe alternative proteins have a fundamental role to play in the wider protein ecosystem, helping to build a sustainable food future for our growing population. If we can augment and diversify the world's existing protein sources with a range of alternative options, we will have more nutritious food options available and more solutions for tackling challenges like hunger, food security, and sustainability. This is why ADM continues to expand and evolve our robust array of traditional plant-based protein offerings, while also investing and partnering with startups that are pioneering leading-edge protein technology innovations.
In 2022, we announced several significant projects planned to increase our capabilities to deliver alternative proteins to our customers. First, a significant enhancement of our Decatur, Illinois, alternative protein production facility will increase our soy protein concentrate capacity and extrusion capacity of the site. Also in Decatur, we are creating a new, state-of-the-art Protein Innovation Center, which will bring together labs, test kitchens, and pilot-scale production capabilities to power new innovation, from novel and diversified ingredients, to more sustainable and efficient processing, to unique and differentiated texture, taste, appearance, and nutrition solutions. We also opened a new facility in Serbia that extends our production of non-GMO textured soy to include origination and extrusion capabilities in Europe.
Radical collaboration will be vital to our ability to sustainably feed our growing population. At ADM, we're investing in and partnering with food technology companies creating new and expanding existing alternative protein sources such as insects, cultured meat, fermentation, legumes, and more. These companies and their technologies are important pieces of the puzzle in building pioneering protein sources that can help with food security and sustainably feed a growing population and bring more and better choices for consumers.
Reducing Food Waste
As a leader in meeting global food demand for an ever-growing population and advancing the cutting edge of health and nutrition, ADM is playing a pivotal role in not only powering nature to enrich the quality of life but delivering solutions, especially on the issue of post-harvest loss.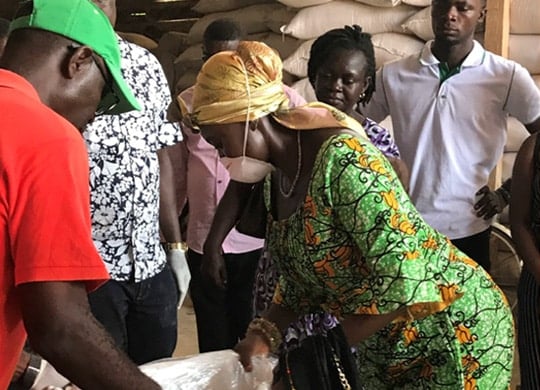 Post-harvest loss is food that does not get eaten for reasons that occur between the field and the consumer. Those reasons include environmental conditions, such as spoilage due to temperature or humidity; mechanical issues, such as leaving grain behind in the field or improper storage; and microbial action, such as bacteria/fungi contamination.
For over 10 years, the ADM Institute for the Prevention of Post-Harvest Loss (ADMI), in collaboration with the University of Illinois, has been working to improve post-harvest management of grains and oilseeds to reduce poverty and food insecurity by generating knowledge, scaling improved technologies, and building institutional capacity. The organization has worked with a wide variety of public and private sector partners on post-harvest reduction initiatives, including non-profit organizations, private industry, NGOs, governments, research institutes, and international universities.
In 2022, ADM Cares contributed $120,000 in additional grant funding to ADMI to support three different projects in Bangladesh and Indonesia. The first project addresses the post-harvest losses with farmer producer organizations in India by providing access to storage solutions. The second supports a partnership between ADMI and Bangladesh Agricultural University to train rural youth entrepreneurs to start service provision businesses with BAU-STR grain dryers and provide entrepreneurial training for rural youth who can become service providers during harvest seasons. The third project supports a public-private partnership in Indonesia's agricultural sector that will support the development of programs to help farmers gain better access to markets.
Implementing important projects like these, as well as the Institute's efforts, from improving efficiencies and increasing production, to converting byproduct streams into value-added products, and aligning on strategic partnerships, demonstrate that ADMI is an important leader in alleviating food waste and extending its capabilities to improve hunger for communities around the globe.
Concern Worldwide
In 2019, ADM Cares announced a $1 million contribution to Concern Worldwide to create the Lifesaving Education and Assistance to Farmers program, or LEAF, a comprehensive, dual-phased initiative to address malnutrition in Kenya and Ethiopia.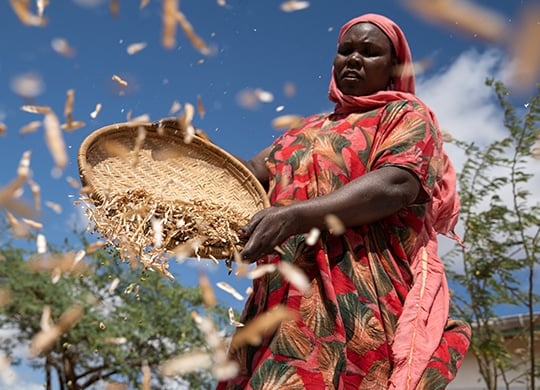 Concern Worldwide believes that no human potential should go unfulfilled due to poverty, disaster, or crisis. Its programs are designed to address the specific causes of extreme poverty in each community.
LEAF prevents malnutrition through the promotion of sustainable agricultural techniques for poor and vulnerable people to generate long-term income. Also, the program increases the adoption of nutrition-sensitive and climate-smart agricultural production to promote longevity. Through the LEAF program, Concern specifically implemented activities to alleviate high malnutrition levels by working with 60 community health volunteers on early detection and referral for malnutrition cases. In addition, Concern provided further programmatic support to the community through farming inputs, such as tractor subsidies, certified seeds, fuels subsidies, and water pumping sets, and facilitated irrigation canal access for 300 farmers to increase crop production.



A community member and mother, Aisha, explains,
Hunger has now reduced, and we are able to eat at least three times a day with my family. My child is healthy too and out of the nutrition program since September. We no longer rely on one type of food."
Outreach to smallholder farmers to provide training and access to financing and equitable business opportunities has enhanced overall community livelihoods. Farmers enrolled in LEAF have increased production capacities through programs, reducing produce losses from 60% to 20%, and through enhanced irrigation, which helped farmers move from the river basins to higher ground, providing better opportunities for crops to thrive. What's more, roughly two-thirds of the total seeds planted in Tana River, Kenya, were drought-resistant, increasing yields and incomes to the community. Farmer training, access to financial services, and implementation of vegetable planting in home gardens all provided additional support for local farmers to enhance well-being.
In the first 18 months (Phase I) of our partnership, LEAF directly impacted almost 50,000 individuals through lifesaving treatment of acutely malnourished children, and developed sustainable livelihoods for poor and vulnerable people to generate
long-term income.
Building on the success of Phase I, ADM Cares approved an additional $400,000 contribution to build LEAF Phase II in Kenya in 2021 and 2022. The contribution reached close to 10,000 farmers and impacted over 60,000 individuals. The LEAF Phase II program has significantly contributed to the communities' ability to maintain a basic level of food security, seeing approximately half of the farmers reach self-sustainability without inputs from Concern, a massive achievement. Target communities can be completely self-sufficient through irrigation systems, crop rotations, and nutritional education.
Food Quality and Safety
We believe food is fundamental to quality of life, and expanding access to nutrition is a foundational piece of how we fulfill our purpose. The safety and security of our world's food and feed supply chain is of critical importance to that work.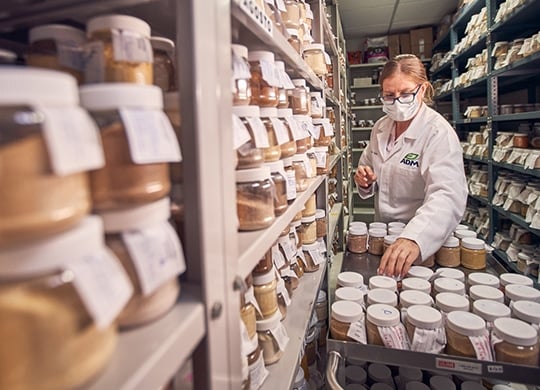 That's why at ADM, we continually review and improve our food safety systems and procedures, including good manufacturing practices for human and animal food and the development and implementation of risk-based preventive controls or critical control points for human food based on hazard analysis. Our facilities, processes, and procedures undergo regular evaluation to assess the risk of product contamination, and we implement a variety of safeguards and security concepts to reduce those risks. We've built our Food Safety and Quality program around three pillars: achieving best in class food safety, maintaining a culture of quality, and leveraging innovation and technology.
Best in Class Food Safety
Utilizing our customized "Integrated Risk Metric" (IRM) assessment application, we are able to proactively monitor and provide focused support across the organization through subject matter expertise, resources, and global verification procedures to ensure conformity to strict food safety standards.
Culture of Quality
Every year, food safety and quality training is performed with plans to expand this program in 2023. In September 2022, we held our third annual Global Food Safety Week for our colleagues around the globe to provide a dedicated time to refresh and refocus. We completed trainings and other activities to reinforce and educate our team on the critical roles we all play and how to improve our Quality & Food Safety culture.
Innovation and Technology
Because food safety has always been a critical priority, we are constantly looking for improvement opportunities to move from safe to safer. We leverage new technologies and process innovations to improve food safety through:
Increased ability to detect food safety risks
Improved identification of food safety concerns
Innovative safety controls
Technology enhancements to drive predictive quality
Food Safety Conference in Nigeria
Our Quality and Food Safety Center of Excellence, in collaboration with Human Nutrition colleagues in Nigeria, hosted our first food safety conference in Nigeria. The conference theme was "Unlocking Nature and Enriching Lives Through Food Safety". The event hosted participants from the government, regulatory agencies, and academia, as well as key players in the food and beverage industry in Nigeria. The conference provided the opportunity to showcase the ADM product portfolio – introducing our new and changing product offerings available to the Nigerian market. We also had the opportunity to collaborate with influencers in the Nigerian food sphere and showcase the best-in-class food safety culture of ADM to the Nigerian market. Overall, the conference helped our enterprise vision of building meaningful relationships with the food and beverage sector of Nigeria.
Learn more about our ESG approach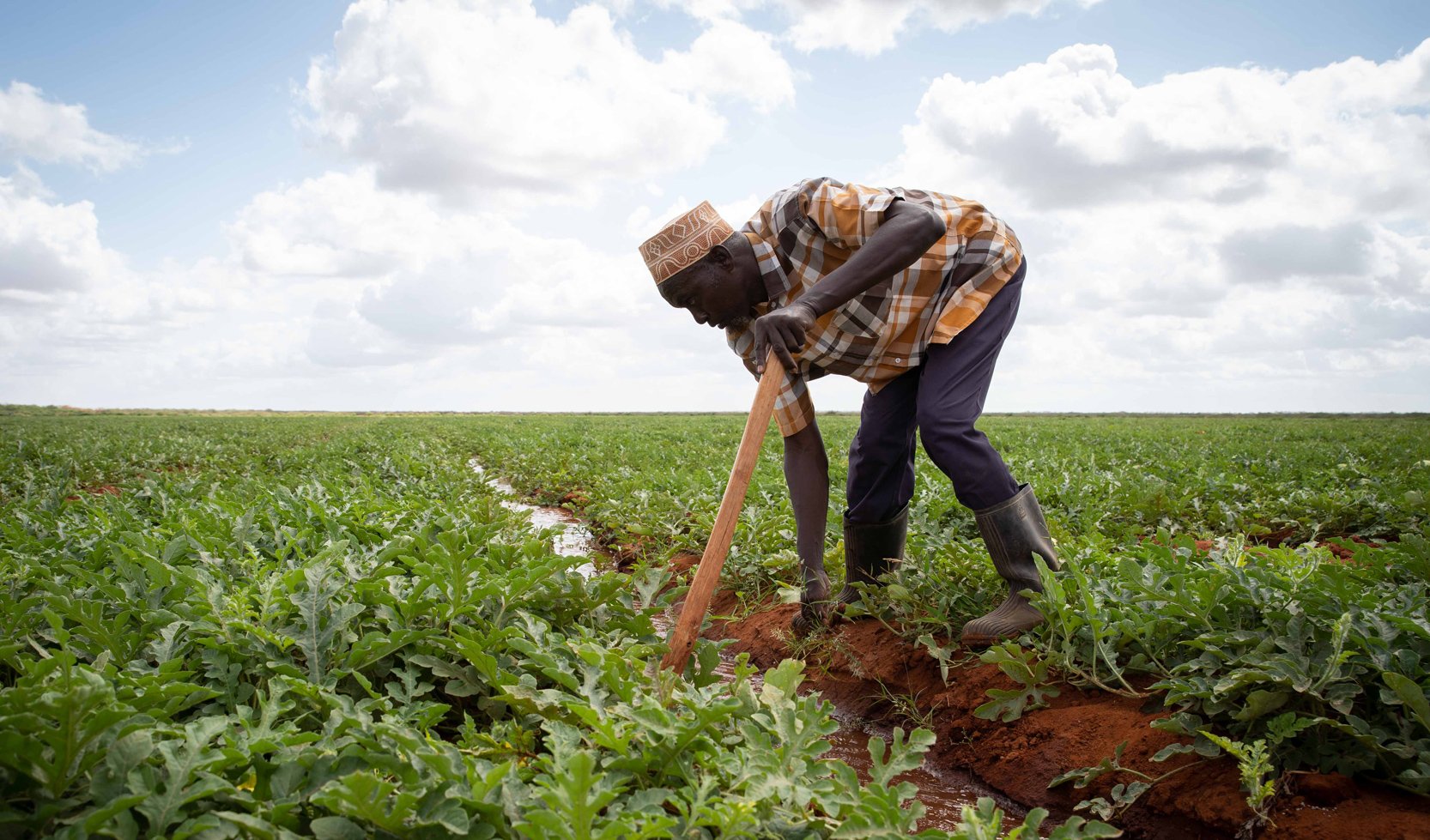 Scaling Impact
ADM is paving the way with good business practices, progressive solutions and mindful actions that make a positive impact.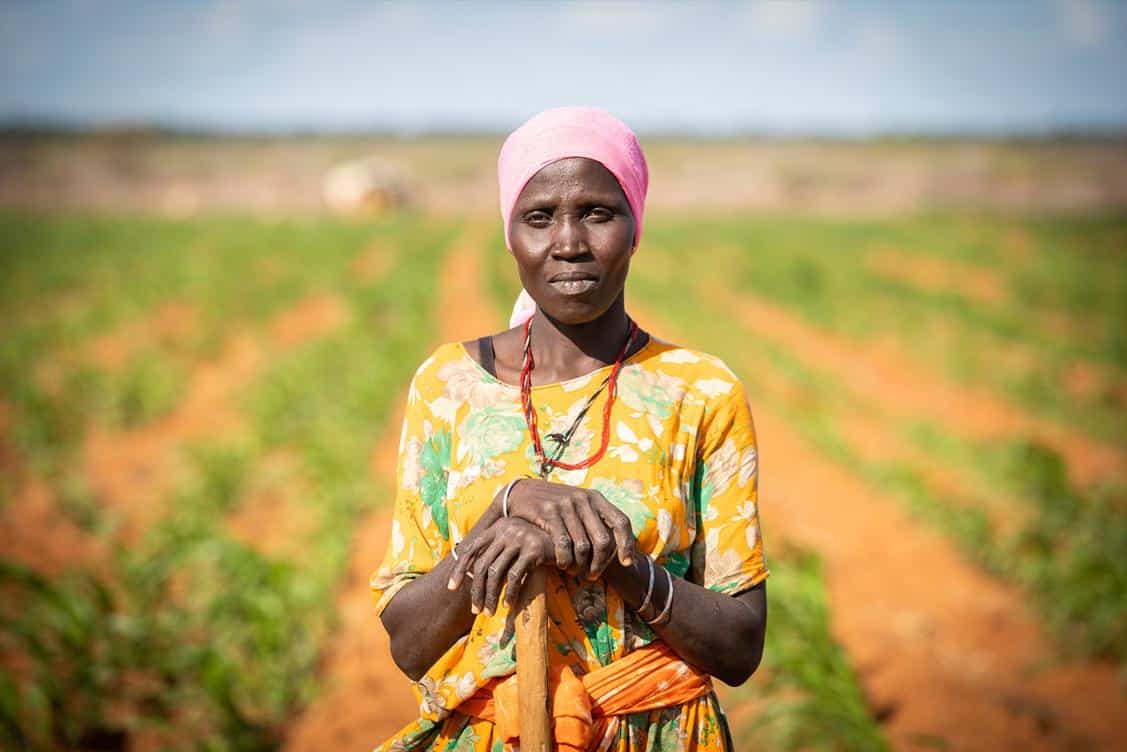 Feed the World
Food is fundamental. It sustains us, fulfills us and fuels our wellbeing. It's the most basic need with the most critical impact. ADM is devoted to that impact every single day.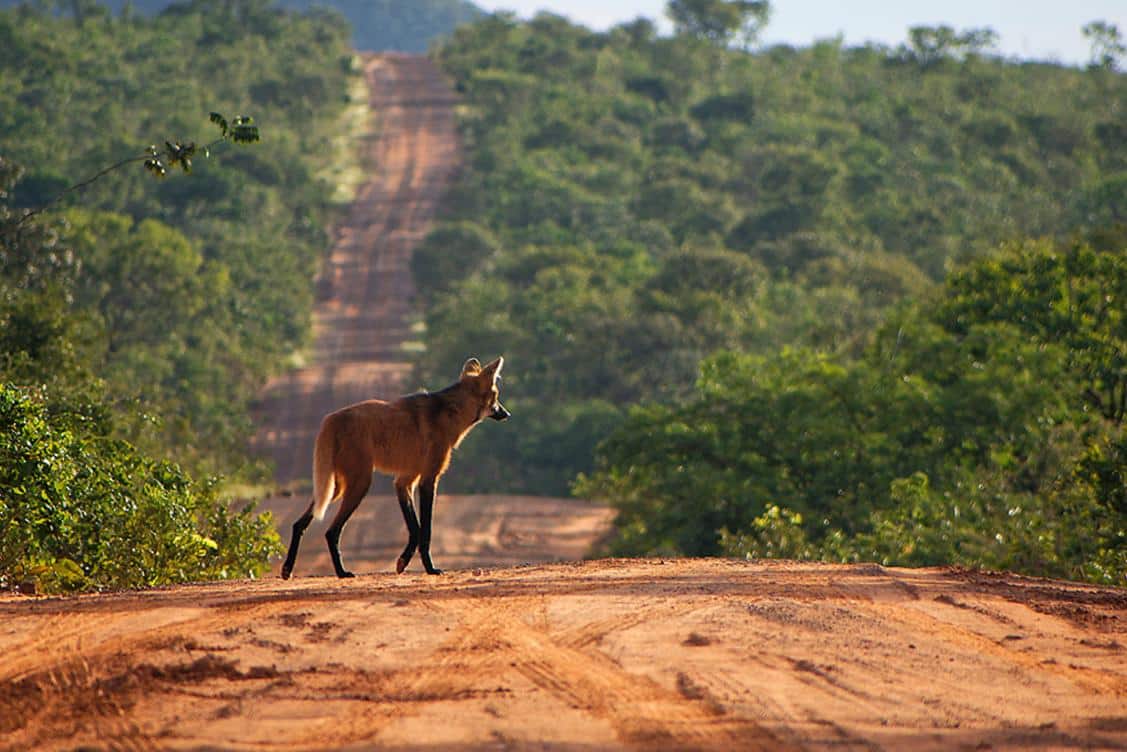 Protect Nature
At ADM, we have an unwavering commitment to global sustainability to create positive impact on the world and contribute to the greater good.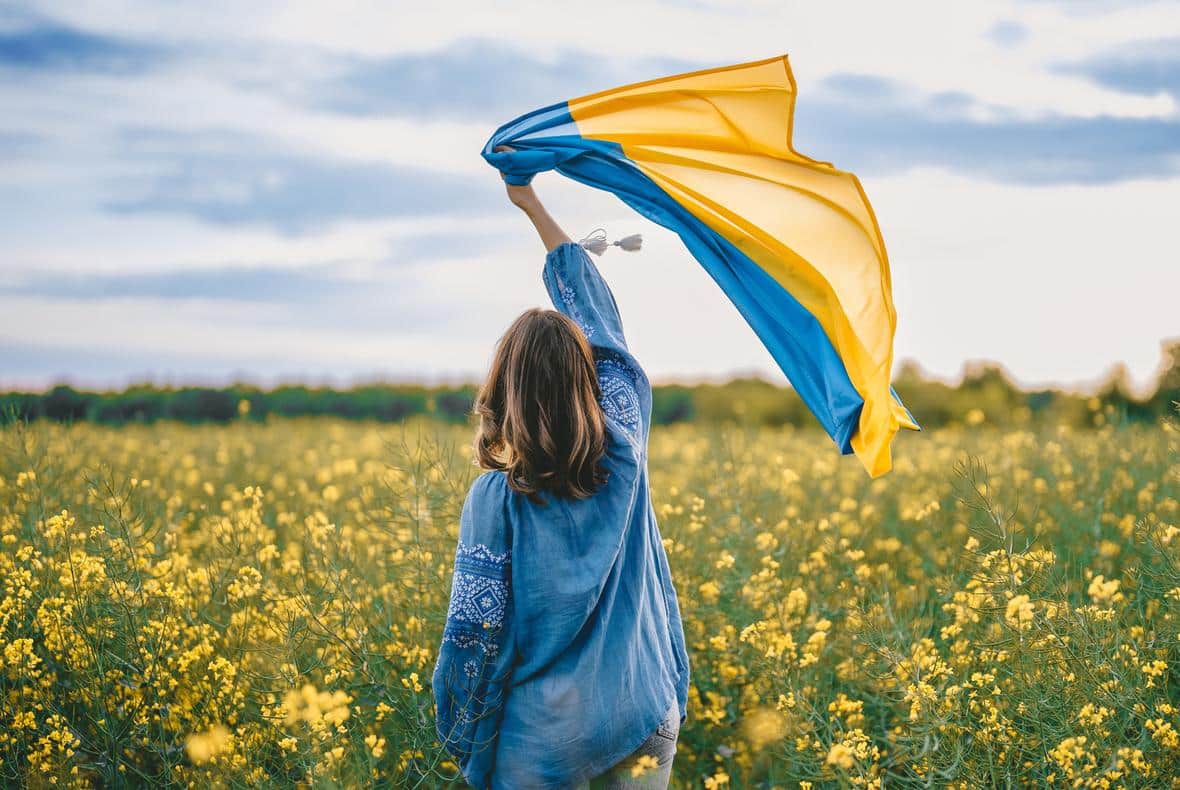 Enrich Lives
We believe that a skilled workforce and strong relationships with communities are core to our success and growth, and we can make a lasting impact on the world.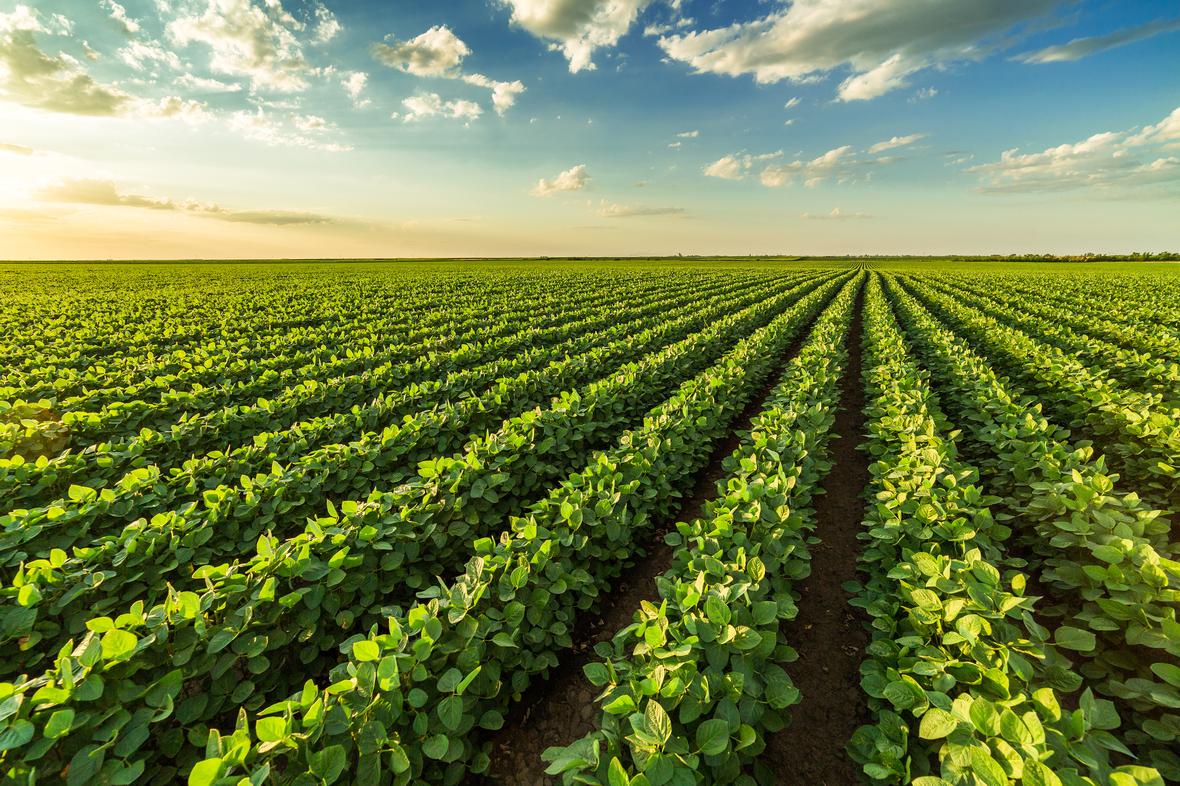 ---