Creating Climate-Smart Farming Villages in India
Creating Climate-Smart Farming Villages in India
Back in 2015, the ADM Institute for the Prevention of Postharvest Loss at the University of Illinois embarked on an ambitious project supported by ADM Cares in Dih Sarsauna, Bihar, India. Bihar is one of the poorest and most populous states in India, with 80 percent of the population dependent on agriculture as their source of income. Due to inadequate postharvest technologies and practices, the agricultural state loses $1.7 billion of crops each year. To help reverse these losses, ADMI established set the ADMI Village in Dih Sarsauna as a real-world proving ground for postharvest loss prevention practices.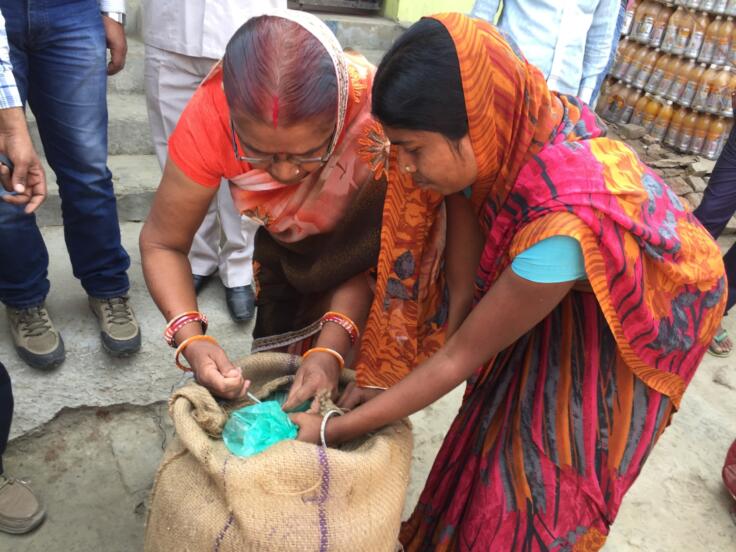 Since its inception, more than 6,000 farmers have received training and knowledge about storage techniques and harvesting best practices. And over the next year, thanks in part to an ADM Cares grant, the ADMI Village project will become part of a larger effort to mainstream climate-smart technologies in India.
Working with the Indian Council for Agricultural Research, the Borlaug Institute of South Asia and other partners, the ADM Institute is integrating postharvest technologies into the "Scaling up Climate-Smart Agriculture through Mainstreaming Climate-Smart Villages in Bihar" program. The program represents a significant effort to empower farmers in Bihar to adapt current production practices to a changing climate. The project will reach 100 villages to scale up climate-smart innovations and make appropriate technologies and inputs accessible through local suppliers.
The climate-smart villages program will include:
Provision of grain dryers and drying services over three years.
Subsidized distribution of at least 20,000 hermetic storage bags annually through local entrepreneurs. Hermetic storage bags preserve dry agricultural commodities, and keep insects out.
Training on drying and storage for farmers and service providers. Through this process, young farmers can provide postharvest-related services like grain drying and sale of hermetic bags. Many trainers will be women, to help achieve the target of 35% of beneficiaries being women.
"It is crucial to provide training in addition to technology," said Dr. Alex Winter-Nelson, director of the ADM Institute for the Prevention of Postharvest Loss."Technology does not improve livelihoods if the farmers are not aware of the best practices for using it, so we want to make sure farmers have all the knowledge they need to set them up for success."