Not Your Parents' Supply Chain: Launch of Blockchain Technology is the Latest Innovation in Ag Supply Chain
Not Your Parents' Supply Chain: Launch of Blockchain Technology is the Latest Innovation in Ag Supply Chain
Today, Covantis – a joint venture of which ADM is a founding partner – announced that it has launched its revolutionary Blockchain platform to modernize global agricultural shipping processes. The technology offers the opportunity to dramatically enhance efficiency, accuracy and transparency in the global transport of agricultural products.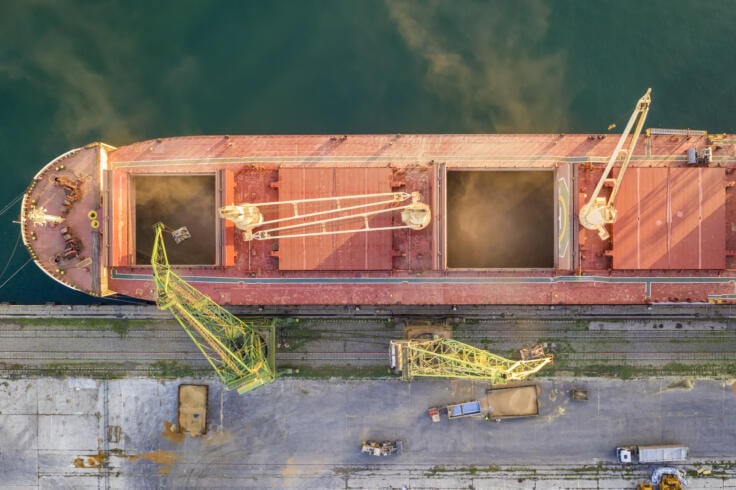 "It wasn't that long ago that buying, transporting, and processing crops was a simple commodity business: the provider with the best price won," said Greg Morris, ADM senior vice president and president of the company's Ag Services & Oilseeds business. "But farmers, customers and investors are looking for so much more today – and ADM is leading a transformation in how our industry serves their needs.
"This isn't just a step change," Morris continued. "It's a whole new way of looking at our business. Today, ADM is developing transparency in supply chains, digital technologies to support business growth and a more direct connection between farmers around the world and our evolving customers. Our role is at the cutting edge of change, bringing our experience and innovation to bear as trusted partners that can help farmers and customers alike take advantage of new opportunities."
Covantis is one such example.
"The time of paper bills of lading is past," said Gary McGuigan, president of ADM's Global Trade business. "With Covantis, we're utilizing cutting edge digital technology to transform how we move agricultural commodities around the globe. And what is so exciting is that everyone benefits from new technologies. Increased efficiency and transparency can create value for all stakeholders – and help us do our job of providing nutrition to the world."
This industry initiative is the latest example of how ADM is leveraging emergent technologies to drive efficiency and create transparency throughout its entire supply chain. Last year, our GrainBridge joint venture released its new mobile technology platform, which brings together a farmer's contracts, scale tickets, settlements and more into a single, secure digital gateway. Our ADM Wait Times app is helping farmers plan their deliveries by giving them information on how long the lines are at certain ADM facilities. And, we're expanding our use of satellites to ensure traceability and compliance in our soy supply chains.
Our technology capabilities were instrumental in helping us navigate the pandemic safely and without disruption. Our team acted quickly to implement an augmented reality platform during the Covid-19 pandemic, enabling ADM's expert engineers to virtually manage plants and solve problems in real time, remotely. At a time when physical proximity may not be an option, technology is bringing us together to solve problems.
"This is about leading a transformational change in our industry," Morris continued. "It's about fundamentally understanding we're not just competing on price anymore. We're looking for every opportunity to add value for farmers and customers alike. When a major consumer brand is looking for sustainably-sourced inputs, and we can make a direct connection between them and farmers who can provide that added value, everyone wins. When farmers can save valuable time and money by delivering their grain at just the right time – or when we can send a truck to pick it up ourselves – everyone wins. When we can use cutting-edge technologies to more efficiently move food products to areas of need around the world, everyone wins. We're reimagining what this business can be – and everyone is winning."
---